Vermont, known as the Green Mountain State, is a picturesque New England state that is famous for many things. From its stunning natural landscapes to its delicious culinary treats, there is something for everyone to enjoy in Vermont. Whether you're a nature enthusiast, a foodie, or a history buff, this charming state has it all. These truly are things that Vermont is known for!
Thank you for reading this post, don't forget to subscribe to our email list for the latest news!
Vermont is Known For it's Fantastic Maple Syrup!
Some of the things that Vermont is known for include it's iconic Vermont covered bridges, apple orchards and of course, our Vermont famous maple syrup! The state is known for its commitment to quality. The following article presents at least 20 things Vermont is know for. Although long known for its dairy farms, people in Vermont have always cherished their own piece of Vermont.
The Green Mountain state is known for its incredible, famous ice cream creemees, flavored with maple syrup!
How is Maple Syrup Made?
Many visitors to Vermont often ask how our maple syrup is made.
Vermont maple syrup season begins in early spring when maple tree sap starts flowing. The sap is collected by tapping sugar, red or black maple trees and running it into buckets or a tubing system. The sap, which is mostly water but contains some sugar, is then boiled down to evaporate water, turning it into syrup once it reaches the ideal 66-67% sugar concentration. The resulting maple syrup is filtered, graded by color and flavor, with darker syrups being more maple-y, and bottled hot before using, often on pancakes and waffles. Maple syrup production has a long history in Vermont, which leads the United States in maple syrup output.
Vermont is Known for Many Facts Including These Key Takeaways:
The State of Vermont is known as the Green Mountain State. It is a state in the New England corner of the USA.
Vermont was the first state to abolish slavery.
It's the only New England state landlocked from the Atlantic Ocean.
Vermont is the second least populated state in the US, with a population of 645.5k.
Vermont offers diverse attractions, including natural landscapes, artisan products, specialty foods, and outdoor activities.
The state is family-friendly, with farm stays, educational centers, and various attractions for kids and adults alike.
George D. Aiken, a senator from Vermont, called the Vermont northeast area "Northeast Kingdom" in a 1949 speech.
Many famous people and celebrities make the trip to Vermont and call it their home.
Vermont's four seasons provide endless opportunities for outdoor recreation, including fall foliage viewing, camping, and hiking.
The state is home to charming towns, state parks, and scenic locations that showcase its unique culture and history.
It's also know for down to earth people referred to as "Vermonters" who have lived here for generations.
In January 1791 Vermont delegates met in Bennington and ratified the U.S. Constitution. On March 4, 1791, Vermont was accepted into the United States of America, as the 14th state.
Vermont Is Known for its Lush Landscapes and Green Mountains
Vermont is renowned for its breathtaking landscapes, with the majestic Green Mountains serving as the state's crown jewel. Nestled in the heart of New England, Vermont is home to picturesque valleys, serene lakes, and verdant forests that offer a sanctuary for outdoor enthusiasts and nature lovers. One of things that Vermont is known for is it's fresh, clean air quality and healthy lifestyles.
The Green Mountains, part of the larger Appalachian Mountain Range, stretch across the state, providing a stunning backdrop for Vermont's scenic beauty. With their lush greenery in the summer and vibrant foliage in the fall, these mountains offer endless opportunities for hiking, mountain biking, and exploring the great outdoors.
Whether you're an experienced hiker tackling the Long Trail or a leisurely traveler seeking a peaceful nature walk, Vermont's trails cater to all skill levels and preferences. From the iconic Camel's Hump and Mount Mansfield to the lesser-known gems like Jay Peak and Mount Ascutney, there's a trail to suit every adventurer's spirit. Known for its green trails, many people go to Vermont for the pleasure of exploring the Green Mountains.
Aside from hiking, Vermont's outdoor offerings also include skiing, snowboarding, and snowshoeing in the winter months. The state boasts several world-class ski resorts, such as Stowe Mountain Resort and Killington Resort, drawing enthusiasts from near and far.
Let's not forget the Northeast Kingdom and towns like Island Pond, Peacham, and the Newport area.
Vermont is Famous for It's Green Environment
Known as the Green Mountain State, Vermont has consistently prioritized environmental protection and sustainability. The state works to safeguard its picturesque natural landscapes by supporting green energy like solar and wind power, implementing strict environmental regulations, and encouraging eco-conscious farming. Vermont restricts billboards and requires bottle deposits to limit litter.
Over 75% of the state's power comes from renewable sources. Conservation efforts focus on preserving forests, improving water quality, and maintaining healthy ecosystems. With most of its electricity from carbon-free sources, Vermont aims to further reduce greenhouse gases. With a citizenry that deeply values its stunning natural beauty, Vermont leads by example in creating a pristine environment for all to enjoy.
Facts About Vermont: Vermont is known for its covered bridges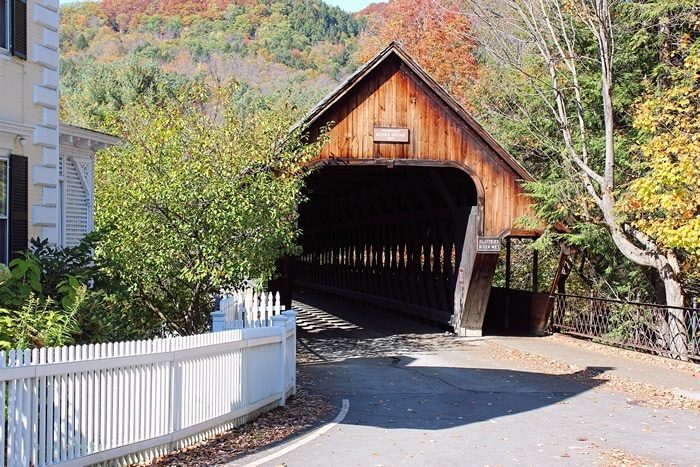 With over 100 historic covered bridges still standing, Vermont is one of the few states that has more of these iconic wooden structures than any other state. The unique architecture and charm of Vermont's covered bridges make them beloved landmarks that attract tourists from all over. These bridges exemplify classic New England imagery, with their bright red paint and picturesque settings. Every one of them make Vermont a scenic treasure to behold.
The quaint covered bridges that dot the Green Mountain state provide a glimpse into the past. Many of Vermont's covered bridges date back to the 19th century, allowing travelers to experience a slice of history first-hand. Due to the extreme weather conditions in Vermont, the covered design helped protect the wooden structures and allowed them to withstand the elements. While covered bridges used to be commonplace across America, Vermont is now one of the few remaining states that has so many of these historic bridges still standing. They remain treasured landmarks today.
Exploring Vermont's State Parks
For those seeking even more opportunities to immerse themselves in Vermont's natural wonders, the state's 59 Vermont state parks are waiting to be discovered. These parks feature an array of outdoor activities, including camping, fishing, swimming, and paddling. The following are just a few of the many Vermont State Parks.
| State Park | Location | Activities |
| --- | --- | --- |
| Groton State Forest | Marshfield | Hiking, fishing, boating |
| Smugglers' Notch State Park | Stowe | Rock climbing, hiking, picnicking |
| Camel's Hump State Park | Huntington | Hiking, wildlife viewing |
Some of the things that Vermont is known for are the many choices of Vermont Outdoor Recreation
These parks, known for many things, showcase the diverse ecosystems and natural beauty that Vermont has to offer. Whether you're looking to catch a glimpse of the state's abundant wildlife, picnic by a serene lake, or simply soak in the peaceful ambiance of the forest, Vermont's state parks provide the perfect backdrop.
With its lush landscapes and green mountains, Vermont beckons adventurers and nature enthusiasts alike. Its unparalleled beauty and outdoor recreational opportunities make it a must-visit destination for those seeking to reconnect with nature and explore the wonders of the Green Mountain State.
Got Milk? Vermont Dairy from Contented Cows
Moo-ving through the lush green pastures, happy cows munch on grass at Vermont's famed dairy farms. For Vermont cows, the grass is always greener!
The sweet cream and milk from these content bovines is then used to churn out delicious butter and ice cream at old-fashioned creameries. The cows seem to smile as they amble into quaint red barns to get milked when the farmer calls. Afterwards, they get back to the cud-chewing and leisurely grazing that gives Vermont dairy products their rich, wholesome taste.
When enjoying a scoop of creamy maple ice cream or spreading melting butter on a flaky croissant, one can almost hear the gentle moos carried on the breeze that waft over the rolling hills covered in wildflowers where these iconic dairy cows roam.
Delightful Maple Syrup and Cheddar Cheese
When you think of Vermont, two things immediately come to mind: its succulent maple syrup and world-class cheddar cheese. Known for its dairy products, Vermont has a rich history of producing some of the finest maple syrup and cheddar cheese in the world. If you like Vermont cheddar cheese, this is the place to be!
Maple syrup is a beloved delicacy that Vermont is famous for. With its vast forests of maple trees, known as the Green Mountain State, Vermont produces an abundance of maple syrup each year. The process of tapping maple trees and collecting their sap to make syrup has been a long-standing tradition in the state. The result is a pure, golden elixir that adds a touch of sweetness to everything from pancakes and waffles to desserts and cocktails.
Vermont cheddar cheese is equally renowned and has earned a reputation for its exceptional quality and flavor. Crafted by local artisans using traditional methods, Vermont cheddar is known for its sharpness, smooth texture, and distinct taste. Made with milk from Vermont's dairy farms, the cheese reflects the state's commitment to sustainable agriculture and supports local farmers.
Vermont is Well Known For it's Fantastic Vermont Craft Beer
Vermont has become synonymous with quality craft beer, boasting more breweries per capita than any other state. Beer lovers enjoy the innovative flavors and variety offered by Vermont's microbreweries. The craft beers use high-quality local ingredients like pure mountain water, premium barley malts, and whole cone hops. Signature beer styles include Vermont IPAs, known for their hoppy and citrusy taste, and maple stouts and porters that incorporate Vermont's famous maple syrup.
The small-scale production allows for experimentation with styles like New England hazies, Belgian sours, and rotating seasonal releases. With its farmers' markets, food trucks, and brewery tours, Vermont craft beer culture creates a fun and community-focused experience. Whether sampling a flight of beers at a rustic brewpub or attending a local beer festival, Vermont craft brew delivers big flavors and fresh local terroir in every pint.
Vermont Distilleries and Tasting Rooms to Enjoy
The craft spirits scene is booming in Vermont, with numerous distilleries popping up across the state in recent years. These small-batch distillers are creating unique Vermont spirits using local ingredients and innovative techniques.
Clear vodkas showcase Vermont's pristine water and corn, while aged whiskeys are often maple-infused to highlight the state's famous syrup. Many distilleries are experimenting with fruit brandies, herbal liqueurs, and barrel-aged gins made with native botanicals like spruce tips and green walnuts.
The tasting rooms at these distilleries embody Vermont's craft culture, with a cozy, communal vibe where you can sample flights and chat with the passionate distillers themselves. Sipping a Vermont spirit captures the creativity and community spirit that make the Green Mountain State's liquor landscape stand out.
A Taste of Vermont's Best
For a truly authentic Vermont experience, be sure to visit the numerous maple syrup farms and cheddar cheese makers scattered throughout the state. You can take guided tours where you'll learn about the maple syrup production process and witness the art of cheesemaking firsthand. Many of these establishments also offer tastings, allowing you to sample the rich flavors that Vermont is famous for.
| Maple Syrup | Cheddar Cheese |
| --- | --- |
| Golden, sweet, and perfect for drizzling over pancakes and desserts. | Sharp, flavorful, and pairs deliciously with crackers and fruits. |
| Use in marinades, dressings, and glazes for a touch of natural sweetness. | Melts beautifully in sandwiches, macaroni and cheese, and casseroles. |
| Adds depth and complexity to cocktails, coffee, and baked goods. | Complements the flavors of apple pie, charcuterie boards, and artisan bread. |
Whether you indulge in a stack of fluffy pancakes drenched in Vermont maple syrup or savor a slice of creamy cheddar cheese, these quintessential Vermont flavors are sure to leave a lasting impression. So, don't miss the opportunity to experience the delightful combination of maple syrup and cheddar cheese that Vermont is known for.
Vermont Farm to Table Dining
Nothing beats grabbing a bite at Vermont's incredible farm-to-table restaurants! These spots work closely with local farms and producers to serve up the freshest, seasonal ingredients. We're talking juicy tomatoes and crisp greens picked that morning, plump chickens and tender beef from nearby pastures, and sweet corn and berries still warm from the sun.
The cozy, chill vibe pairs perfectly with the creative menus that let the quality Vermont flavors shine. And you just can't beat the experience of sipping a craft cider or maple cocktail while you dig into delicious fare sourced from just down the road.
With views of rolling hills and farms dotting the landscape, Vermont farm-to-table dining lets you connect with where your food comes from while filling up on some crazy delicious local cuisine. It's a super tasty way to get a taste of Vermont's bounty!
Ben & Jerry's Ice Cream
A trip to Vermont isn't complete without a stop at the Ben & Jerry's Factory in Waterbury. On a guided tour, you'll learn how the iconic ice cream is made, from the sourcing of local dairy and ingredients to the whimsical names and chunks mixed in. Sample exclusive flavors available only at the scoop shop or take a peek at the Flavor Graveyard of retired pints. Outside, pose with the company's big plastic cow statues or stroll through the surrounding Vermont countryside.
Vermont Orchards and Delicious Apple Cider
Vermont's cool climate and rich soil help produce perfect apples for making exceptional hard cider. Small orchards across the state grow heirloom and cider-specific apple varieties that lend rich, complex flavors. Skilled cider makers use traditional methods like pressing, fermenting, and aging to create distinct ciders that highlight apple aromas and tastes.
Dry, crisp ciders showcase tart apples while sweeter, smooth ciders blend sweet and bittersweet varieties. Beyond apples, Vermont's other famous products like maple syrup are often used to make unique barrel-aged or maple ciders. With its roots in New England's history, Vermont cider offers an authentic farm-to-bottle experience that captures the essence of fall in each refreshing pour.
Burlington: Vermont's Vibrant City
Located on the shores of Lake Champlain, Burlington is a lively city that serves as a gateway to all that Vermont has to offer. With its picturesque setting and vibrant atmosphere, it's no wonder that Burlington is a popular destination for visitors looking to experience the best of this beautiful state.
One of the things that Vermont is known for is that Senator Bernie Sanders was once mayor of Burlington.
Burlington, the largest city in Vermont, boasts a range of attractions and activities that cater to all interests. Whether you're a nature lover, history enthusiast, or foodie, you'll find something to enjoy in this charming city. The state is known for it's diverse restaurants and cuisines.
Take a stroll along the bustling Church Street Marketplace, where you'll find a mix of local boutiques, restaurants, and street performers. Explore the waterfront and enjoy stunning views of Lake Champlain. Visit the ECHO Leahy Center for Lake Champlain, an interactive science museum dedicated to the preservation and exploration of the lake's ecosystem.
| Attractions in Burlington | Address | Contact |
| --- | --- | --- |
| Church Street Marketplace | Church St, Burlington, VT 05401 | (802) 863-1648 |
| ECHO Leahy Center for Lake Champlain | 1 College St, Burlington, VT 05401 | (802) 864-1848 |
If you're a beer lover, be sure to check out Burlington's thriving craft beer scene. With numerous breweries and brewpubs to choose from, you can taste a wide variety of locally brewed beers and experience the passion and creativity of Vermont's brewers.
When it comes to dining, Burlington offers a diverse and vibrant culinary scene. From farm-to-table restaurants serving fresh, locally sourced ingredients to international cuisines and cozy cafes, there are options to suit every palate and craving.
Whether you're planning a day trip or a longer stay, Burlington is the perfect starting point for exploring all that Vermont has to offer. From its vibrant city life to its stunning natural landscapes, this charming city truly embodies the essence of the Green Mountain State.
Famous People from Vermont and Brands
Vermont has been the birthplace of many notable individuals, including U.S. presidents, senators, and even beloved brands like Vermont Teddy Bear. This small New England state has produced influential figures who have left a lasting impact on politics, entertainment, and business.
One of Vermont's most famous sons is Calvin Coolidge, the 30th president of the United States. Born in Plymouth Notch, Coolidge served as vice president under Warren G. Harding and became president following Harding's death in 1923. He is known for his conservative policies and his leadership during a time of economic growth and prosperity.
Vermont Teddy Bear: A Beloved Brand
In addition to political figures, Vermont is also home to the iconic Vermont Teddy Bear Company. Founded in 1981, this family-owned business has been creating handmade, high-quality teddy bears for over three decades. Each bear is crafted with love and attention to detail, making them a favorite among collectors and gift-givers alike.
With a rich history and a commitment to quality craftsmanship, Vermont Teddy Bear has become a symbol of the state's warm and welcoming nature. Their bears have even been featured in movies, TV shows, and on Broadway, solidifying their place as an iconic Vermont brand.
| Famous People | Birthplace | Notable Achievements |
| --- | --- | --- |
| Calvin Coolidge | Plymouth Notch | 30th President of the United States |
| Vermont Teddy Bear Company | Shelburne | Iconic teddy bear brand, handmade and beloved worldwide |
Outdoor Adventures and Ski Resorts in Vermont
The state is well known for it's covered bridges, but did you know that Vermont is also famous for it's world class ski resorts? Vermont has a long history of hosting ski resorts ranging from small, local hills to famous mountain resorts such as Killington and Stowe.
With its magnificent ski resorts, ample hiking trails, and beautiful Lake Champlain, Vermont offers endless opportunities for outdoor adventure. Whether you're a skier, hiker, or water sports enthusiast, this picturesque state has something for everyone.
Vermont is known for its many ski resorts, which draw visitors from near and far. From the iconic slopes of Killington and Stowe to the family-friendly atmosphere of Okemo Mountain Resort, there is a ski resort to suit every level of expertise and interest. With well-groomed trails, stunning mountain views, and cozy lodges, skiing in Vermont is an experience like no other.
For those who prefer a different kind of outdoor adventure, Vermont's hiking trails offer plenty of scenic beauty and opportunities to explore the state's natural wonders. From the challenging Long Trail to more leisurely walks through state parks like Smugglers' Notch and Mount Mansfield, hikers of all levels will find a trail that suits their preferences. And let's not forget about Lake Champlain, where water enthusiasts can enjoy boating, fishing, kayaking, or simply lounging on the beach.
New England Ski Resorts in Vermont Include:
So, whether you're a thrill-seeker looking to hit the slopes or a nature lover eager to explore Vermont's breathtaking landscapes, this state has something to satisfy your outdoor cravings. Plan a Vermont ski trip and immerse yourself in its natural beauty and exhilarating adventures.
Vermont Covered Bridges
Vermont is widely known for its iconic covered bridges, which dot the landscape and add a touch of nostalgia to the state's scenic drives. These charming structures not only serve as functional crossings but also serve as a symbol of Vermont's rich history and picturesque landscapes.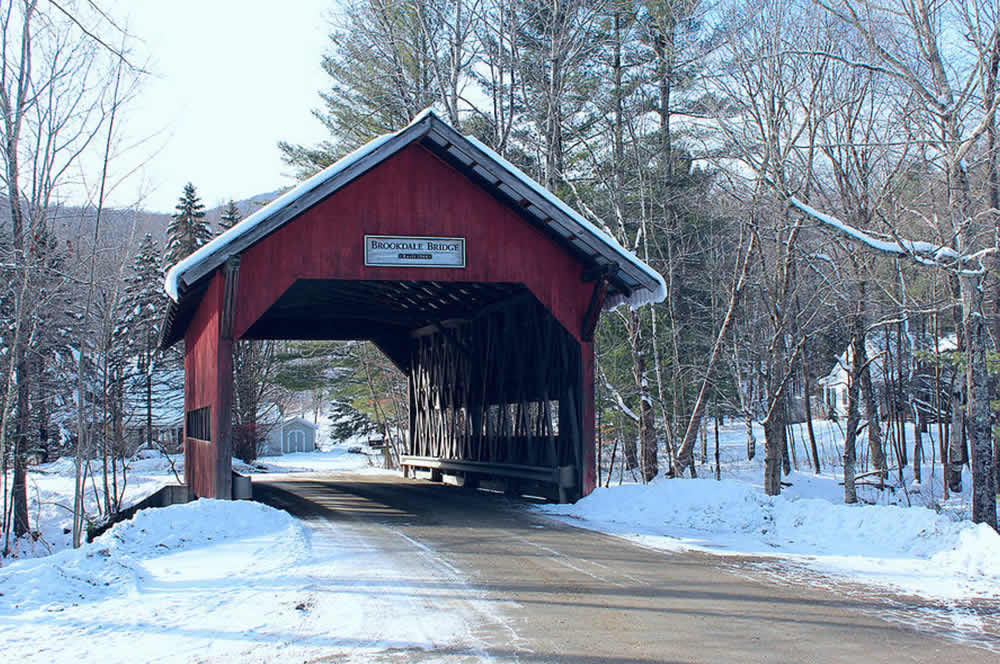 One of the most famous covered bridges in Vermont is the Bridge of Flowers in Bennington. This unique bridge is adorned with vibrant flowers, creating a stunning spectacle for visitors to enjoy. It is not only a beautiful sight but also serves as a popular pedestrian bridge, allowing pedestrians to cross while immersing themselves in nature's beauty.
Another notable covered bridge is the Arlington Green Covered Bridge in Arlington. This bridge is nestled amidst scenic countryside, offering breathtaking views of the surrounding mountains and lush greenery. It is a popular spot for photography enthusiasts, as the bridge provides a picturesque backdrop for capturing beautiful images.
For those looking to explore the history and charm of Vermont's covered bridges, a visit to the Vermont Country Store is a must. This historic establishment showcases a wide range of Vermont-made products, including artisan crafts, specialty foods, and unique souvenirs. It is a perfect place to find a memento to remember your visit to Vermont or to pick up a delicious treat to enjoy on your scenic drive.
| Covered Bridge | Location | Notable Features |
| --- | --- | --- |
| Bridge of Flowers | Bennington | Adorned with vibrant flowers |
| Arlington Green Covered Bridge | Arlington | Breathtaking views of surrounding mountains |
"The covered bridges of Vermont offer a glimpse into the state's rich history and add a touch of nostalgia to any scenic drive. They are not only functional structures but also serve as iconic landmarks that draw visitors from near and far." – Vermont Enthusiast
Scenic Drives in Vermont
In addition to its covered bridges, Vermont is also known for its scenic drives that showcase the state's natural beauty. One popular route is the Route 100 that winds through the heart of Vermont and offers breathtaking views of the Green Mountains and charming small towns along the way.
Another scenic drive worth exploring is the Notch Road in Stowe. This winding mountain road takes you through the picturesque Smugglers' Notch State Park, where you can admire stunning rock formations and cascading waterfalls.
If you're looking for coastal views, the Champlain Islands offer a scenic drive along Lake Champlain, with opportunities to stop and enjoy the sandy beaches, charming waterfront towns, and stunning lake views. No visit in Vermont would be complete without a stop in South Hero, Vermont and Champlain Islands places to see and explore.
Route 100: Breathtaking views of the Green Mountains.
Notch Road: Picturesque drive through Smugglers' Notch State Park.
Champlain Islands: Coastal drive along Lake Champlain. Known for its apple orchards.
Whether you're seeking the nostalgia of covered bridges, tourist attractions in Vermont, or the awe-inspiring beauty of scenic drives, Vermont's attractions offer something for everyone. From the picturesque landscapes to the quaint towns and villages, visiting Vermont is a journey filled with charm and natural wonders.
Fall Foliage Season in Vermont
Vermont is absolutely stunning in the fall when the leaves on the trees turn into a sea of vibrant reds, oranges, and yellows. It's no wonder so many people flock to the Green Mountain State once September and October roll around!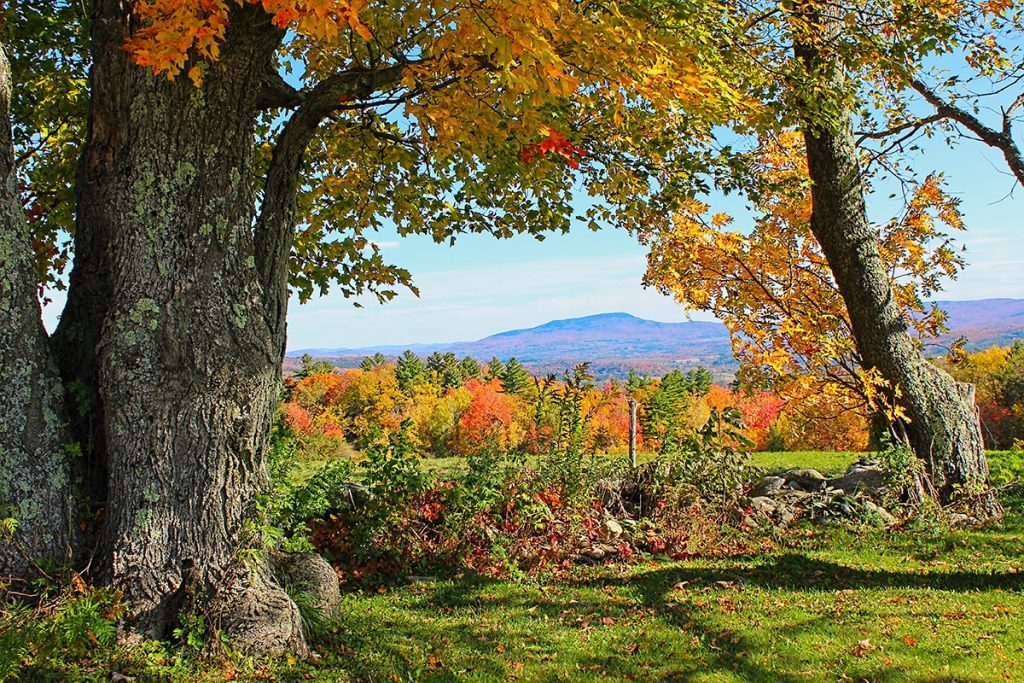 Visitors get pumped to drive Vermont's scenic byways like the Route 100 Bypass just to gawk at the gorgeous foliage. They also can't wait to get lost wandering through corn mazes and pumpkin patches at local farms, or by taking in the views during scenic hikes and bike rides.
And for those crisp fall days when the air has a hint of winter chill, nothing beats perusing the state's famous farm stands and markets for fresh apples and cider donuts, or relaxing at a fabulous Vermont brewery or café with a maple latte or a pint of craft beer. Trust me, once you experience a Vermont autumn, you'll be head over heels for those classic fall feelings!
Things that Vermont is known for include charming towns like Stowe
From the bustling state capital of Montpelier to the charming villages like Woodstock and Stowe, Vermont is home to an array of idyllic towns waiting to be explored. Each town in Vermont has its own unique flavor and offers a glimpse into the state's rich history and culture. Whether you're looking for a quiet, picturesque getaway or a vibrant town with bustling streets, Vermont has something to offer.
Woodstock is a town located in east-central Vermont, in Windsor County
One of the most beloved towns in Vermont, Woodstock is known for its quintessential New England charm. With its quaint village green, historic homes, and covered bridges, Woodstock exudes a timeless beauty. Visitors can explore the shops and galleries that line the main street, enjoy a meal at one of the local restaurants, or take a stroll through the picturesque Marsh-Billings-Rockefeller National Historical Park.
Some key facts about the location of Woodstock, Vermont:
It is situated in the Ottauquechee River valley, surrounded by the Green Mountains.
Woodstock is located approximately 40 miles south of Montpelier, the state capital of Vermont.
The town is located along Vermont State Route 106, one of the main routes running north-south through central Vermont.
Woodstock is situated just west of the border with New Hampshire. The town of Lincoln, New Hampshire lies just across the state border to the east.
Other notable towns nearby include Killington to the west, Barnard to the north, and Hartland to the south.
Woodstock is considered part of the broader Upper Valley region of Vermont and New Hampshire. This area encompasses towns along the Connecticut River, which flows nearby just east of Woodstock.
The town is situated in a rural area of Vermont, known for its natural beauty. Woodstock is considered the gateway to the scenic Green Mountain National Forest which lies just west.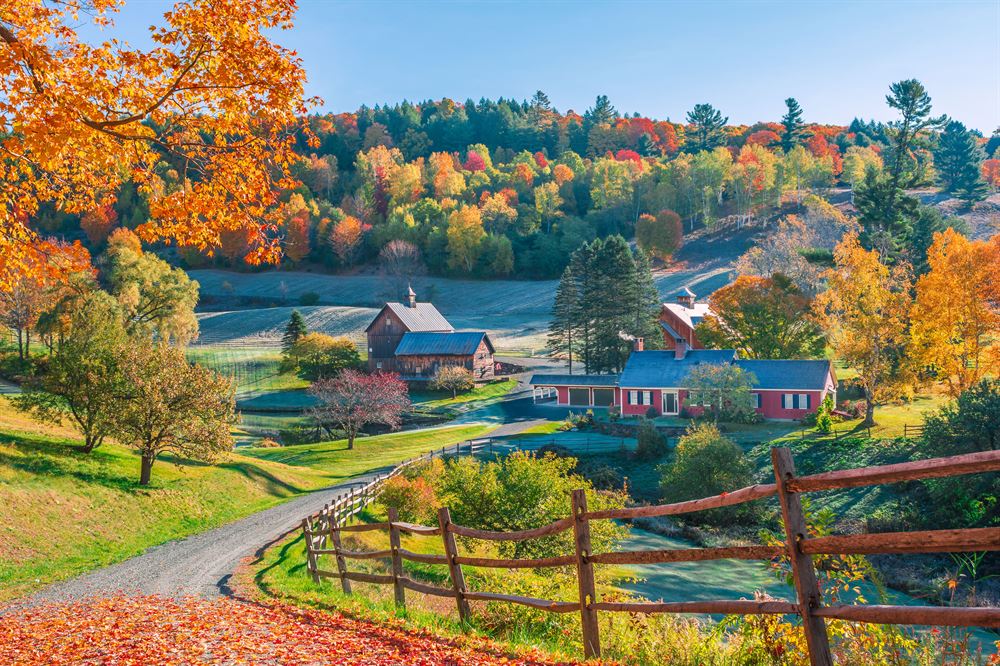 So in summary, Woodstock is nestled in the Green Mountains in east-central Vermont, situated along a main route through a rural valley area near the New Hampshire border. There are plenty of things to do and see in Woodstock, Vermont for the entire family!
Stowe, Vermont is one of the things that Vermont is known for
Nestled in the heart of the Green Mountains, Stowe is famous for its world-class ski resort and breathtaking mountain views. In addition to its winter sports, Stowe offers a variety of outdoor activities throughout the year, from hiking and mountain biking to scenic drives and golf. The charming village of Stowe features a vibrant arts scene, with galleries showcasing local artists and an annual outdoor arts festival that attracts visitors from near and far.
Montpelier is Located in the North-Central Area of Vermont
As the state capital, Montpelier may be the smallest and least populous state capital in the United States, but it is big on charm. The city is known for its historic downtown area, lined with unique shops, cafes, and restaurants. Visitors can explore the Vermont State House, the beautiful Hubbard Park, and the Vermont Historical Society Museum. Montpelier also hosts various cultural events and festivals throughout the year, showcasing the vibrant arts and music scene of the city.
With its charming towns and quaint villages, Vermont offers a warm and welcoming atmosphere that makes it the perfect destination for travelers seeking a unique and picturesque experience. Whether you're exploring the historic streets of Montpelier, enjoying the natural beauty of Woodstock, or hitting the slopes in Stowe, Vermont's idyllic towns and breathtaking scenery will leave you with cherished memories that will last a lifetime.
Things that Vermont is Known for Include Family-Friendly Adventures
Vermont is a wonderful destination for families, offering a wide range of experiences that cater to all ages and interests. Whether you're looking for educational activities, outdoor adventures, or simply a relaxing getaway, Vermont has something to offer for everyone.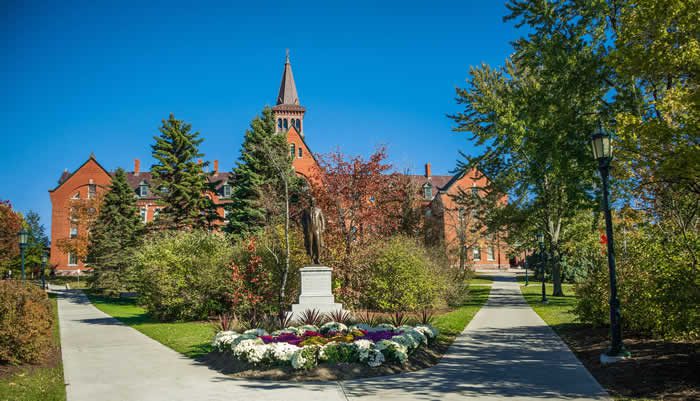 The University of Vermont, located in Burlington, is an excellent place to start your family-friendly journey. Take a campus tour, visit the university's Morgan Horse Farm, or catch a game at the Gutterson Fieldhouse. The university also hosts various events and workshops that provide educational and engaging opportunities for visitors of all ages.
| Family-Friendly Experiences in Vermont | Description |
| --- | --- |
| Vermont Teddy Bear Factory | Take a tour of the Vermont Teddy Bear Factory in Shelburne and witness the creation of these iconic, handcrafted bears. Kids can even make their own stuffed animals and personalize them with outfits and accessories. |
| Farm Stays | Experience life on a Vermont farm by booking a farm stay. Children can get up close and personal with farm animals, learn about sustainable agriculture, and participate in hands-on activities like milking cows or collecting eggs. |
| Science Centers and Museums | Vermont is home to several science centers and museums that provide interactive exhibits and educational programs for children. From the Montshire Museum of Science to ECHO Leahy Center for Lake Champlain, kids can explore and learn about various scientific disciplines in a fun and engaging way. |
One of the best things about Vermont is its commitment to preserving its natural resources and teaching future generations about the importance of sustainability. Many family-friendly attractions in Vermont focus on environmental education and conservation efforts, allowing children to learn about the environment while having fun.
Exploring Vermont's State Parks
With 59 state parks scattered throughout the state, Vermont is a haven for nature lovers, offering breathtaking vistas, lush forests, and vibrant fall colors. Whether you're an avid hiker, a photography enthusiast, or simply someone who appreciates the beauty of the outdoors, Vermont's state parks provide the perfect escape to immerse yourself in nature.
From the rugged peaks of Camel's Hump State Park to the tranquil shores of Lake Willoughby at Willoughby State Forest, there is a park for every interest and activity level. Take a leisurely hike along the Long Trail at Mount Mansfield State Forest, the highest peak in Vermont, and be rewarded with sweeping panoramic views. Or, if water sports are more your style, head to Lake Bomoseen State Park and enjoy swimming, boating, and fishing in the crystal-clear waters.
For the ultimate camping experience, consider staying at one of Vermont's state park campgrounds. Set up your tent or park your RV amidst the lush greenery and enjoy the serenity of nature. Many parks also offer amenities such as picnic areas, playgrounds, and nature trails, ensuring fun for the whole family. And don't forget to pack your camera, as Vermont's state parks provide endless opportunities for capturing stunning photographs.
Here are just a few of the many Vermont state parks to visit:
So, whether you're seeking adventure, relaxation, or simply a chance to connect with nature, Vermont's state parks offer something for everyone. Pack your hiking boots, grab your camera, and embark on a memorable outdoor adventure in the Green Mountain State.
Getting Around and Accommodations
Whether you choose to explore Vermont by car or public transportation, getting around the state is convenient, allowing you to make the most of your visit to its many tourist attractions. Vermont is a picturesque state located in the heart of the New England region and is the only New England state without a coastline. It offers a diverse range of experiences, from the vibrant city of Burlington to the charming towns and villages sprinkled throughout its scenic landscapes.
When it comes to accommodations, Vermont has something to suit every traveler's preference. From cozy bed and breakfasts to luxurious hotels, rustic cabins, and even camping and glamping options, there's no shortage of places to stay. If you're looking for a unique experience, consider staying at a farm or inn, where you can immerse yourself in the state's rich agricultural heritage and enjoy farm-fresh meals prepared with local ingredients.
Vermont's weather is known for its fluctuations, with hot summers and cold winters. However, every season in Vermont has its own charm and beauty. Fall is particularly incredible, with the state's foliage transforming into a vibrant display of reds, oranges, and yellows. It's the perfect time to explore the state's many hiking trails or take a scenic drive through the countryside. In winter, Vermont becomes a winter wonderland, with ski resorts offering world-class skiing and snowboarding opportunities.
Exploring Vermont by Car
If you choose to explore Vermont by car, you'll have the freedom to create your own itinerary and explore at your own pace. The state's well-maintained roads and highways make it easy to navigate, and there are plenty of scenic routes to choose from. From driving through covered bridges to exploring the state's charming towns and villages, there's always something new to discover around every bend.
Advantages of exploring Vermont by car:
– Flexibility to create your own itinerary
– Easy navigation with well-maintained roads
– Opportunity to explore scenic routes and charming towns
– Convenience for reaching remote attractions
If you're visiting Vermont from a neighboring state, you can easily reach the state by car via the interstate highway system. Interstate 89 and Interstate 91 are the major highways that connect Vermont with New Hampshire, Massachusetts, and New York. Once you're in Vermont, you can take advantage of the state's park-and-ride facilities, which provide convenient parking for day trips to popular tourist attractions.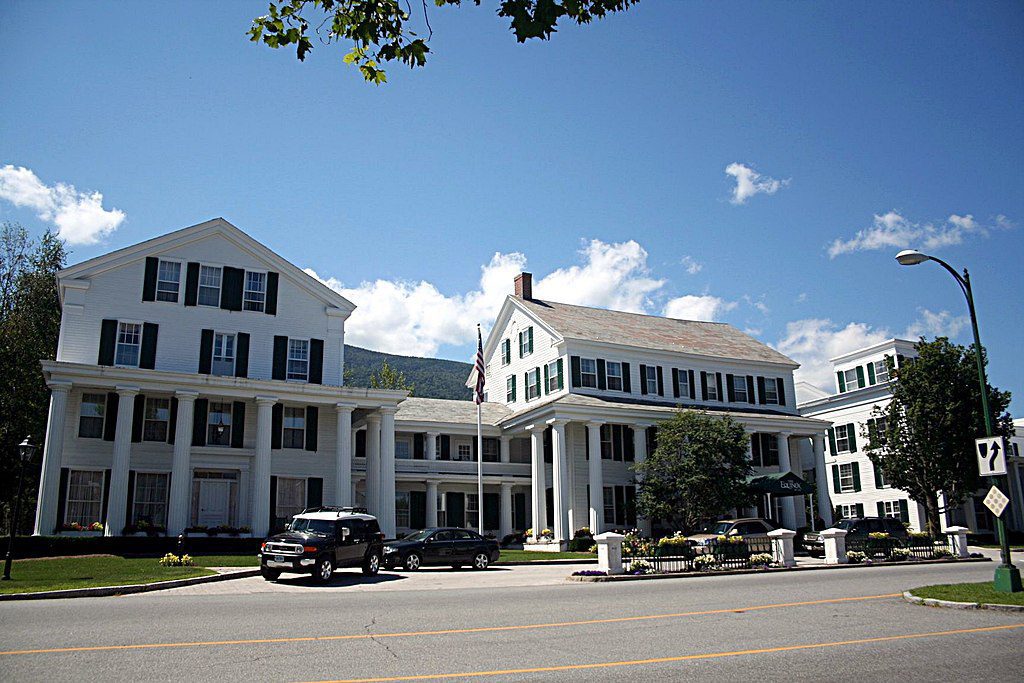 Regardless of whether you choose to explore Vermont by car or public transportation, the state's charm and natural beauty will leave you with lasting memories. From the vibrant city of Burlington to the quaint villages and stunning landscapes, Vermont offers a unique and unforgettable experience for every traveler.
Vermont: A Warm Welcome Awaits
With its warm hospitality, stunning landscapes, and rich history, it's no surprise that Vermont is a beloved state known for its unique charm and character. Nestled in the heart of New England, Vermont is a great destination for those seeking a piece of authentic Americana. From the breathtaking beauty of its Green Mountains to the delightful taste of its famous apple cider, Vermont offers a one-of-a-kind experience.
Known as the "Green Mountain State," Vermont is famous for its commitment to preserving its natural surroundings. With lush forests, picturesque lakes, and plenty of outdoor activities, it's a paradise for nature lovers and adventure enthusiasts. Whether you're exploring the state's 59 state parks, skiing down the slopes of one of its many ski resorts, or simply taking a scenic drive through its covered bridges, Vermont is sure to captivate you with its breathtaking landscapes.
But Vermont is not just about its natural beauty. The state is also known for its artisan products and specialty foods. From the world-famous Vermont cheddar cheese to the delightful taste of pure maple syrup, there's something to satisfy every food lover's palate. And with its charming towns and quaint villages, each with its own unique flavor, Vermont offers a truly authentic experience.
Many Places to Stay, B&B Bed & Breakfast and Lodging
When it comes to accommodations, Vermont has something for everyone. From cozy bed and breakfasts to luxurious resorts, you'll find a range of options to suit your taste and budget. And with its friendly locals and welcoming atmosphere, you'll feel right at home in the Green Mountain State.
So, whether you're planning a family vacation, a romantic getaway, or an outdoor adventure, Vermont is a destination that will leave you with cherished memories and a longing to return. With its commitment to sustainability, stunning landscapes, and warm hospitality, Vermont is not just a state in the country; it's a place that captures the hearts of all who visit. Come and discover the magic of Vermont – the state that's known as one of America's best-kept secrets.
FAQ's
What is Vermont known for and why do people visit here?
Vermont is known for its unique attractions, including natural landscapes, artisan products, specialty foods, and outdoor activities like skiing, mountain biking, and hiking. It offers family-friendly experiences such as farm stays, hikes, and educational centers.
What are the best outdoor activities in Vermont?
Vermont's four distinct seasons provide endless opportunities for outdoor recreation, including hunting, fishing, skiing, mountain biking, hiking, fall foliage viewing, camping, and more.
What are some must-visit towns in Vermont? Is Vermont really as quaint and charming as it looks?
Vermont is home to many charming towns and cities, each with its own unique attractions. Burlington, the largest city in Vermont, is known for its vibrant atmosphere, while other towns like Stowe, Woodstock, and Manchester offer their own charm and attractions.
Fall Foliage in Vermont, Where can I experience Vermont's fall foliage?
Vermont's fall foliage is particularly incredible. You can experience the breathtaking colors by visiting scenic locations, driving along scenic routes, or exploring one of the state's 59 state parks.
What's up with all the farm-fresh food and drink in Vermont?
With its small farms and focus on local ingredients, Vermont offers an abundance of incredible farm-fresh food and drink straight from the source, like just-picked berries, crisp apples, organic vegetables, smooth dairy products, sweet maple syrup, and fresh craft beer and cider.
What is the best way to get around Vermont?
The best way to get around Vermont is by car. Having a car allows you to explore the state at your own pace and visit various attractions and scenic locations.
What are the accommodation options in Vermont?
Vermont offers a range of accommodation options to suit different preferences and budgets. You can choose from hotels, bed and breakfasts, camping, or even glamping options.
Is hiking popular in Vermont? Why are the Green Mountains so gosh darn gorgeous?
Yes, hiking in Vermont is popular, and the state offers trails suitable for all hiking styles and experience levels. You can explore scenic trails and enjoy the beauty of nature.
What are some attractions in Vermont for families?
Vermont offers many family-friendly experiences, such as farm stays, educational centers, and attractions like the University of Vermont and the Vermont Teddy Bear Company.
Will a trip to Vermont make me crave flannel shirts and cozy cabins?
Not necessarily but if you're visiting during fall foliage season or in the winter months both of these traditional Vermont essentials might sound pretty darn good!
Can I eat delicious pancakes drenched in authentic maple syrup in Vermont?
You bet you can! Most every restaurant in Vermont serving breakfast, will be happy to prepare your pancakes with real, Vermont maple syrup. If for some reason you run across some oddball place that's serving artificial maple syrup, run for the hills! With maple syrup so abundant in Vermont, nobody needs the fake stuff!
How many state parks are there in Vermont?
Vermont has 59 state parks to explore, offering various activities such as paddling, swimming, hiking, and camping. The state parks are a great way to immerse yourself in nature and enjoy outdoor adventures.