Vermont is home to some of the most picturesque and tranquil lakes in the United States. One of the most stunning of these is Lake Willoughby, located in the heart of Vermont's Northeast Kingdom. With its crystal-clear waters, breathtaking views, and unspoiled natural surroundings, Lake Willoughby is a true hidden gem that should be on every nature lover's bucket list.
Thank you for reading this post, don't forget to subscribe to our email list for the latest news!
Lake Willoughby Vermont – A Bit of History
Lake Willoughby, which is nestled between the towns of Westmore and Sutton, was formed around 10,000 years ago by retreating glaciers. The lake stretches for more than 5 miles and reaches depths of over 300 feet, making it the deepest lake in Vermont. It has long been a popular spot for fishing, swimming, and boating, with visitors coming from all over to experience its serene beauty.
Lake Willoughby is a lake in the town of Westmore, Vermont. The lake is located in the northeast corner of Vermont, located in the Northeast Kingdom, close to the border with Canada. Lake Willoughby was formed by glaciation. It has a surface area of approximately 2 square miles (5 km²). The depth varies from less than 4 feet (1.2 m) to over 100 feet (30 m).
The southern end of Lake Willoughby is adjacent to the Willoughby State Forest. This state forest includes Mount Pisgah, Mount Hor, altogether known as the "Willoughby Gap". The shoreline is rocky and steep and the water temperature is cold year-round.
Willoughby State Forest includes over 7000 gorgeous acres in northern Vermont. Lake Willoughby offers over 1600 acres containing rainbow trout, lake trout, brown trout, landlocked salmon and yellow perch. The South Trail is well known, offering sweeping views from Mt. Pisgah over to Mt. Hor and beyond. Viewing the nesting peregrine falcons and alpine plant life is enjoyed along the Willoughby Cliffs.
How Was Willoughby Lake Created?
Between Big Pisgah on the east and Little Pisgah on the west, there was an ice flow. This sliced through Mount Hor and adjacent metamorphic rock.
The ice flow may have exploited highly fractured bedrock or existing joints within the pluton.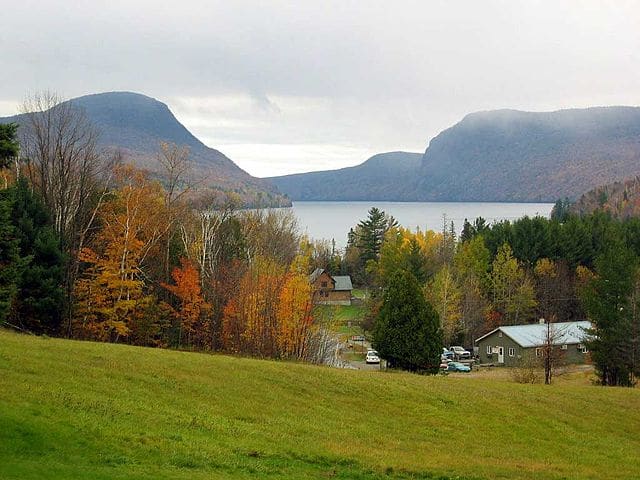 How did Willoughby Lake get its name?
One story says that the lake was named after a pair of brothers named Willoughby, who moved to Westmore. However, there isn't any evidence for them being settlers in the town records.So either Willoughby wasn't a Westmore land landowner, or he left for other reasons. Either way, Abby Maria Hemenway's 1877 Gazetteer doesn't mention it. Town records were not recorded during 1812-1815 due to war.
An old story that many people know is the tale of Willoughby. His name comes from a time when a man with a horse-drawn sled was crossing an icy lake. The ice broke, and he along with his driver drowned. Now this lake is known as Willoughby Lake in his memory.
Vermont foliage season offers spectacular colors from the tops of Mt. Pisgah and Mt. Hor hiking trails.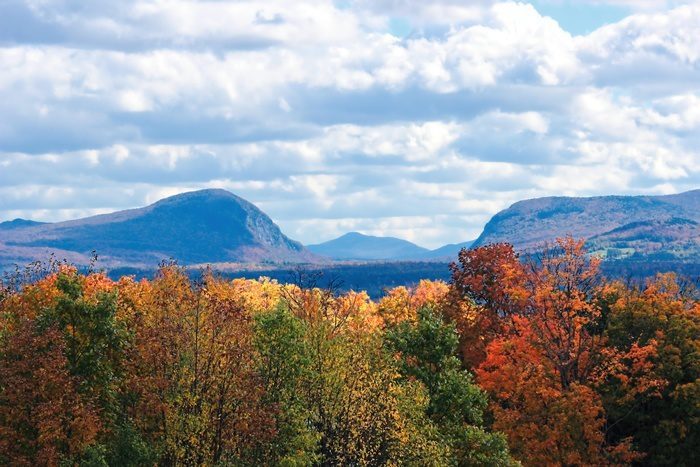 Lake Willoughby snakes through the state forest offering a variety of fishing, boating and hiking opportunities.
Many great fishing ponds including Newark Pond and Bald Hill Pond are just east of the Forest while Crystal Lake and Crystal Lake State Park are located just west of the Forest. Natural areas are located within the State Forest including Willoughby Cliffs Natural Area. The vertical cliffs of Mt. Pisgah and Mt. Hor which provide an environment conducive for arctic and cliff-alpine plants. The sheer cliffs also offer natural nesting habitat for peregrine falcon. Marl Pond is also known for being surrounded by a beautiful white cedar swamp. The historic Boulders dance casino and Tea Room was a major area attraction during its heyday but is now decaying into history.
Fishing is Popular at Lake Willoughby
Lake Willoughby has been known to be home to some very large fish, including northern pike and largemouth bass. The lake also has a variety of other species that can be found in it such as smallmouth bass, yellow perch, sunfish, bluegill, pumpkinseed and brown bullhead.
Outdoor Activities
Lake Willoughby is a haven for outdoor enthusiasts. Whether you're looking to hike, fish, or swim, there is something for everyone. The lake is surrounded by the stunning Mount Pisgah and Mount Hor, which offer some of the best hiking trails in the region. The hikes range in difficulty from easy to challenging, so there is something for hikers of all levels. If you're looking to cool off on a hot summer day, the lake's crystal-clear waters are perfect for swimming.
More Things to do and enjoy at Lake Willoughby
Boating, hunting, fishing, hiking and swimming are a few activities enjoyed in the Willoughby State Forest. Fishing opportunities are popular in the 1,653 acre Lake Willoughby. The lake is a wonderful example of glacial scouring in the Northeast. It is the deepest lake in the state with depths in excess of 300 feet. The lake is listed as a National Natural Landmark with catches that include rainbow trout, lake trout, brown trout, landlocked salmon and yellow perch.
The scenic beauty of Willoughby Lake in Westmore, VT, inspired the Poet Robert Frost in large part
Frost's four children made friends with other children at the lake. One vacationer at the resort informed Frost that Willoughby Lake was a wonderful place to watch for a naturalist, but that he gave up on this botany hobby because of the summer pollen.
Frost would go to the Conley home to get milk and eggs. Conley was a road foreman at that time, and a number of craftsmen stayed at the farm. Mrs. Conley was a rather hardworking person. Frost apologized for taking her time, but she told Frost that perhaps, it was a good idea to "rest a mite." The woman in Frost's poem called "A Servant to Servants" that appeared in The North of Boston in 1914 seems, he said, a composite of three ladies, of which Conley was one of them.
The Lake Willoughby Viewpoints
One of the highlights of visiting Lake Willoughby is the stunning viewpoints that can be found around the lake. The Willoughby State Forest has several hiking trails that offer breathtaking views of the lake and its surroundings. The Mount Pisgah Trail, for example, provides stunning views of both Lake Willoughby and the surrounding mountains. There are also several lookout points along the lake's eastern shore, where visitors can take in the stunning scenery.
Lake Willoughby Accommodations and Places to Stay
There are several accommodation options available for those looking to spend a few nights in the area. The town of Westmore has several lodges and inns, as well as campgrounds for those who prefer to spend their nights under the stars. There are also several vacation rental options in the area, including cabins and cottages that offer stunning views of the lake.
Although long gone, some remnants remain of the former Boulders at Lake Willoughby, including a fading title on a large rock. Read more about the history of the Boulders here.
Lake Willoughby is a true gem of natural beauty and one of Vermont's hidden treasures. With its crystal-clear waters, stunning views, and unspoiled natural surroundings, it is a must-visit destination for anyone looking to experience the best of Vermont's great outdoors. Whether you're a hiker, fisherman, or just looking for a peaceful place to relax, Lake Willoughby has something to offer. So, pack your bags, hit the road, and discover the magic of Lake Willoughby for yourself.