Vermont is a beautiful place during the holidays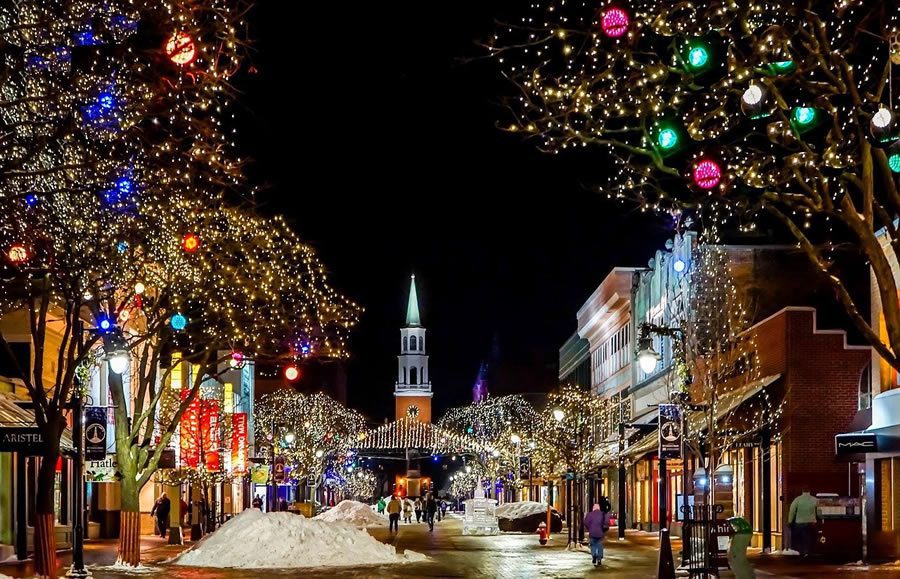 Christmas in Vermont can be a wonderful and festive time of year. Vermont is known for its natural beauty and small-town charm, which can add to the festive atmosphere during the holiday season. Some specific things that may make Christmas in Vermont particularly enjoyable include:
Thank you for reading this post, don't forget to subscribe to our email list for the latest news!
The colder weather and the possibility of snow, which can create a cozy and festive atmosphere.
The many holiday events and activities that are held in Vermont during the holiday season, such as tree lightings, carol sings, holiday markets, and more.
The opportunity to spend time with loved ones and enjoy the slower pace of life that can come with the holiday season.
The picturesque landscapes and charming small towns that are found throughout Vermont, which can provide a beautiful and festive backdrop for the holiday season.
Overall, Christmas in Vermont can be a special and memorable time of year, filled with warm holiday traditions, beautiful natural surroundings, and the opportunity to spend quality time with loved ones.
There are so many things to do and see. From shopping at Stowe Village, Woodstock or the Burlington area, to seeing Christmas lights in almost every Vermont town and village, to ice skating on Lake Champlain, Vermont has it all!
If you're looking for a cozy, snowy Christmas vacation spot on the East Coast, or romantic holiday getaways, Vermont might be the perfect destination. Skiing and snowboarding are popular in winter months, but there's also plenty to see and do just about anywhere in Vermont year-round.
If you're looking for a family-friendly vacation spot this winter, Vermont may be just the place for you!
A winter wonderland awaits travelers to Vermont for Christmas. The state is home to the most beautiful Christmas lights, the best ski slopes, and some of the most delicious food in New England.
Planning your trip to Vermont for Christmas starts with deciding which town you would like to stay in – Stowe, Woodstock, or Burlington. Once you've decided on a town, the hardest part will be figuring out what activities you'd like to engage in while you're here. You'll be spoiled for choice with skiing at Stowe Mountain Resort, ice-skating at Jay Peak Resort's Ice Arena, visiting Santa Claus at the Mall in South Burlington (or in one of many small town locales), or dining at one of Vermont's many restaurants.
It's not too soon to start planning your dream Christmas getaway.
Whether you're looking for a cozy retreat in the mountains, a lively urban city feel, or somewhere in between, Vermont has it all. There are plenty of ways to celebrate the holidays here – from strolling through Burlington's Church Street and taking in the sights and sounds of this vibrant city at Christmastime; to exploring Vermont's skiing, snowshoeing, biking, horse drawn sleigh rides and mountain hiking trails; to simply spending time with loved ones over festive holiday meals.
Vermont is a place where we can celebrate Christmas in a very special way. It has everything we need: family, friends, and the perfect settings for our Christmas vacation.
Christmas in Vermont can be celebrated in so many different ways: through sledding down snowy hills, finding the perfect gifts for our loved ones and singing carols with friends. The state is perfect for spending time with your loved ones. It offers plenty of snow-covered hillsides, cozy winter villages, and of course, maple syrup. Plenty of things to do during the winter season!
In Vermont, the holidays are a time to get together with family and friends. We get excited about getting together for a big breakfast, going to see all the Christmas lights, and/or getting out on the snowmobile trails or waxing up the cross-country skis.
The winter season is an important one for Vermonters. It provides them with opportunities to enjoy activities they might not be able to do any other time of year. Plus it's typically less busy than summertime.
Vermont is a state with a rich history and a deep connection with nature.
Vermont is home to some of the most beautiful scenery that this country has to offer. And when you add in the holiday spirit, it's an experience like no other. Vermont has a number of places that are perfect for the Christmas holidays. Whether it is snow, family or celebrating traditions, there are plenty of reasons to visit Vermont this season.
As you drive through the state, it's hard not to notice the snow-capped peaks and never-ending forests. The scenery is breathtaking at any time of year but especially during the winter months when everything is blanketed in snow. The hillsides in many parts of Vermont have a bit more green than they do at other times of year and they provide an idyllic backdrop for Christmas celebrations.
Visit Vermont
Vermont is a natural destination for families looking to create new memories together this holiday season with an abundance of fun activities and events geared towards kids and adults alike.
If you want to explore Vermont's beautiful mountains, then consider visiting one of its many ski resorts. For example, Stowe Mountain Resort is located in the heart of Vermont with views that are some of the most amazing in North America
One of the best places to celebrate Christmas is definitely Vermont The state has some of the most picturesque landscapes and charming towns. You will find everything you need for this festive time, including holiday decorations, gingerbread houses, caroling events and shopping opportunities.
Stowe is one of the oldest ski resorts in the country with an iconic mountain setting
If you want to truly experience winter in America during Christmas, you should head there. It's only about 36 miles from Burlington and a 45 minute drive, so if you want to take it easy on your travels, it's a great option for you!
Woodstock is a picture perfect town that attracts visitors with its artsy vibe and artistic architecture. Many people visit here during the holidays because they love exploring its charming streets with their family during this special time
Vermont is a place that has been the backdrop for many holiday-themed movies and television shows. In reality, Vermont is a beautiful place to visit year-round. In the winter, the area becomes covered in snow and you can experience all of the joys of sledding, ice fishing, and skiing. And in the summertime, you can explore all of Vermont's beautiful natural wonders.
Let this Winter scene in Peacham, Vermont relax you a bit!
Vermont is a great place to spend Christmas with your family
There are so many things to do and see. If you want to go skiing, snowboarding or just snowshoeing, Vermont has what you're looking for. If you want a more relaxed vacation, there are plenty of inns and bed and breakfasts that have great views of the mountains.
The state of Vermont has so much to offer, and it's never been more beautiful than during the Christmas season.
If you're looking for a place to enjoy the holidays with your family, there is no better place than Vermont. The natural beauty of this state is unmatched. In addition to skiing, snowboarding and ice skating, there are also plenty of festive events that will be sure to get you into the spirit.
There's no shortage of cozy accommodations from which to choose from in Vermont – from five-star hotels in Burlington and Woodstock to quaint inns in Stowe, Middlebury and Woodstock – there's a perfect place for everyone.
It is time for you to experience all this state has to offer during the Christmas season!
Vermont is a beautiful state that has a lot to offer. It offers lots of activities for the whole family, lots of different views and sights, and plenty of delicious food to eat.
Vermont is the perfect place for a vacation because it has many natural attractions, but also because it's close enough to Boston or New York City for those who want to take a break from the city life. Vermont is an easy drive from Pennsylvania and New Hampshire as well, so it's perfect for those who are looking for a short getaway.
There are many things to do in Vermont during Christmas time. From snowboarding in Stowe and staying at a family-friendly inn to sliding and celebrating with the family in Burlington.
Vermont for Christmas: Vermont is a beautiful place at any time of the year. But around the holidays, the state and its ski towns and communities light up with festive cheer.
Driving through Vermont's covered bridges, sparkly Christmas lights, photo ops with Santa and carolers is a can't-miss holiday tradition.
Take in the old-fashioned charm of Woodstock's Holiday Open House or Burlington's Winter Wonderland.
Visit family in Stowe, Waterbury, Montpelier or Woodstock to take part in their holiday festivities, which range from ice skating to gingerbread house making to live music. You can even make your own snowman or send someone special a snowball!
Why should you visit Vermont for Christmas?
Vermont is a state that is filled with family-friendly activities. Find out more about the history of Christmas in Vermont, what you can do there, and where to stay.
In the 1800s, Christmas in Vermont was a time when families gathered from remote towns to celebrate. In 1856, a group of Vermonters wanted to make sure that this tradition continued and organized a holiday festival called "The Festival of Green" which included a parade, singing, sledding and other winter-time activities.
Vermont is a place to enjoy everything we love about Christmas, but it's not just about the snow and ice skating. It's also about cozy moments at home, celebrating with family and friends, and feeling like a kid again. We hope you enjoy this post as much we enjoyed putting it together!
So what do you think? Do you believe that Vermont is the perfect place to spend the holidays with your family.
What are some of your favorite things to do in Vermont this time of year? Let us know in the comments!