Explore Hauntings in Vermont, Ghosts and Vermont Haunted Houses
Vermont is home to a multitude of haunted locations and ghostly tales, where travelers can delve into the mysterious world of hauntings and explore the spooky history of the Green Mountain State. From the infamous places in Vermont such as the Bennington Triangle to the eerie shores of Lake Memphremagog, Vermont offers a wealth of haunted sites and haunted houses for those seeking an otherworldly experience.
Thank you for reading this post, don't forget to subscribe to our email list for the latest news!
Whether you're a skeptic or a believer, these ghostly encounters are sure to send shivers down your spine. Ghosts are known to haunt every corner of Vermont, so let's just say that even in 2023, we live in one of the most haunted places in the USA!
A Quick List of Vermont Haunted House, Ghost Stories and More:
Sale
Bestseller No. 1
Haunted Vermont
Used Book in Good Condition
D'Agostino, Thomas (Author)
English (Publication Language)
160 Pages – 05/28/2011 (Publication Date) – Schiffer Publishing (Publisher)
Unearthing Vermont's Haunted History
Vermont's haunted history is steeped in legends and local lore, with ghost stories that have captivated the imaginations of both residents and visitors alike. From the mysterious Bennington Triangle to the eerie shores of Lake Memphremagog, the state offers a plethora of haunted locations that are sure to give you chills.
In New Haven, Vermont, explore the Evergreen Cemetery where a man was so frightened that he might be buried alive that he had an underground crypt specially prepared for him, just in case he should awaken to find himself buried alive.
The Equinox in Manchester Village is rumored to be haunted by the spirit of Mary Todd Lincoln, wife of former President Abraham Lincoln. Visitors have reported seeing her apparition roaming the halls or catching glimpses of her reflection in mirrors.
Further north, the quiet town of West Castleton is known for a ghostly rowboat that drifts across Lake Bomoseen, leaving witnesses puzzled by its vengeful presence. Meanwhile, in central Vermont, the Old Stagecoach Inn in Waterbury has gained notoriety for its haunting by the former owner, Nettie Spencer, who is said to make her presence known to guests.
No trip to Vermont would be complete without a visit to Stowe, where ghostly figures are said to roam. Boots Berry, a former employee of the Green Mountain Inn, is often heard tap dancing in the late hours, while Gold Brook Bridge plays host to the lovelorn ghost known as Emily.
Ghosts, Spirits, Vermont Haunted Houses and Friendly Haunts
Heading south to Cavendish, the Golden Stage Inn is believed to be haunted by a friendly spirit named George, who has been known to interact with guests. And just a short distance away, a solitary rider dressed in black has been spotted near Snail Swamp, adding to the area's haunted reputation.
Other notable haunted locations in Vermont include Norwich University in Northfield, the oldest private military college in the United States, where ghostly encounters have been reported; the Marble Inn in Fairhaven, VT where paranormal activity has been documented; and the Shelburne Museum, which boasts a collection of several haunted buildings and/or artifacts. The most allegedly haunted house on the property is the Dutton House.
Whether you're a believer in the supernatural or simply curious about the stories that have been passed down through generations, exploring Vermont's haunted past is sure to provide a thrilling and unforgettable experience. So venture forth and immerse yourself in the beauty and history of this haunted state, where ghostly encounters await around every corner.
Chilling Haunted Houses and Haunted Inns in Vermont
Vermont boasts a collection of haunted houses and inns that offer a vengeful glimpse into the supernatural, providing an unforgettable and spine-chilling experience for those brave enough to spend the night. From the historic Old Stagecoach Inn in Waterbury to the charming Golden Stage Inn in Cavendish, these haunted locations are sure to send shivers down your spine.
Vermont Haunted Houses
The Bowman House, Cuttingsville
The Bowman mansion in Vermont has long been rumored to be haunted. After the Bowman family moved out in 1953, a series of tenants reported experiencing unexplained phenomena within the old house. Strange noises, eerie lights, and even spectral visions were said to manifest on the property during its periods of abandonment. One chilling legend claims the cries of a phantom baby can sometimes be heard echoing through the empty rooms and halls. Whether these mysterious occurrences are supernatural or not, the Gothic Revival-style Bowman mansion certainly looks the part of a haunted house, looming over the surrounding fields and forest. The home's ominous reputation only grows with each re-telling of its ghostly tales.
The Cursed Hayden House in Albany, Vermont
Discover the mysterious story of the Hayden family of Albany, Vermont, and the eerie events that plagued their lives for generations. From unexplainable illnesses to tragic accidents, ghosts and unexplained deaths, some have speculated that the Hayden family was cursed and doomed.
A Haunted House in Glover, Vermont
Read the ghost story of a woman who moved into a Northeast Kingdom home in the small village of Glover, Vermont. In her words: "This house was haunted. Anyone who's read or heard just one ghost story knows about the bone-chilling cold that accompanies the presence of ectoplasm."
The many haunted houses and inns located in Vermont are just a glimpse into the eerie and supernatural encounters that await brave travelers. Whether you're exploring the mysterious happenings at the Old Stagecoach Inn or feeling the comforting presence of George at the Golden Stage Inn, these haunted locations offer a captivating blend of history and the paranormal. So, if you're up for a thrilling experience, venture into the haunted corners of Vermont and discover the spine-chilling tales that await.
The Cahoon Farm – A Haunted House in Lyndonville, Vermont
The Cahoon Farm's supernatural tales add character to an already historic home. Perhaps the spirits dwelling within remain out of fondness for the stately farmhouse they once called home or to reassure newcomers like Brown. Either way, the ghosts of Cahoon Farm demonstrate that the bonds of home and family can truly last an eternity.
Haunted Inns in Vermont
Old Stagecoach Inn, Waterbury
"The Old Stagecoach Inn is said to be haunted by the ghost of its former owner, Nettie Spencer. Guests have reported hearing footsteps and whispers late at night, feeling a cold presence in their rooms, and witnessing objects moving on their own. This fascinating inn combines its haunted history with warm hospitality, making it a popular destination for ghost enthusiasts and curious travelers alike."
Green Mountain Inn's Tap Dancing Ghost, Stowe
Any self respecting Vermont Inn has a resident ghost or two. The Green Mountain Inn located in Stowe is no exception. As a matter of fact, they have a very unique tap dancing ghost. The Inn itself is more than 173 years old and during that time, it has welcomed a variety of guests from famous celebrities to the rowdiest of individuals. The Inn was also home to a local man named Boots Berry, whose life ended on the grounds of the historic Inn.
Golden Stage Inn, Cavendish
"The Golden Stage Inn is home to a friendly spirit named George, who is said to watch over the guests and staff. Visitors have reported seeing him out of the corner of their eyes, feeling a comforting presence, and experiencing unexplained phenomena such as lights flickering and doors opening on their own. This charming inn offers a unique blend of history and paranormal activity, making it a must-visit for those seeking a spooky adventure."
White House Inn, Wilmington
Nestled in the rolling green hills of Wilmington, Vermont stands the stately White House Inn, which harbors over a century's worth of haunted history within its antique walls. This once magnificent mansion was constructed in 1915 as a luxurious summer retreat for the wealthy Brown family. The original owners, Martin and Clara Brown, personally oversaw each extravagant detail, from the 14 hand-carved fireplaces to the ornate crown molding and meticulously painted wallpaper.
After Martin's untimely death, the grieving Clara moved herself permanently into what is now known as Room 9, hoping to feel closer to her beloved husband's spirit. To this day, Clara's melancholy ghost reportedly still dwells in that room, welcoming female guests who happen to share her married name. As the tragic tale goes, one modern Mrs. Brown awoke to find Clara's specter seated at her bedside, kindly informing her that "there is only room for one Mrs. Brown." The shaken guest fled into the night, never to return.
Back Inn Time, St Albans
Friendly resident ghosts are said to have made the St. Albans, VT, Back Inn Time (a local inn) their home. According to former owner, Pauline Cray, who owned Inn in 2012, there is Lora, the wife of Sidney Weaver, a past owner of the home, haunting the Inn. Lora died at the young age of 30, however her spirit reportedly lives on at Back Inn Time. Another ghost spotted was that of a man. He had been seen in the downstairs parlor. Note: the current owners of the inn totally disavow any supernatural activity whatsoever and dismiss the story entirely.
Sale
Forgotten Tales of Vermont
Alexander, William M. (Author)
English (Publication Language)
160 Pages – 06/27/2008 (Publication Date) – The History Press (Publisher)
The Former Highgate Manor Inn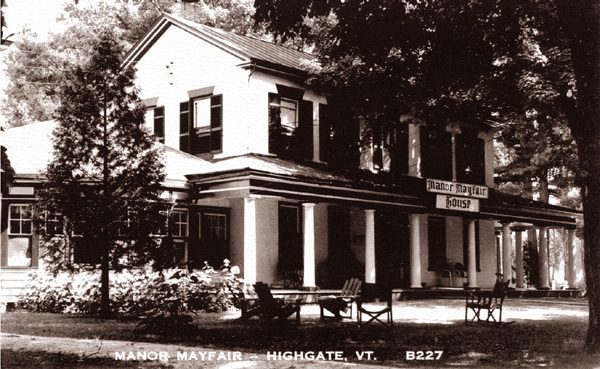 The Highgate Manor was built in 1818 by Captain Steve Keyes along with The Manor Mayfair, which was located directly across the green from the Manor. During the period of the Civil War the Manor was used as a stop on the Underground Railroad with tunnels running from under the house to the river. The former inn is located in Highgate Center, Vermont and is now a private residence. Please respect the current property owners and do not trespass if you happen to drive by.
The Haunted Norwich Inn
The Inn was purchased by Charles and Mary "Ma" Walker in 1920. According to the local legend, Ma Walker kept up the Inn's tradition as a tavern throughout the prohibition, by selling bootleg liquor from the basement, even after husband Charles' death, until the mid-1930s, when her own health concerns forced her to sell and retire from her life as the innkeeper. After Mary passed away, her spirit was apparently seen gliding along the upper floors. Her spirit can sometimes be seen in the dining room, dressed in a black formal gown.
Haunted Inns, Resorts and Sites in Bennington and Manchester
Bennington and Manchester hold a wealth of haunted places, with the luxurious Equinox Resort being whispered to house the apparition of none other than Mary Todd Lincoln herself. This historic resort, nestled in the picturesque village of Manchester, is said to be frequented by the former First Lady's spirit, with guests and staff reporting sightings and unexplained phenomena.
The Equinox resort is not the only haunted location in the area. Bennington, known for its mysterious Bennington Triangle, is home to several eerie sites that have sparked paranormal intrigue. From Glastenbury Mountain, where hikers have gone missing under inexplicable circumstances, to the haunted Bennington College campus, where strange occurrences have been reported, this area is a hotspot for ghost hunters and thrill-seekers.
"The Equinox resort is truly a unique destination for those seeking a brush with the supernatural. From flickering lights and cold spots to the eerie sight of Mary Todd Lincoln herself, this haunted hotspot is not for the faint of heart."
Apparitions and Anomalies
Visitors interested in exploring the haunted history of Bennington and Manchester can embark on ghost tours and paranormal investigations, delving into the macabre tales and unexplained phenomena that lurk within these towns. Whether you're intrigued by the legends of Mary Todd Lincoln's apparition or the enigma of the Bennington Triangle, these haunted sites will leave you captivated and perhaps a little spooked.
So, if you find yourself in Vermont, don't miss the opportunity to uncover the chilling tales and paranormal encounters, these haunted places provide a unique glimpse into the supernatural side of Vermont's history.
Spooky Stowe and Gold Brook Bridge
Stowe's haunted reputation is brought to life at the historic Green Mountain Inn, where the tap-dancing specter of Boots Berry and the lovelorn ghost named Emily captivate guests with their ghostly presence. As visitors explore the inn's charming corridors and cozy rooms, they may catch glimpses of these ethereal beings, surrounded by an aura of mystery and intrigue.
Boots Berry, a former employee of the inn, is said to have loved his job so much that he continues to entertain guests with his rhythmic tap dancing. His spectral presence is often accompanied by the sound of faint music, transporting visitors back in time to an era of elegance and grandeur.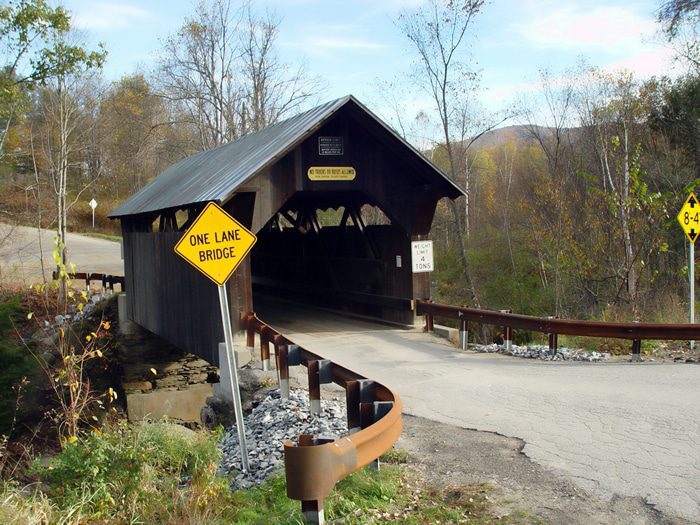 Just a short distance from the Green Mountain Inn lies Gold Brook Bridge, where the haunting tale of Emily unfolds. According to local lore, Emily was a young woman who tragically lost her life on her wedding day when her suitor failed to meet her at the bridge. Heartbroken and consumed by grief, her spirit is said to linger in the area, forever searching for her lost love.
Visitors to Gold Brook Bridge may feel a chill in the air as they marvel at the picturesque scenery. Some claim to have heard Emily's whispers carried by the wind, while others have reported witnessing fleeting glimpses of a white figure in a flowing gown. Whether you believe in the supernatural or simply appreciate a good ghost story, Stowe's haunted tales offer a captivating glimpse into the mysteries of the past.
Also, there is another Vermont ghost story about a girl named Emily, that is fascinating but not as well known as the famous Emily of Gold Brook Bridge
Ghostly Encounters in West Castleton and Lake Bomoseen
The tranquil serenity of West Castleton is interrupted by a chilling ghostly rowboat that silently glides across the waters of Lake Bomoseen, leaving visitors with a vengeful sense of the supernatural. This phantom vessel has long been a source of intrigue and fascination for those seeking a spine-tingling experience in Vermont.
Legend has it that the ghostly rowboat is inhabited by a restless spirit, eternally condemned to roam the lake. As the mist rises from the water, the phantom boat appears, a spectral reminder of unfinished business and unresolved emotions. Witnesses report feeling an icy chill in the air as they watch the ghostly vessel pass by, their hearts racing with a mix of trepidation and curiosity.
"The ghostly rowboat on Lake Bomoseen is a chilling reminder of the supernatural presence that lingers in West Castleton. It's an eerie sight that leaves you with a sense of awe and curiosity, wondering about the stories and history behind this haunting apparition."- local resident, B. Smith
The Mysteries and Ghostly Tales of Lake Bomoseen
Lake Bomoseen itself holds its fair share of mysteries and tales of the paranormal. As the largest lake entirely within Vermont, it has long captivated locals and visitors alike. From unexplained apparitions to eerie sounds echoing across the water, Lake Bomoseen has become a hotbed of ghostly activity.
Whether you believe in the supernatural or not, a visit to West Castleton and Lake Bomoseen is sure to ignite your imagination. Explore the tranquil beauty of the area by day, and as night falls, be prepared for the possibility of encountering the vengeful ghostly rowboat, a haunting reminder that some mysteries are best left unanswered.
More Haunted Locations in Vermont
With its long history and bucolic landscape, Vermont has accumulated its fair share of ghost stories and paranormal tales over the centuries. Though definitive proof may be lacking, Vermont's haunted history and folklore continue to intrigue both visitors and residents alike.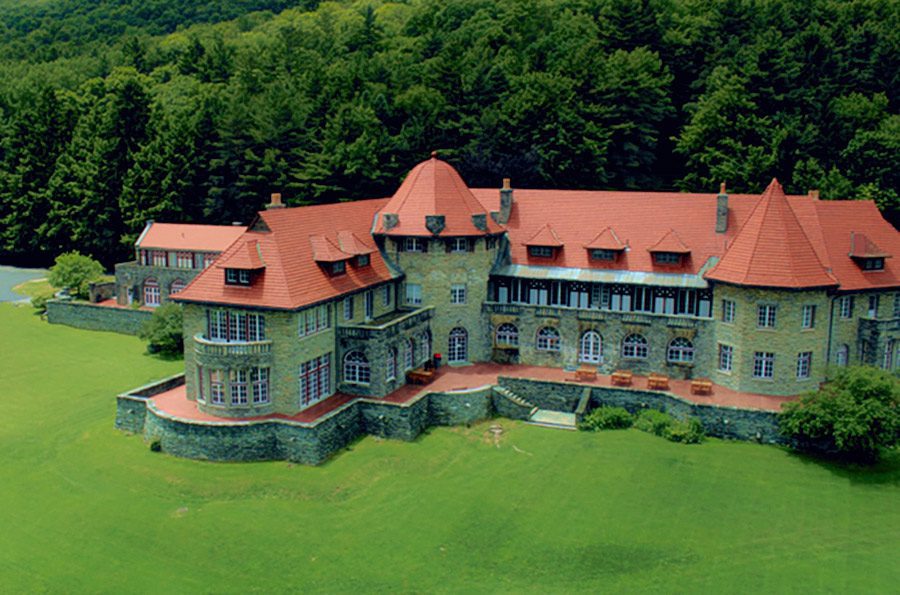 Vermont Haunted Colleges and Universities
Vermont's haunted landscape expands beyond haunted houses, with esteemed institutions like Norwich University and the University of Vermont embracing their paranormal side, offering ghost tours and paranormal encounters for thrill-seeking visitors. These renowned universities have a rich history, and their haunted pasts add an extra layer of intrigue. Whether you're a skeptic or a believer, these haunted locations in Vermont are sure to send a shiver down your spine.
Norwich University
Founded in 1819, Norwich University is the oldest private military college in the United States. It has a reputation for excellence in education and a commitment to military discipline. But did you know that this prestigious institution also has a haunted side? Visitors have reported paranormal encounters, such as strange sounds and ghostly apparitions, particularly in Dewey Hall. If you're brave enough, join one of the ghost tours offered on campus and see if you can unravel the mysteries that lie within Norwich University's storied halls.
University of Vermont
The University of Vermont, located in the picturesque city of Burlington, is another haunted hotspot in Vermont. Founded in 1791, it is the state's oldest university and has a vibrant campus community. But beneath the surface of academic excellence and bustling student life, ghostly tales abound. The Waterman Building, one of the university's iconic structures, is said to be haunted by a former professor, while the Redstone Hall dormitory is rumored to have ghostly residents. Take a ghost tour of the campus and explore the paranormal side of this historic institution.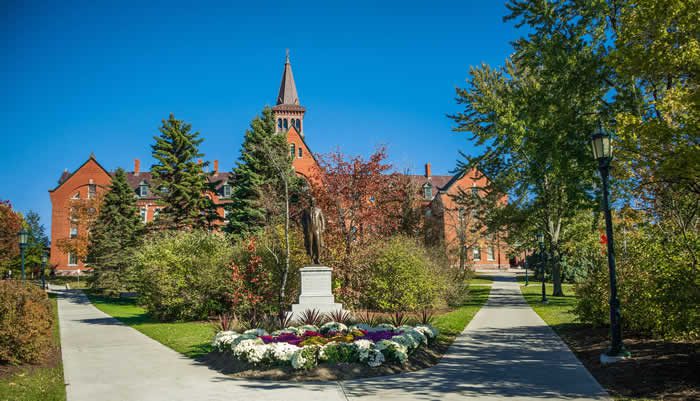 Saint Michael's College
St. Michael's College is located in Colchester, VT. It's one of those colleges you drive by all the time and admire the beauty of the historic buildings. Seemingly, a picture perfect campus with a typical Vermont look and appeal. But are there strange, spooky things going on behind locked doors?
Haunted Sites Across Vermont
From the eerie heights of the Brattleboro Retreat Tower to the historic halls of the Hartness House Inn, Vermont is dotted with haunted sites that spark curiosity and send shivers down the spine. Whether you're a paranormal enthusiast or simply seeking a thrill, these haunted locations offer a unique and chilling experience.
The Brattleboro Retreat Tower in Brattleboro is known for its mysterious and unsettling atmosphere. This former sanatorium is said to be haunted by the spirits of former patients, who are rumored to still wander the tower's dark corridors. Visitors often report eerie feelings, unexplained sounds, and sightings of ghostly apparitions, making it a must-visit destination for ghost hunters.
If you're looking for a haunted history lesson, the Vermont Police Academy in Pittsford is the place to be. The academy's campus is rumored to be haunted by the spirits of fallen officers, who continue to protect and watch over the grounds. Paranormal enthusiasts can take part in ghost tours and investigations, hoping to catch a glimpse of the otherworldly presence that lingers at this historic site.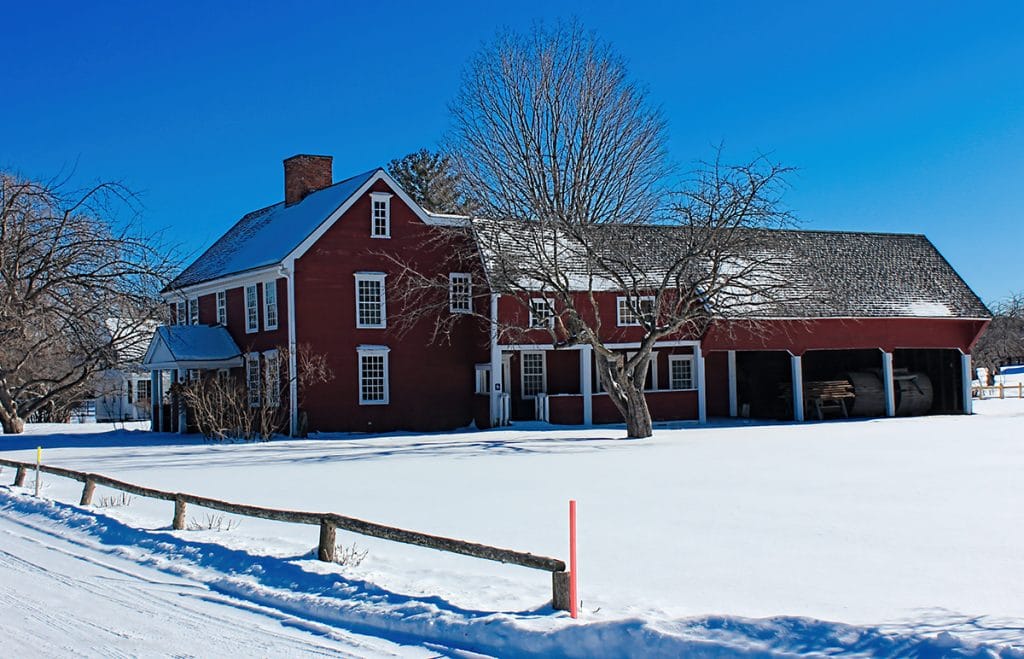 Notable Haunted Sites in Vermont:
For those with a penchant for art and history, the Shelburne Museum in Shelburne offers a hauntingly beautiful experience. This museum is home to a wide range of artifacts and exhibits, including a collection of haunted objects. Visitors have reported eerie sensations and unexplained occurrences while exploring the museum's buildings, such as the allegedly haunted Dutton House, adding an extra layer of intrigue to their visit.
Burlington has many places that are reputed to be haunted. Many of them are colleges and universities (as mentioned above) but there are also intriguing stories surrounding Burlington restaurant hauntings and even the story of a young woman who was killed by a train at the Burlington waterfront, many years ago.
Whether you're searching for ghostly encounters, spine-chilling tales, or simply a unique adventure, the haunted sites of Vermont offer a blend of beauty and history that will leave you captivated. Explore these mysterious locations, but beware, as you never know what paranormal activity or ghostly encounter may await.
Vermont's Haunted Past, Present, and Future
Uncovering the haunted past, present, and future of Vermont offers a spooky journey filled with paranormal activity, all while reveling in the beauty and history that intertwines with these ghostly encounters. From the eerie legends of the Bennington Triangle to the mysterious apparitions on Lake Memphremagog, Vermont is a treasure trove of haunted locations waiting to be explored.
"These haunted locations are steeped in history and provide an otherworldly experience for those brave enough to venture into the unknown," says paranormal expert, John Smith. "They offer a unique blend of beauty, history, and the supernatural, making Vermont a must-visit destination for ghost enthusiasts."
In addition to ghost stories and haunted houses, Vermont folklore and legends provide a bounty of stories about vampires, witches, strange animals and monsters beyond imagination. It's truly a wonder that any of us Vermonters sleep well at night with all this supernatural activity taking place in every nook and cranny of the Green Mountains.
Concluding Thoughts on Vermont's Hauntings and Ghostly Wonders
Vermont's hauntings and ghostly wonders encompass a rich tapestry of history and supernatural intrigue, inviting both thrill-seekers and curious souls to embrace the chills and delve into the mysteries that await in the Green Mountain State. With its vast array of haunted locations and ghost stories, Vermont offers a unique and captivating experience for those drawn to the supernatural.
Whether you choose to explore the haunted halls of Norwich University, embark on a self-guided ghost tour at the University of Vermont, or visit the eerie Brattleboro Retreat Tower, Vermont offers a treasure trove of paranormal experiences. From the historic Shelburne Museum to the luxurious Equinox Golf Resort & Spa, each haunted location adds a layer of mystery and intrigue to the state's already captivating landscape.
Vermont's haunted past, present, and future beckon the curious to uncover the secrets that lie within its shadowy corners. As you journey through the state, remember to keep an open mind and embrace the unknown. Vermont's hauntings, cemeteries and ghostly wonders await, ready to captivate and thrill those who dare to seek them.
FAQ
Are there any haunted locations in Vermont?
Yes, Vermont is home to many haunted locations throughout Vermont and ghost stories.
What are some haunted sites in Vermont?
Some haunted sites in Vermont include the Bennington Triangle, Lake Memphremagog, and various haunted houses throughout the state.
Can I visit haunted houses in Vermont?
Yes, there are several haunted houses in Vermont that you can visit, such as the Equinox in Manchester Village, the Old Stagecoach Inn in Waterbury, and the Golden Stage Inn near Ludlow.
Can I take a haunted house tour in Vermont?
Yes, Thea Lewis offers a Queen City Ghostwalk tour in Vermont that you would really enjoy. Haunted tours like this one will include some creepy places for fans of the paranormal. The Wilson Castle is a haunted castle that you can explore.
Are there any famous ghosts in Vermont?
Yes, there are famous ghosts in Vermont, such as Mary Todd Lincoln who is rumored to haunt the Equinox in Manchester Village, and Boots Berry who can be heard tap dancing in the Green Mountain Inn in Stowe. Emily's Bridge is the the most famous VT ghost story of all and one of New England's best haunted places. Visitors to the bridge have reported various odd and paranormal events.
Where can I find more haunted locations in Vermont?
You can find more haunted locations in Vermont, including Norwich University in Northfield, the University of Vermont in Burlington, the Shelburne Museum or Shelburne Farms in Shelburne, and the Hartness House Inn in Springfield. At many buildings on campus in Vermont, you'll hear tales of hauntings and supernatural activity. Vermont has more than one covered bridge with a ghost story. The town of Woodstock has more than it's share of haunted places, ghost stories and vampires.
Can I experience paranormal activity in Vermont?
Yes, many of the haunted locations in Vermont offer the chance to experience some paranormal activity while enjoying the beauty and history of the state. Look around for a haunted bed and breakfast, historic inn, tavern or haunted hotel and you might just find the creepy encounter you're looking for!