A Windowed Grave at Evergreen Cemetery in New Haven, Vermont
In the quaint New England town of New Haven, Vermont sits Evergreen Cemetery, home to hundreds of traditional grave sites. But one burial vault stands out – that of Dr. Timothy Clark Smith. His final resting place features a glass window at the top, allowing visitors to peer inside at the doctor's remains.
Thank you for reading this post, don't forget to subscribe to our email list for the latest news!
The fear of being buried alive is the fear of being placed in a grave while still alive, most likely the result of being incorrectly pronounced dead. Before the advent of modern medicine the fear was not entirely irrational. Throughout history there have been many cases of people being accidentally buried alive.
Grave Fascination: Exploring a Vermont Doctor's Bizarre Burial Crypt
During the 17th century there were a number of premature burials. Collapse and apparent death were not uncommon during epidemics of plague, cholera, and smallpox. From contemporary medical sources, William Tebb compiled 219 instances of narrow escape from premature burial, 149 cases of actual premature burial, 10 cases in which bodies were accidentally dissected before death, and 2 cases in which embalming was started on the not-yet-dead.
The Curious Case of Dr. Timothy Clark Smith's Windowed Tomb
In the quaint New England town of New Haven, Vermont sits Evergreen Cemetery, home to hundreds of traditional grave sites. But one burial vault stands out – that of Dr. Timothy Clark Smith. His final resting place features a glass window at the top, allowing visitors to peer inside at the doctor's remains.
Like something straight from an Edgar Allan Poe collection or a book of ghost stories, the plight of Dr. Timothy Clark Smith (1821-1893) is unusual to say the least
Let's just say that although Dr. Timothy Clark Smith has been dead for many years, things are definitely looking up…or at least he is. Dr. Smith was quite a busy man during life. He was a schoolteacher, a merchant, a clerk for the Treasury Dept. and obtained his degree as an MD in 1855, which led to his position as a staff surgeon in the Russian Army.
Smith was a worldly man with an eclectic career. He worked as a teacher, merchant, and clerk before pursuing his passion for medicine. After graduating from the University of New York in 1855, Smith served as a surgeon in the Russian army during the Crimean War. He went on to become the U.S. Consul in Odessa, Russia for over a decade. Well-traveled and erudite, Smith earned the nickname "Odessa" from his globe-trotting adventures.
Bestseller No. 1
But Smith's far-flung experiences also bred a lurking fear – that he would mistakenly be buried alive. In the late 1800s, embalming was not yet commonplace. Stories circulated of people awakening inside their graves. To avoid such a horrifying fate, Smith planned his unique burial vault. After his sudden passing in 1893, his son Harrison oversaw the construction of the arched crypt, complete with built-in stairs and a glass window shaft.
Legend tells that Smith equipped his tomb with tools to escape if revived. Peering down the foggy shaft, some claimed to see a hammer, chisel, and even Smith's bones scattered below. More macabre tales suggest Smith clutched a bell to ring if he woke prematurely under the earth. Though ghost stories are scarce, the eerie tales endure about the world traveler's bizarre burial plot, keeping visitors glancing over their shoulders as they pass through Evergreen Cemetery.
Dr. Smith died at the Logan House in Middlebury, Vermont – on on February 25, 1893, despite local rumors that he passed away on Halloween
An article that appeared in the Middlebury Register reported that Dr. Smith "died suddenly on Saturday morning at the Logan House (hotel) where he had been living. After breakfast, he walked out into the office and stood by the stove when stricken…"
A local-news article in the same issue noted that he was "formerly a resident of this town," adding that "Many will remember the old red store where Timothy Smith, Sr., traded, and afterwards his son."
He left behind a wife and several children. Supposedly, he died with a fear of catching sleeping sickness, which would give the illusion of death, later to awaken in a cold, dark grave, very much alive.
Dr. Smith is said to have comprising a plan that involved postponing his burial until he was certainly dead, and having his arched burial vault provided with stairs and a viewing window at the top of a glassed shaft. One of Smith's children, Harrison T.C. Smith of Gilman, Iowa, reportedly traveled to New Haven to plan and implement the construction of the crypt.
His body was interred at the Evergreen Cemetery in New Haven, VT. in his specially prepared grave
Beneath the odd, grassy mound of earth, Dr. Timothy Clark Smith's face was positioned beneath a cement tube that led to the surface
The 6 foot tube ended at a piece of 14×14 inch plate glass allowing Tim to gaze upward in the event that he was buried alive. An article by Joe Nickell of the Committee for Skeptical Inquiry, states that one of his children traveled to New Haven, VT from Iowa to supervise the construction of the specially designed crypt.
In addition he writes:
"According to the feature article, there are other legends about the tomb. One is that Smith had it outfitted with "tools for his escape." Although condensation and plant growth inside the shaft now block one's view, residents in years past claimed to see the tools along with Smith's bones. Said one, "You can see the face of the skeleton down there with a hammer and chisel crossed on the ground next to it" (Marquard 1982). Another source claims that when Smith was interred, "In the corpse's hand they placed a bell that he could ring should he wake up and find himself the victim of a premature burial" (The authors of Curious New England: The Unconventional Traveler's Guide to Eccentric Destinations, Citro and Foulds, 2003, 292). Curiously perhaps, ghost tales about the grave seem scarce."
According to the cemetery sexton, the burial vault has two rooms. One for Dr. Smith and the other for his wife. The burial vault is arched with stairs (capped by the stone in the lower front of the mound) and leads to the two rooms, with the viewing window at the top of the shaft.
Legends abound concerning the unusual tomb of Dr. Timothy Clark Smith.
Did he really have tools buried with him to aid in an escape from the crypt, if he were to suddenly awaken? If you were to gaze down into the window these days, all you would see is darkness and condensation on the glass. People from years ago claim to have seen the skeletal face of Dr. Smith along with a hammer and chisel placed nearby.
Several reports claim that a bell was placed in his hand just in case he needed to signal that he was still alive. An unconfirmed rumor is that the string to the bell leads to a local general store where it eerily "rings" from time to time.
There have been many urban legends of people being accidentally buried alive
Legends included elements such as someone entering into the state of coma only to wake up years later and die again a horrible death. Another legend tells of coffins opened to find a corpse with a long beard or corpses with the hands raised and palms turned upward.
Fear of being buried alive was elaborated to the extent that those who could afford it would make all sorts of arrangements for the construction of a "safety coffin" to ensure this would be avoided (e.g. glass lids for observation, ropes to bells for signaling, and breathing pipes for survival until rescued).
An urban legend states that the sayings "saved by the bell", and "dead ringer"
… are both derived from the notion of having a rope attached to a bell outside the coffin, which could alert people that the recently buried person is not yet deceased.
For those intrepid souls who want to visit the "tomb with a view"
If you want to visit the grave site of Dr. Timothy Clark Smith, take Rte. 7 to New Haven, VT (a small town just a few miles north of Middlebury, Vermont). When you arrive in town, take Town Hill Road for about a mile or two. Look for Evergreen Cemetery on the left. The grave mound is clearly visible from the road and is about midway between the entrance and exits to the cemetery.
On quiet nights, as fog rolls over the grassy knoll holding Smith's vault, some say if you listen closely, you can still hear the faint clanging of a bell calling from the grave…
Also, to learn more, check out the book, The New England Grimpendium for more about the strange case of Dr. Timothy Clark Smith. Joseph Citro's books also feature this story as well as a wealth of other Vermont unusual stories and hauntings.
Photo Gallery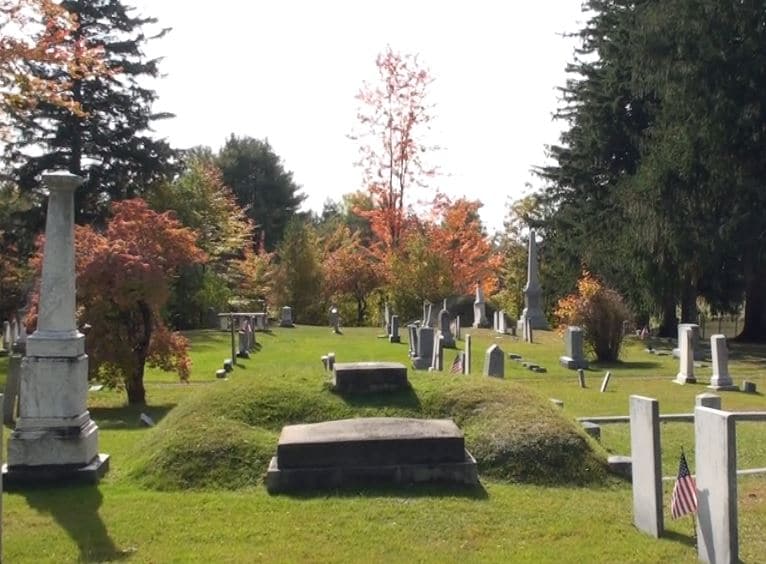 Updated on November 4, 2023