The Unusual Ghost Story of Major General "Mad Anthony" Wayne His Roaming Spirit
The larger-than-life Major General Anthony Wayne, nicknamed "Mad Anthony", was known for his daring battlefield exploits during the Revolutionary War. According to legend, his adventurous spirit lives on in the form of a ghost that haunts the shores of Lake Memphremagog in Vermont, as well as several other places!
Thank you for reading this post, don't forget to subscribe to our email list for the latest news!
The story goes that Wayne loved spending time at the tranquil Lake Memphremagog during breaks from the demands of war. The scenic views and peaceful setting provided a respite from the chaos of combat. Even after his death in 1796, some say that General Wayne's attachment to the lake was so strong that his ghost still roams there.
Eyewitness accounts over the years claim to have seen Wayne's ghost walking along the lakeshore or riding his horse across the water's surface. Many describe the apparition of a Revolutionary War-era man in uniform with two eagles perched on his arms. The spectral figure exudes a sense of purpose, as if still surveying the territory for threats or contemplating his next bold maneuver even in death.
The restless spirit of Mad Anthony Wayne is said to be searching for the solace and adventure he found beside Lake Memphremagog in life. The haunting echoes his reputation for daring exploits and tireless energy, unable to rest even after his mortal deeds were done. For observers, it's a remarkable glimpse into the past and the indomitable nature of this fiery Revolutionary War legend.
Major General Anthony Wayne earned the moniker "Mad Anthony" for his daring battlefield tactics during the Revolutionary War. As the story goes, his adventurous spirit lives on along a route near Chadd's Ford, Pennsylvania where Wayne's forces once furiously fought. Local lore claims that on some misty nights, the ghost of a fiery officer charging into combat astride a stallion may be glimpsed. The phantom soldier rallies invisible troops, sword drawn and banners flying, before vanishing into the darkened woods.
More Ghostly Tales and Stories about Major General Anthony Wayne
Wayne's attachment to two feathered companions has also spawned ghostly tales in upstate New York. While commandant at Fort Ticonderoga, the general acquired a pair of young bald eagles that became his constant companions. Years later, trappers spinning yarns swore they spied Wayne's stalwart spirit strolling along the lake's edge. The sturdy specter sports buckskins rather than a uniform, a fierce friend perched on each forearm. As the first light of dawn creeps across the still water, the mysterious figure dissolves into the morning mists.
So legends abound of Anthony Wayne's valor transcending death itself. Like the vanishings of his fabled ghost, the general's unconventional tactics and larger-than-life persona disappear into the tides of history. Yet echoes of Mad Anthony's tenacious spirit continue to inspire and intrigue generations far beyond his remarkable lifetime.
How General Anthony Wayne Became Known as "Mad Anthony"
The spirited Major General Anthony Wayne earned the nickname "Mad Anthony" for his fiery temperament and bold tactics during the Revolutionary War era. Though the hot-headed officer initially faced criticism from some of his own men, Wayne ultimately gained wide praise for gallantly leading troops into battle.
This ambitious Pennsylvania native pursued a military career when the Revolutionary War broke out. The audacious Wayne rose rapidly through the ranks, his brazen battlefield maneuvers evoking both ire and admiration. While Wayne's outbursts occasionally distressed his officers, the general's courage was clear during the fight for Stony Point, where he resolutely led troops to seize British fortifications.
Even in death, the unconventional general continued to stir controversy. When Wayne's family moved his body years later, the bizarre decision to boil the corpse and transport just the bones backfired, spurring strange ghostly tales. On the general's birthday each year, some claim his aggrieved spirit still vainly searches for his missing bones.
Though brash in life and in death, Mad Anthony Wayne's legacy lives on through the Pennsylvania town and college that bear his name. The impassioned general's bold imprint on Revolutionary America remains as indelible as his fiery nickname.
What was unusual about the death of Major General Wayne?
Major General Anthony Wayne died in 1796 while serving at a fort in Pennsylvania. The circumstances surrounding his death and the posthumous treatment of his body are quite unusual:
Cause of Death – Wayne died on December 15, 1796 at Fort Presque Isle from complications of gout. He was 51 years old.
Burial and Exhumation – Wayne was originally buried at the fort. In 1808, his son Isaac Wayne had his remains exhumed and transported back to the family plot in Radnor Township, PA for reburial.
Boiling of the Body – When the coffin was opened, Wayne's body had been remarkably well preserved over 12 years. To make transportation easier, Dr. James Wallace suggested boiling the body, separating the flesh from the bones.
Flesh Left Behind – The flesh was then reburied near the fort, while a wagon transported the bones on the 400 mile journey back home. Only Wayne's bones were interred at the family burial plot.
Missing Bones – Rumors spread that Wayne's ghost haunted the route between Pennsylvania and Erie trying to relocate his missing bones. His ghost was said to rise every year on his birthday in search.
So in essence, General Wayne's body was intentionally separated during transportation after his death, leading to legends about his ghost roaming in search of his missing bodily remains. This gruesome boiling process added intrigue to the tales of his restless spirit.
Summary of Facts About Major General "Mad Anthony" Wayne
Anthony Wayne earned the nickname "Mad Anthony" due to his aggressive and bold style of leadership during the Revolutionary War. Here are some key reasons why he was given this memorable moniker:
Fiery Temperament – Wayne had a short fuse and was known for his outbursts of anger towards his own officers and men if they failed to meet his high standards. This fiery personality contributed to the "Mad" part of the nickname.
Audacious Battlefield Tactics – As a commander, Wayne favored daring, unconventional, and often reckless military maneuvers. His courage under fire was unquestioned, but his bold attacks sometimes bordered on crazy. This dynamic style evoked the "Mad" descriptor.
Cavalry Charge at Paoli – After a controversial night attack at Paoli in 1777, some of Wayne's fellow officers criticized his conduct as irrational and mad. This may have helped cement the nickname.
Swagger and Aggression – Wayne was cocky, aggressive, and larger than life on the battlefield. His swaggering leadership reflected the boldness associated with the "Mad" moniker.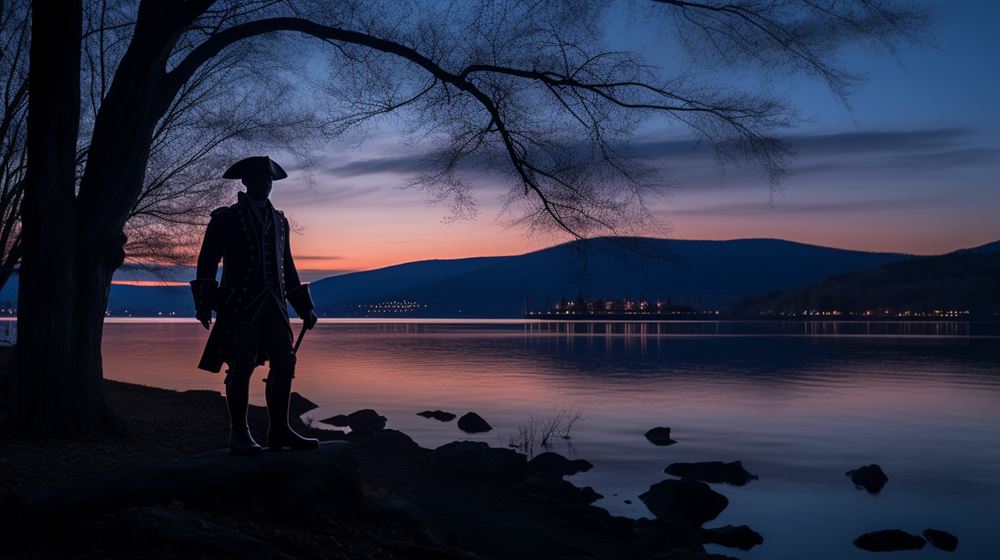 So in summary, Anthony Wayne's spirited temper, audacious tactics, swaggering persona, and aggressive approach to battle all contributed to his enduring nickname "Mad Anthony" during the American Revolution. After death, it seems that his restless spirit enjoyed travel!