If you're looking for the best hiking trails in Vermont, here are some great suggestions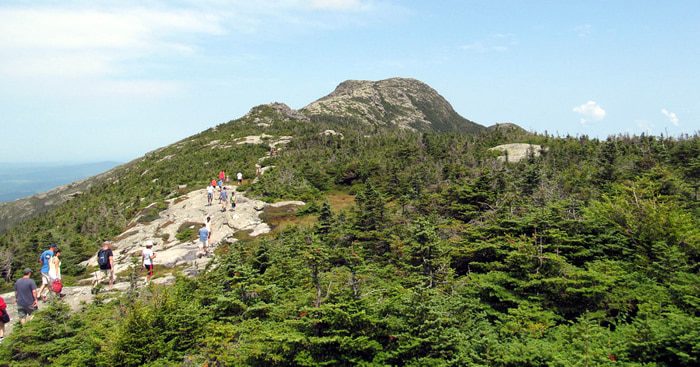 Mount Mansfield, Sunset Ridge Trail
About 17 miles east of Burlington and 22 miles NW of Montpelier. A classic ascent of a rocky ridge to the highest peak in Vermont. Special attractions: Rare alpine plants and flowers; magnificent summit views.
Thank you for reading this post, don't forget to subscribe to our email list for the latest news!
Just published March 2020. Check out the Vermont Hiking Log & Journal for the ultimate hike planner and journal to document your hikes throughout the Green Mountains.
For more details, check out the Vermont Hiking Log & Journal only available at Amazon.com
Camel's Hump, Forestry, Dean, and Long Trails Loop
Between Burlington and Montpelier, south of I-89. A long, scenic day hike to Vermont's highest pristine peak and a National Natural Landmark. Special attractions: Summit views, rare alpine vegetation and secluded mountain ponds.
Mount Ascutney, Weathersfield Trail
About 20 miles south of White River Junction, just west of the Connecticut River. A half day hike to a challenging peak on Vermont's eastern border. Special attractions: Waterfalls and spectacular views from a summit observation tower.
Appalachian Trail: Glastenbury Mountain
The hike over Glastenbury Mountain covers a remote and hauntingly beautiful wilderness. The entire backpacking hike of 22.6 miles provides long walks, a choice of camping sites, and plenty of climbing (over 3000 feet in several ascents). There are some day-hike options as well, and less experienced hikers can enjoy this area too. The long-distance view from one of the shelters is spectacular. Hiking hereabouts is as good as it gets on the AT in Vermont. A north-to-south hike works well here too, but we're heading from south to north.
Killington Peak, Bucklin Trail
About 7 miles east of Rutland. A hike to the second highest summit in Vermont. Special attractions: Three-state views of the Green Mountains, White Mountains, Taconic Range, and Adirondacks.
Mount Equinox, Burr & Burton Trail
Southwestern Vermont, immediately west of the village of Manchester. A vigorous climb to the highest summit in the Taconic Range. Special attractions: Wildflowers, four-state views, and a marble bench overlooking the Vermont Valley.
Mount Mansfield – Vermont Highpoint
Highpoint rank by height: 26th. The hike from the top of the Auto Toll Road follows a short stretch of The Long Trail – a 440 mile (704 km) trail across Vermont following the main ridge of the Green Mountains. It is also possible to hike from the top of the Gondola. While this route is much shorter than the recommended hike, it follows the well-named Cliff Trail, and involves Class 2 and Class 3 rock scrambling. This alternative is not advised.
Appalachian Trail: Killington Peak – North
This hike – a north-south excursion – starts out in benign and gently rolling woods, by the time it reaches the gloriously exposed top of Killington, there is nothing between you and the weather but the clothes on your back and the boots on your feet. The best views in southern New England await you at the top, but don't be surprised if you also find the strongest winds and thickest fog. From the guidebook "Exploring the Appalachian Trail: Hikes in Southern New England"
Haystack Mountain
Off Vermont Highway 9 about midway between Brattleboro and Bennington. A relaxing half day family hike to a southern Green Mountain summit overlooking Haystack Pond. Special attractions: Easy access to four-state views of faraway peaks and sparkling waters. Optional walk to the wooded shore of a mountain pond.
Stratton Mountain & Stratton Pond
South-central Vermont, about 20 miles SE of Manchester. A classic day hike to fire tower views and waterfront walks on a wild pond's shore; lean-tos and tent platforms offer overnight options.
Even more of the best hiking trails in Vermont:
Cooley Glen and Emily Proctor Trails
Preview: About 8 miles east of Middlebury. A backpack loop to a Green Mountain ridge near the headwaters of the New Haven River. Special attractions: Mountain views, convenient shelters, and secluded wilderness streams.
Bald Mountain, Bennington
Near Woodford Hollow, 4 miles east of Bennington. A half day hike to a tree-clad summit known as Bald Mountain. Special attractions: Good views of the Green Mountains and the neighboring Taconic Range.
Mount Abraham, Battell Trail
About 14 miles NE of Middlebury, in the town of Lincoln. A vigorous hike up the western flank of Vermont's lowest 4,000-foot peak. Special attractions: Alpine vegetation, an overnight shelter, and three-state mountain views.
Appalachian Trail: Bromley Mountain
This hike leaves the highway about 6 miles east of bustling Manchester. Amidst the plethora of designer outlets in the village, there are numerous services and distractions for hikers, not the least of which is a US Forest Service information center where Green Mountain National Forest maps and advice can be obtained. Hikers with an interest in botany may enjoy a pre-hike stroll on the Boswell Botany Trail at the Southern Vermont Art Center in Manchester Center (802-362-1405). More than thirty types of ferns and eighty types of wildflowers grace the pathways here. The plants commonly seen on the trail are here too, labeled for your edification – trillium, clintonia, trout lily, hepatica, lady's-slipper, and the many ferns. A 250-year-old sugar maple makes a stately centerpiece in the art center's sculpture garden.
Abbey Pond
Five miles east of Middlebury. A half day hike to a ridgetop pond; suitable for rainy weather. Special attractions: Pristine pond, cascading brook, and assorted wildlife.
Rattlesnake Cliffs, The Falls of Lana, and Silver Lake
Eight miles SE of Middlebury. A collection of trails to mountain views and waterfront camps for day hikers and backpackers alike. Special attractions: The Falls of Lana, clifftop views, and campsites on a mountain lake.
Mount Pisgah
East of Interstate 91 between St. Johnsbury and Derby Line. A hike to breathtaking cliffs overlooking Lake Willoughby. Special attractions: Spectacular clifftop views and possible chances for sighting hawks and falcons.
Little Rock Pond & Green Mountain
About midway between Rutland and Manchester Depot. An easy family backpack to campsites on Little Rock Pond, or a looping, scenic day hike that adds the Green Mountain summit. Special attractions: Camping at waterfront sites.
Lye Brook Wilderness
Between Bennington and Rutland, just east of Manchester Center. An overnight backpack to a wilderness pond, or a half-day hike to a plummeting falls. Special attractions: Wildlife, wetlands, Bourn Pond, and Lye Brook Falls.
Big Branch Brook, Griffith Lake, and Baker Peak
Midway between Rutland and Manchester Depot. A two- or three-day backpack circuit through the heart of the Big Branch Wilderness; a full day for stronger hikers. Special attractions: Griffith Lake, views from Baker Peak, and campsites in a vanished town.
Heads up: Our posts and pages may contain affiliate links. If you buy something though one of those links you won't pay a penny more, but we'll get a small commission, which helps keep Vermonter.com chugging along. Thanks!