Enjoy the Beauty of Vermont's Lake Champlain Islands
The Champlain Islands are a group of islands located in Lake Champlain in Vermont. They are known for their natural beauty and outdoor recreational opportunities, as well as their historic and cultural significance. You will find great Vermont towns with many things to see and enjoy in South Hero, Grand Isle, North Hero, Isle la Motte and Alburgh.
Thank you for reading this post, don't forget to subscribe to our email list for the latest news!
Although Burlington is one of the most popular destinations in Vermont, if you drive just a few miles to the north and find US Route 2, you'll find yourself in the magic and splendor of the Lake Champlain Islands. You'll find plenty to see and do throughout the year and the scenic drive across the causeway is simply breathtaking.
There are a number of things to see and do in the Champlain Islands
Overall, the Champlain Islands are a great destination for nature lovers, outdoor enthusiasts, and anyone interested in Vermont's rich history and culture.
Spring and Summer in the Lake Champlain Islands is a welcome start and marks the end of a long Vermont winter season
Why is there a South Hero and a North Hero? What's Behind These Town's Names?
The towns of South Hero and North Hero on Vermont's Champlain Islands got their names from the Ethan Allen and the Green Mountain Boys' heroic actions during the Revolutionary War.
In 1775, Ethan Allen led the Green Mountain Boys in the capture of Fort Ticonderoga, an important victory early in the war. After this success, Allen and his men were hailed as heroes in what was then known as the New Hampshire Grants region, which later became Vermont.
When it came time to name the two main islands in the Champlain Islands chain, the residents chose to honor Allen and the Green Mountain Boys by naming the islands after them. The northern island was named North Hero and the southern island was named South Hero.
The naming choice recognized the "heroes" of Vermont who fought for independence from British rule. So today, the towns carry on the heroic legacy of their namesakes each time they are mentioned. The residents are proud of their towns' connection to Ethan Allen and Vermont's role in the American Revolution. The names are a commemorative tribute to that history.
The causeway from the Colchester – Milton to South Hero island is scenic and impressive, to say the least
The ice melts and the fishing shanties spread about Lake Champlain start to disappear as the weather grows warmer and the days become longer. It won't be long before the trees start to bud and the hills and fields become green once again, creating beautiful panoramic views with the blue skies and Lake Champlain.
Did you know that the spectacular building now occupied by the Community Bank in South Hero was once known as the South Hero Inn? There's a lot of history and beauty to explore in the islands and a great community to visit and get to know.
Autumn is a special time of year in the Lake Champlain Islands with lots of things to see and do
Take in the changing leaves on a scenic drive along the Lake Champlain Byway. Stop to hike and explore parks like Grand Isle State Park or Alburgh Dunes State Park. Enjoy apple picking, vineyard tours, farmer's markets in South Hero and Grand Isle, bicycle tours, nature trails, bird watching and more.
Shop at farmstands and markets for local produce, maple syrup, cheeses, baked goods, and more. Sample Vermont craft beers, wines, and ciders on a tasting tour of the islands' breweries, wineries, and cideries, including the Snow Farm Vineyard & Winery. Go on an afternoon bike ride among the fall colors on the Lake Champlain bikeway or other scenic cycling paths.
Great Pumpkins to be had at Hackett's Orchard and/or the Allenholm Farm
Some of the very best apple orchards in Vermont
Hackett's Apple Orchard and Allenholm Farm are two of the best orchards in South Hero and located just a short walk between each other. Hall's Orchard is located a few miles north in Isle La Motte.
You'll enjoy orchard tours, wagon rides, picking apples in the fall, enjoying such tasty treats as apple pies, doughnuts, maple creemees and apple crisp. Pumpkins and mums are also for sale too. Best of all, you'll really enjoy the entire atmosphere and vibes of the Champlain Islands.
Places to Eat in South Hero
South Hero offers several places for the always popular pizza such as McKee's and Pan's Pizza in South Hero. Keeler's Bay Variety Store Inc & State Liquor Store is well stocked with groceries and hot food and coffee to go. Visit the always popular Seb's Snackbar, Blue Paddle, Two Heroes Brewery – Public House and Wally's Place for bagels.
Victoria's Cafe Thai & American
The cute, little gal in the photos above and below is Victoria, one of the owners of Victoria's Cafe in South Hero, Vermont. If you're looking for some of the best Thai food in Vermont, look no further! They are also well known for their American fare as well, with their own, unique Maple Duck being their bestselling dish.
The Lake Champlain Islands vibrant nature and way of life
Connected by bridges and causeways, the islands provide easy access to the fun of island hopping. Outdoor enthusiasts can enjoy miles of bicycle trails, hiking paths, and boating on Lake Champlain.
The rural islands also provide a slower pace of life, where you can relax and take in gorgeous views of the lake, farms, and quaint small towns. Local shops and restaurants source ingredients from the surrounding land and waters, serving up delicious local fare.
Take a look around the town of South Hero from above
Lake Champlain Islands is Unique!
Dinosaurs and birdhouses in South Hero, Vermont? You bet! You can see them all when you drive by White's Beach.
The last thing you would expect to see as you drive along a scenic, lakeside road are dinosaurs and hundreds of multi-colored birdhouses. Yet, this unusual scene is exactly what you will encounter. See a video of these friendly dinosaurs at the Vermonter.com Facebook page.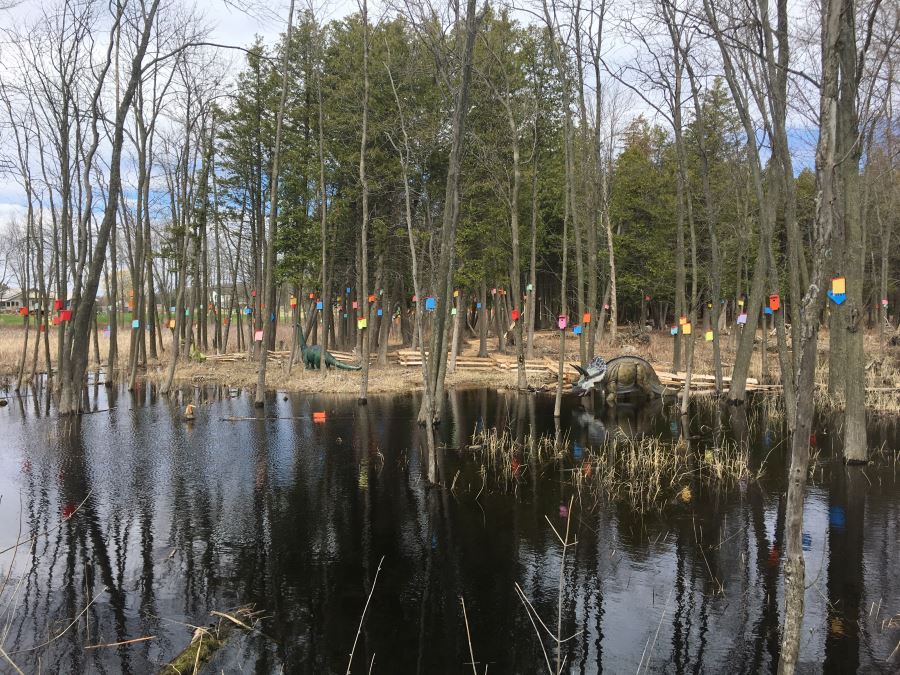 Drive around the Lake Champlain islands and you'll also see castles…really!
These odd little castles can be found at sporadic locations, such as on lawns, gardens or in front of lakefront properties in the South Hero area.
From Obscure Vermont:
Harry was known as a likable guy in general and was known for his kind heart, sense of humor, and his yodeling. But it was his fine craftsmanship that the locals were inspired by the most, and as a result, many patrons asked him to build castles for their properties. There are no records of if he actually profited from them, and for how much.

It was said that every castle he built had a different story behind it, and featured lavish details such as glass windows, flags and even drawbridges. Local lore even has it that some would use the castles for trade or bartering. I heard one story of a neighbor offering a bed and breakfast one of the castles in return for free trash removal service. The castle was later moved to the inn's property where it rests today.

Despite his amiable personality, tragedy was also woven into his framework. For reasons unknown, he committed suicide in 1966 at the age of 66.
To discover the origin of these odd and seemingly out of place castles, along with the story about the dinosaurs and birdhouses, read the full article by Chad Abramovich of Obscure Vermont.
Commuters on the South Hero ferry to Plattsburgh joining a long line of tourists waiting to be carried across the dark, blue waters of Lake Champlain.

What recreational activities are available in the Champlain Islands?
There are many recreational activities available in South Hero, Vermont, a small town located on an island in Lake Champlain. Some of the outdoor activities you can enjoy in the area include:
Hiking: South Hero is home to several beautiful hiking trails that wind through forests, along the lake, and up to scenic vistas.
Biking: The region has a number of bike trails that are perfect for riders of all skill levels.
Swimming: The lake offers plenty of opportunities for swimming, whether you prefer a sandy beach or a rocky cove.
Fishing: Lake Champlain is known for its excellent fishing, with a variety of species including bass, pike, and perch.
Boating: Rent a kayak, canoe, or stand-up paddleboard to explore the lake, or take a boat tour to see the area from a different perspective.
Golf: There are several golf courses in the area, including the South Hero Country Club, which offers a challenging nine-hole course.
Winter sports: In the colder months, you can enjoy skiing, snowboarding, and snowshoeing at nearby resorts.
Scenic vistas and wide open views along with traditional Vermont scenes that are seemingly rare these days…
In addition to these outdoor activities, there are also several cultural and historical attractions in the area, including the South Hero Land Trust, which preserves and protect the natural beauty of the region, and the Hero's Welcome General Store, (in North Hero) which offers a taste of local culture and history.
There are plenty of charming inns, B&Bs, and campgrounds that allow you to fully immerse yourself in the natural beauty of the islands. With opportunities to swim, fish, birdwatch, learn about history, and more, the Champlain Islands deliver a quintessential Vermont vacation full of simple pleasures, fresh air, and scenic vistas.
While the small Champlain Islands towns wake from a sleepy Winter, the warm winds of Spring usher in the return of summer residents and crowds of tourists who enjoy bicycling, fishing and boating, sightseeing and all the beauty of Vermont.
A Family Farm in Grand Isle Across from Lake Champlain
Exploring Grand Isle and the Best of Vermont Farmlands
The hauntingly interesting photo was seen just past the South Hero town line in Grand Isle. It marks the entrance to a local, Halloween favorite, Emmons Island Haunted Trail, which is very popular for all ages around that deliciously, spooky time of year. Make sure to get there early though as it becomes very busy and traffic can get a bit heavy around the entrance.
Did you know that the Hyde Log Cabin could possibly be the oldest log cabin in the United States?
The simple log cabin still exists today next to a typical old style Vermont schoolhouse in Grand Isle. Ironically, the Hyde Log Cabin and the old schoolhouse are right next door to a large, more modern school.
Best Places to Stay in the Champlain Islands
Shore Acres Inn and Restaurant in North Hero
Tucked away on 46 acres of picturesque grounds, Shore Acres Inn and Restaurant sits on half a mile of private, serendipitous lake shore. Rolling grounds and the delicate waves of Lake Champlain meet just outside of your suite's door. Whether celebrating a family reunion, enjoying a romantic anniversary, or engaging in a spontaneous weekend getaway, we invite you to immerse yourself in Lake Champlain's scenic ambiance.
Also at Shore Acres, you will find the Bravo Zulu Lakeside Bar, the newest hidden gem of the Lake Champlain Islands. Their state of the art awning system allows for sun lovers and those who seek shade. Unobstructed views of the Lake Champlain and the Green Mountains. Docks for you boaters. Full food and drink menu. Live music, lawn games, family and dog friendly.
The Lake Champlain Room at Shore Acres
Serving exceptional views from every table. The staff at Shore Acres Inn and Restaurant have taken the time to design a dining experience for all, providing a direct view of the Green Mountains and of course, Lake Champlain.
The Village Farmhouse at the Way Farm in North Hero
Come enjoy a stay at the charming New England Farmhouse nestled in the center of historic North Hero Village located on City Bay Lake Champlain. Also includes the Back Chamber Antique and Collectibles Shop. They carry a unique blend of antiques, collectibles, and home décor with a country flavor.
Stunning Lake Champlain Views at North Hero
Vermont traditions are alive and well in the Lake Champlain Islands
You can still find traditional Vermont family farms throughout the island villages. The views are spectacular and there are many places to visit and enjoy. Also, be sure to check out South Hero Historical Society and the North Hero Historical Society.
North Hero Public Library
The North Hero Public Library strives to serve as a community center by providing a balanced collection of materials, inventive resources and library experiences that support education, imagination, and community engagement. The North Hero Public Library will continue to be a major information and resource center for the entire community.
If you're driving through North Hero and would like to enjoy reading a book within view of Lake Champlain, check out the North Hero Library. Knight Point State Park is nearby and a great place to relax along Lake Champlain and have a picnic. The North Hero House and Hero's Welcome store are both unique and enjoyable to visit.
In 2019, Island Arts celebrated 35 years of artistic, cultural, and educational life in Grand Isle County
Island Arts fosters and promotes artistic creativity in the rural communities of the Lake Champlain Islands and beyond through their celebration of the Arts, stewardship of our environment and education, for the enrichment of all. Island Arts is a grass roots non-profit organization with an all volunteer board.
This year, their activities and events are celebratory. They have carefully chosen them for residents who have supported them since 1984, as well as an ever-increasing number of guests who are enchanted by the beauty and charm of the Champlain Islands.
They serve as the Grand Isle County Arts Council by supporting local artists and artisans, bringing professional artistic events and performances to the community and promoting a strong Youth Agenda.
Summers will be packed with a number of events in the Lake Champlain Islands
Discover Island Arts and more in the Lake Champlain Islands, including classes and events for people of all ages.
Island Arts provides a number of events, concerts along with a variety of educational and just for fun classes for people of all ages. They have offered bird watching sessions, culinary classes, and even the opportunity to enjoy your favorite beverage or cocktail while creating your own artwork. Those are just a few of the classes they have provided.
Great options for places to stay in the Lake Champlain Islands
Looking for a place to stay in North Hero or like antiques? Check out The Village Farmhouse at the Way Farm.
Come enjoy a stay at our charming New England Farmhouse nestled in the center of historic North Hero Village located on City Bay Lake Champlain. Browse the Back Chamber Antique and Collectibles Shop. They also carry a unique blend of antiques, collectibles, and home décor with a Distinctively Vermont country flavor!
Also, you might want to check out the North Hero Historical Society.
Before you go on to explore Isle La Motte and Alburgh, stop by the Harborside Market in North Hero, just before the bridge. It's a great general store with everything from delicious, fresh sandwiches and pizza to groceries and much more.
Discover the Natural Beauty, French Heritage, and Quaint Charm of Isle La Motte, Vermont
Isle La Motte sits in the northern part of Lake Champlain, connected to the mainland by a causeway. This island location provides beautiful waterfront scenery and access to boating, fishing, and swimming. The rural island has less than 1,000 year-round residents, lending it a peaceful, remote feel.
The town has an intriguing history dating back over 10,000 years to when Native Americans first inhabited the island. French settlers later occupied the island in the 1600s, naming it after explorer Samuel de Champlain's wife. Historic sites like the St. Anne's Shrine honor this French heritage.
Isle La Motte has a strong agricultural tradition, seen today in the many farms, orchards, and vineyards that dot its landscape. Produce, cheeses, ciders, and wines provide a taste of the island. The Northern Vermont University Environmental Program also calls the island home, using its biodiverse ecosystem as an educational resource.
Natural beauty abounds, from the twelve-mile shoreline along Lake Champlain to the hiking and cycling trails that traverse the island. The Goodsell Ridge Fossil Preserve in particular offers a unique look at the island's ancient geology and fossils.
St Anne's Shrine in Isle La Motte is not to be missed
Experience the Scenic Lake Views, and Rural Charm of Alburgh, Vermont
Alburgh is the northernmost town in Vermont, located right on the Canada–US border. It sits on a peninsula extending into Lake Champlain, surrounded by water on three sides. This unique geographic location provides scenic views and recreational opportunities on the lake.
The town has a diverse history as home to Native Americans, early French settlers, and British colonists over the centuries. This has influenced local culture seen in everything from street names to historic sites around town.
Much of Alburgh's population has French heritage, stemming from early French Canadian settlers to the area. This French influence is still evident today in local cuisine, culture, and the fact that many residents still speak French. It helps make Alburgh a distinctive French pocket of Vermont.
Alburgh maintains a peaceful, small-town rural charm, even as it grows. With less than 2,000 residents, its scenic landscape of farms, forests, and wetlands remains unspoiled. The 2,000-acre Alburgh Dunes State Park is a particular draw, featuring rare natural sand dunes, pristine beaches, walking trails, camping facilities, and beach access to Lake Champlain. It offers a unique landscape in Vermont.
The town's location on Lake Champlain also makes Alburgh a top fishing destination in Vermont. Anglers can catch bass, perch, salmon, and trout, with annual fishing tournaments held here as well.
The Isle La Motte Lighthouse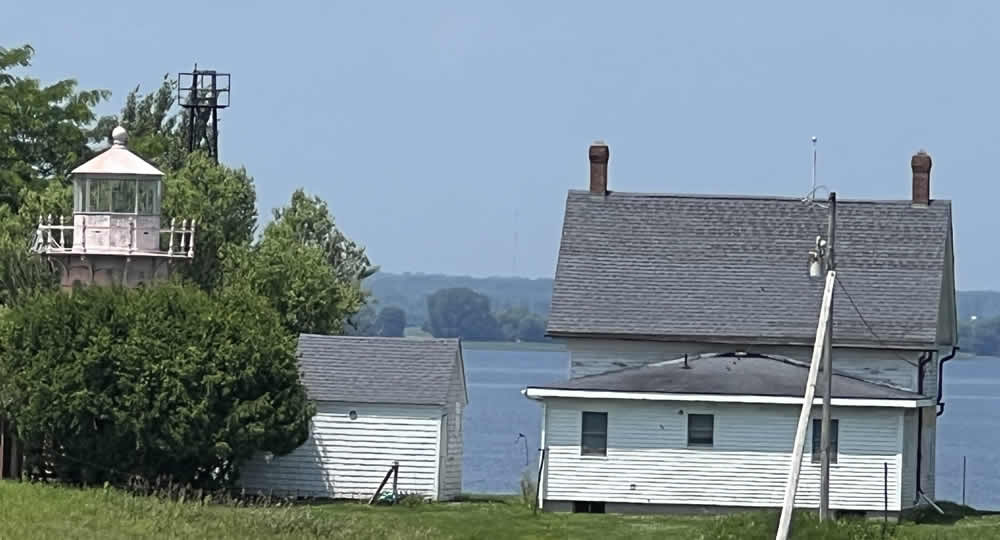 The Isle La Motte Lighthouse is located on the northern end of Isle La Motte, an island in Lake Champlain within the state of Vermont. Construction on the lighthouse began in 1829 and was completed in 1830. It stands 55 feet tall and is made of Isle La Motte limestone. The original lighting apparatus was comprised of 11 whale oil lamps with reflectors.
In 1856, the lamps were replaced with a fourth-order Fresnel lens. In 1883, the lighthouse was converted to a fifth-order Fresnel lens powered by a mineral oil lantern. It remained in operation as an active aid to navigation until 1934 when it was supplanted by a steel tower fitted with an automated acetylene beacon. The lighthouse was added to the National Register of Historic Places in 1972. It is one of the few remaining stone lighthouses on Lake Champlain provides panoramic views of the island and lake. Unfortunately, it is now a private property and although it can be partially viewed from the road, a much better view can be seen from the lake side.
Goose Bay Campground
Goose Point Campground is one of Vermont's fun, friendly, and family oriented campgrounds. It is located on beautiful Lake Champlain with campsites that have amazing views of the lake. Goose Point offers boat launching and boat dock rentals for those campers who love to fish or enjoy a day out boating on the lake. Relax by the swimming pool. Enjoy a recreation room and playground for all ages with a playset, swings, full basketball court and volleyball court.
Finally, Alburgh's maple trees contribute to Vermont's famous maple syrup industry. Many local sugarhouses offer tours and tastings, letting visitors get an inside look at maple sugaring. Both natural landscape and local culture come together to make Alburgh a one-of-a-kind Vermont town.
Come and Visit the Vermont Champlain Islands
Whatever you decide to do or wherever your path may lead you, one thing is for certain. A visit to the beautiful Lake Champlain Islands will certainly be a place you will fondly remember for years to come. Come on out to the "islands" and enjoy yourself!