Have you ever tried biking in Vermont?
If not, you're really missing out! We have so many great places to choose from and that doesn't necessarily mean biking along the roadsides. There are a number of special bike paths created specifically for those who enjoy biking in Vermont off the road, in a safe and comfortable way.
Thank you for reading this post, don't forget to subscribe to our email list for the latest news!
Two of my personal favorites are the Stowe recreation path and the Lake Champlain bike path.
Biking is an excellent way to enjoy the outdoors and Vermont's natural beauty and scenery.
With over 500 miles of bike trails, you are guaranteed to find a route that suits your interests. One of the best places for biking in Vermont is Brattleboro. The town has over 20 miles of scenic bike paths winding through its rolling hillsides and along its riverbanks. There are also plenty of opportunities for mountain biking with well-maintained dirt roads and forest service roads available for all levels of riders.
There are many different bike trails in the state of Vermont that you can explore, but here are five popular places for biking:
The Lamoille Valley Rail Trail
The Appalachian Gap Mountain Bike Tour
Burlington Bike Path
There are many routes that provide scenic views and offer different terrain from paved roads, dirt roads, and even single track trails. Biking along the Lake Champlain Bike Trail provides stunning views of the lake as you bike past bogs, wetlands, forests and farms. Along this trail there are also plenty of opportunities for picnicking or camping on your way.
The Burlington Bike Path offers an easy ride down to the city center where you can stop by shops or restaurants before heading back up to continue exploring more of Vermont's beauty!
The best way to enjoy biking in Vermont is by visiting the various towns and cities.
The first town you should visit is Burlington which has a beautiful waterfront, great food, and lots of biking options. A little further south is Middlebury which has fantastic restaurants and shops as well as many bike trails that take you through scenic areas like Otter Creek or along the Connecticut River. Lastly, there's Woodstock with it's quaint downtown area full of antique stores and art galleries where you can grab a bite from one of their fine eateries before heading back out on your journey.
If you're a bit more adventurous and willing to endure a few thrills and spills, mountain biking might be for you.
Check out Kingdom Trails in Vermont's Northeast Kingdom, via the video below:
Biking in Vermont is a great way to get outdoors and enjoy the scenery.
It's also a healthy and sustainable form of transportation. There are many different types of bikes available for purchase, but if you want to bike on your own, there are some things you should know before heading out.
The terrain: Biking in Vermont can be challenging because of the hills and loose rocks on dirt roads. You may need to prepare with proper gear such as gloves, water-resistant clothing, helmet, spare tube or tire pump (or both), tools like chain breaker/lube and multi tool kit, lights for night riding etc., so that you're prepared for anything that might happen while biking.
Safety: Riding your bike at night without lights is illegal – it's important not only to be seen by other drivers but also so cars can see you too!
Bike riding in Vermont is a great way to see the country side and enjoy some fresh air. One of the most popular and scenic places for biking in Vermont is along Route 100, which runs from Rte 105 in Newport, near the Canadian border, all the way south to Stamford, VT. Along the route you will find many scenic spots that are perfect for picnics or just taking in nature's beauty.
A great way to experience the beautiful landscape
There are many places to bike, but some of the best routes involve biking through forests and along rivers. Biking in Vermont can be done year-round because it's not too cold or too hot, but summertime is when you'll have the most daylight hours available for biking.
Some popular spots for biking include: The Appalachian Trail – This trail stretches from Maine to Georgia and covers over 2,000 miles! The Appalachian Trail goes right by Burlington so take a break from your bike ride at one of the local restaurants before continuing on your journey.
Vermonters are fortunate to have many scenic bike paths that wind through the countryside.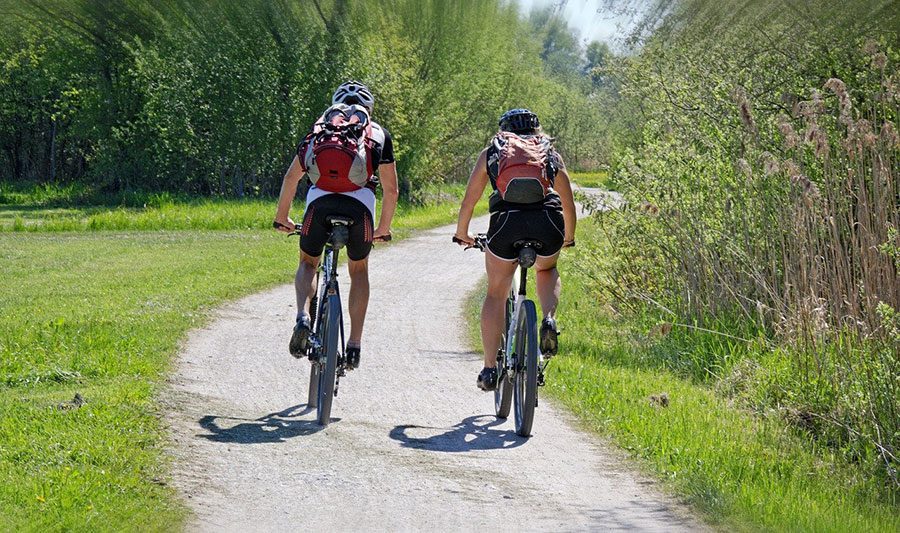 Many of these trails are perfect for a leisurely ride, while others offer more challenging terrain for those looking for an adrenaline rush.
One of the most popular Lake Champlain biking destinations is Mount Philo State Park in Charlotte, Vermont. This park features some of the best mountain biking in New England with its twisting single-track trails and breathtaking views from atop Mount Philo's summit. The park also offers over 12 miles of unpaved roads and groomed cross country ski trails which can be used by bikers during warmer months.
Another great destination is Camel's Hump State Park near Waterbury and Stowe, Vermont. This state park has over 18 miles worth of hiking/biking trails including several loop options ranging from easy to difficult so there is something for everyone! It also features spectacular views at its 3 peaks.
A great way to enjoy the outdoors and get some exercise
Many people enjoy biking for recreation and exercise. Biking is a great way to explore the outdoors, get some fresh air, and burn off excess energy. Enjoy a relaxing ride on the Burlington bike path along Lake Champlain. The views of the lake are breathtaking.
A full list of bike trails in Vermont
Many long abandoned railroad tracks have been resurrected for biking in Vermont. Some are gravel while others have a special coating or pavement. Here is a full list of Vermont bike trails for you to check out. Vermont has many wonderful roads and trails for bicycle touring or mountain biking. Bikes are also a fun way to get around the parks and campgrounds. You can bike along relatively flat lakes and rivers or challenge yourself by climbing a single track mountain trail.
No matter what you choose to do, biking in Vermont is healthy, scenic and fun!