Winter in Vermont is a magical time of the year
The air becomes crisp and cool as Christmas approaches. This article lists some winter activities in Vermont that I recommend. Winter is a perfect time for snowshoeing, skiing, and ice fishing. There are many great places to go to enjoy these activities. If you're looking for a more relaxing day, there are plenty of cozy village coffee shops, ski lodges and restaurants to visit.
Thank you for reading this post, don't forget to subscribe to our email list for the latest news!
The winter months are a great time to spend in the mountains of Vermont.
The beauty of Vermont's snow-covered slopes contrasts with the beautiful colors of fall, making it an ideal place for outdoor activities. No matter what you decide to do during your visit, there is something for everyone.
Vermont is a state of natural beauty and stunning landscapes. Its green hills and valleys offer the perfect terrain for cross-country skiing, snowshoeing and mountain biking. The region is very popular with outdoor enthusiasts looking to experience Vermont's winter wonderland.
Winter is a time for snow and ice, but does that mean you should be indoors the whole time?
Vermont has some of the best skiing in the country, but there are also other fun outdoor activities to take advantage of. There are many winter hikes in Vermont with views of beautiful natural scenery or beautiful man-made decorations. You can go cross-country or downhill skiing, snowboarding, snowshoeing, ice fishing, snowmobiling or even ice skating on one of the state's many frozen lakes or ice arenas.
With so many choices at your fingertips, Vermont is the perfect destination for you and your family.
Vermont winters can be long and cold but fortunately, there are a lot of winter activities and festivals to enjoy. Winter in Vermont can indeed be fun! Check out the videos below for Vermont winter scenes at Stowe and Shelburne Museum as well as a great video about Jay Peak.
Jay Peak, VT – One of the Best Ski Areas in Vermont
Winter sports enthusiasts in Vermont anxiously await ski season!
Hotels and lodges are taking reservations now for a week's stay, and many people's thoughts turn to what they will pack.If you're headed to Vermont's Northeast Kingdom, your best options for lodging are the Newport City Inn & Suites or the Derby Four Seasons Inn & Suites.
Stay at a Castle in the Northeast Kingdom
If you happen to find your way into Vermont's Northeast Kingdom, drive through the cute little town of Irasburg, where if you look hard enough, you'll find a castle! Built by Harv and Sarah Gregoire between 1990 and 1996, who lived there for over 20 years, they sold it in 2016 and it is now available as an airbnb rental location!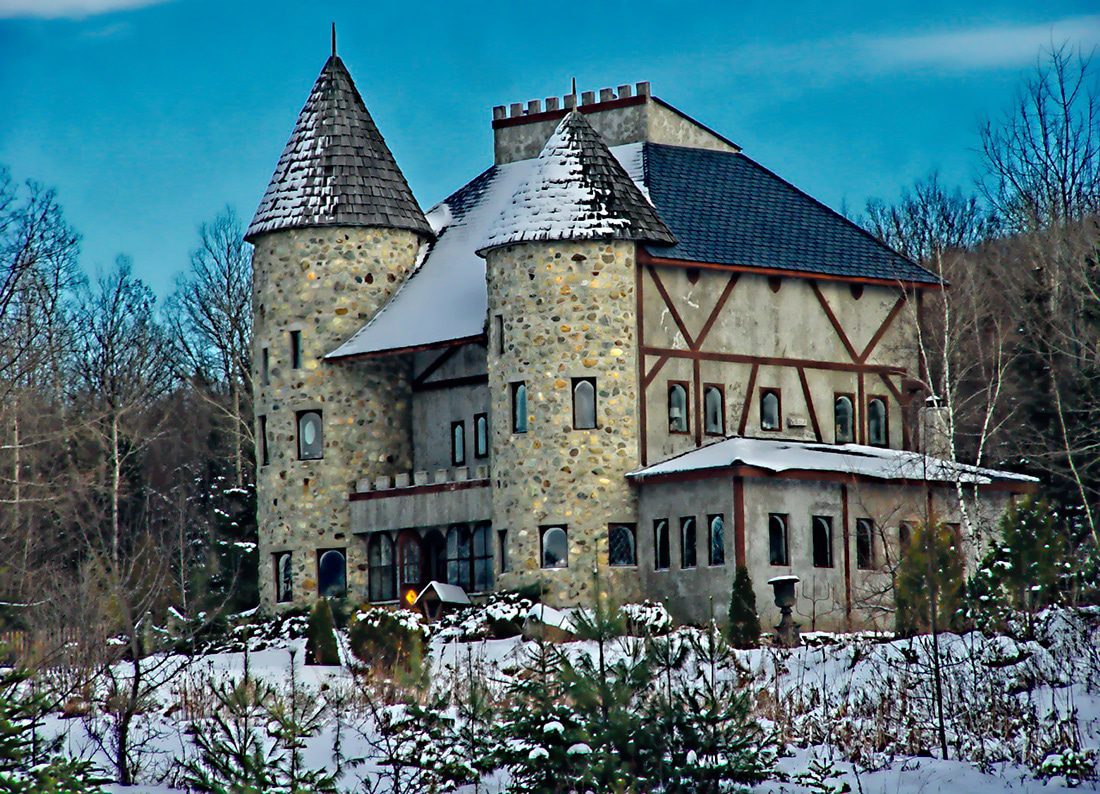 The excitement of going on a winter vacation is undeniable, but there are a few things to be aware of before packing up. First, what will your attire be? Ski wear, snowshoes, or warm jackets and helmets for snowmobiling? There's something to enjoy for everyone's favorite activities!
Check out our own Vermonter Books and Journals for you to write in an document your visit!

Stowe has world class ski resorts that are open during the winter months when heavy snows grace the mountainsides. Night skiing is also an option.
When the temperatures drop below zero and the snow starts falling, many people can't help but look forward to winter sports. It's a time when even the most dedicated couch potatoes don their skis and head for the nearest ski resort. Vermont has a wide variety of skiing terrain and is home to some of North America's best resorts. Vermont is a great state for skiing, with plenty of snowfall and slopes to accommodate all levels. With more than 250 ski areas and 30 mountains in the Green Mountain State, snowboarders and skiers alike can find exactly what they're looking for. Whether you want challenging hills or easy runs, Vermont has the perfect terrain for you.
Skiing is a very popular winter activity in Vermont.
The Green Mountains are home to some of the best skiing in the East Coast, which offers steep slopes and long runs. Often times, tourists will be able to find affordable lodging with plenty of amenities, like indoor pools and hot tubs, for their family vacation. The varied terrain means there's something for everyone–from short beginner slopes to the expert trails that lead to 8,000 feet elevation at Killington Mountain Resort.
Enjoy the video below with scenes from Stowe and the Shelburne Museum, the first year it was open on a limited basis during the Winter months.
There are actually two options for skiing enthusiasts in Vermont; either ski down the hills of Vermont on cross country skis or visit the ski areas in the mountains. Cross country skiing is a great way to explore Vermont at your own pace, without any of the long lines or waits. Cross country skiing can be done in many different ways – you can take guided tours, hit groomed trails, or venture out on your own.
Vermont cross country skiing is a winter sport that's gaining popularity. The best way to experience it is to layer up and head out into the snow for some strenuous exercise. However, if you're not up for a full-length tour, try some of these shorter ones.
Snowboarding
There are many places in New England to go snowboarding, but Vermont is one of the most popular destinations due to its proximity to major metropolitan areas like New York City and Boston. Indeed, there is no shortage of mountains with trails to match any skill level or interest.
Vermont's winter is undeniable
Snowmobiling
You can't visit Vermont without seeing some of its mountainous, white beauty. It has some of the most reliable and heaviest snowfall in the country. The coldest temperatures in the United States are found here as well, which is why many people come to Vermont for a snowy mountain escape during their cold winter. One of the best ways to experience this winter wonderland is with a snowmobile tour.
After a winter storm, what better way to celebrate than by getting out with friends and family for an exhilarating snowmobiling adventure! There are hundreds of miles of trails to choose from in Vermont, many of which overlook pristine mountain scenery. This is the perfect time to enjoy one-of-a-kind winter adventures that can be enjoyed by anyone with a vehicle that has studded or smooth tires.
Ice Fishing
The shores of Vermont are known for being icy, especially during the winter months. However, the state is also home to some of the best freshwater fishing in America with its many lakes, rivers and ponds.
Ice fishing in Vermont is different from ice fishing anywhere else. In Vermont, the population of fish is much smaller and it requires a lot more patience to catch a fish. The Vermont Fish and Wildlife Department has set up guidelines for anglers to follow when ice fishing in the state. It's the perfect place to spend some quality time with family and friends (and your dog) by your side, listening to ice crackle under your boots and spending hours having fun.
It's the perfect place to spend some quality time with family and friends (and your dog) by your side, listening to ice crackle under your boots and spending hours having fun.
Check out our own Vermonter Books and Journals for you to write in an document your visit!

Ice Skating
What is the best way to get in shape? Why not ice skating Vermont style! Ice skating Vermont is the perfect way to get your feet back under you and make some new friends while you are at it. Ice skating is an outdoor winter activity that many people of all skill levels enjoy. It provides a good way to exercise and enjoy the winter weather. Whether you skate for fun or competitively, it can be a great activity to try this winter! Whether it's a small pond or lake, an indoor ice rink or simply an icy patch in the backyard, Vermonters can always find a way to enjoy a bit of skating or sliding!
Sleigh Rides
The winter months in Vermont are a time for celebration as families and visitors alike bundle up and head outside to experience the snowy landscape. In several town in Vermont, such as Stowe, residents have been participating in a sleigh ride tradition for generations. The sleigh rides are led by rugged, hay fueled horses, which accompany participants on their trip through the fields and pastures.