Vermont was a busy place for making movies back in the 1980's when Hollywood decided to take advantage of the scenic canvas that was available for them to work with.
Thank you for reading this post, don't forget to subscribe to our email list for the latest news!
Funny Farm was a 1988 movie filmed on location in Vermont
Chevy Chase plays Andy Farmer, a sportswriter who quits his job and buys a house in the country, where he plans to write a novel.
The movie takes us through all four seasons in the small town of Redbud, Vermont, but it ends during the holidays when the Farmers' charming Cape Cod home is decorated with white lights and covered in snow. The movie is a long time favorite and even though it was produced years ago, remains a subject of curiosity among popular movies "filmed in Vermont".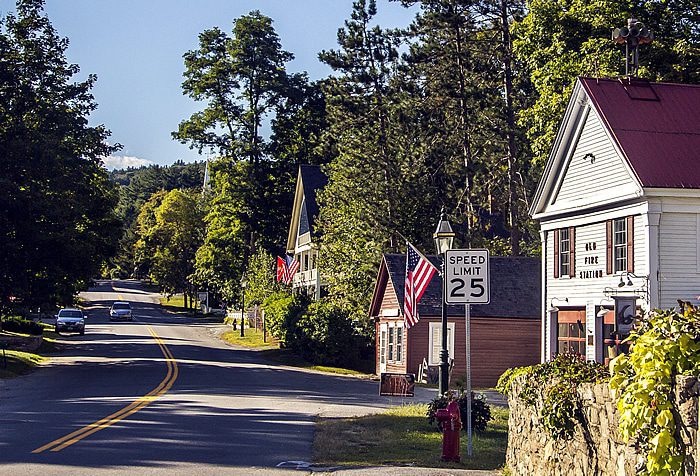 The "Hall House" house sits on a hill above the village of Grafton at the end of a road just past the village fire pond. It's located at 198 Fire Pond Road, Grafton, Vermont 05146. In the movies, the postman roars past the house on his rounds but in reality, he would have had to turn around just off screen. The home is a simple Cape Cod style house. According to the Grafton Historical Society the house still exists and is a private residence. The exterior and interior house shots in the movie were of the same house. The owners' furnishings were moved out and stored, and the movie company furnished the house to fit their needs.
The covered bridge is the one just a little way past Downer's Four Corners (intersection of 131/106) in Weathersfield (you would be going 131W) if coming from Downers. The pond is in Windsor, VT.
Some of the remnants of the Funny Farm movie still remain there today
The scenes where Andy and Elizabeth go into town and Andy runs off to the baseball game while Elizabeth shops at the antique store were filmed in Townshend, VT. The filmmakers built the gazebo and the community liked it so much that they kept it. It's still standing there today.
Check out this video that provides an update on some of the filming locations as of 2019.