Sleepy Hollow Farm in Woodstock, Vermont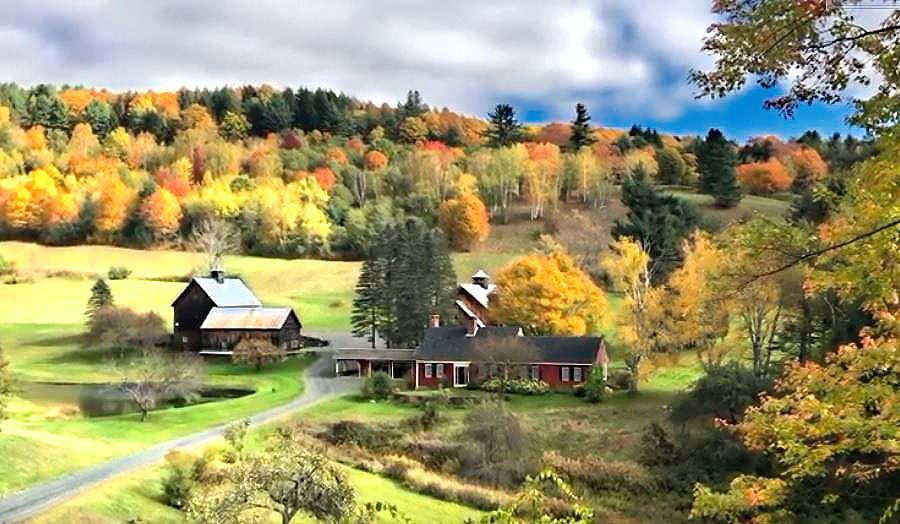 Nestled among the rolling hills of Pomfret, Vermont sits the iconic Sleepy Hollow Farm. With its rambling white farmhouse, classic red barns, and ponds that reflect the surrounding mountains, Sleepy Hollow looks like something straight out of a painting.
Thank you for reading this post, don't forget to subscribe to our email list for the latest news!
Important 2023 Tourism Fall Foliage Update
Please note that this is a private residence and NOT a tourist attraction. The family that currently owns the property along with their neighbors have been besieged with people trespassing on their property without concern or permission. Vermont is a beautiful place with many more places for photo ops, selfies and publicly open to visitors. This is NOT one of them. The town of Pomfret has temporarily closed the road to nonresidents due to overcrowding and "poorly behaved tourists."
Please have respect for the owners of the property and their neighbors. Do not trespass in or around the property. There are plenty of other places in Vermont to enjoy during fall foliage season.
A Storied History
The farm's history stretches back to the 1780s, when brothers Samuel and John Doten settled the land after leaving Connecticut. For well over a century, the farm stayed in the Doten family. Cousins worked the fields together and helped with the harvests.
In the 1950s though, Samuel's descendants Edward and Elsie decided to leave farming. After generations on the land, maybe they were just plain tuckered out. They moved on to work for the famous philanthropist Laurance Rockefeller in nearby Woodstock.
Over the years, Sleepy Hollow passed through various owners. Then, several years back, Aerosmith guitarist Joe Perry and his wife Billie made it their Vermont country home.
Photographic Fame
Today, Sleepy Hollow Farm is a magnet for photographers from around the world. It's appeared in countless stunning fall foliage photos. However, in 2023, the the town of Pomfret has temporarily closed the road to nonresidents due to overcrowding and "poorly behaved tourists." during fall foliage season.
The long driveway winding down to the farm gives a perfect vantage point. Mist rising off the ponds in the morning creates some sweet scenes. And it just captures the essence of Vermont perfectly with its classic farmhouse and barns.
Fred Doten, whose family has lived on the neighboring farm for ages, gets a kick out of Sleepy Hollow's fame. While photographers flock there morning to night, he jokes, "the views aren't all that good. You can see much more from our place!"
The Sleepy Hollow Farm in Woodstock, Vermont (Pomfret, VT) was founded in 1780 by two brothers, Samuel and John Doten.
They ran their family farm until 1780 when they left for Vermont. There's where they started logging which became their new company. The farm has been in operation for over 200 years.
They were not the first to do so, their land was chartered in 1761 and a few years later they became its first settlers. Nine years after this, the village was named Pomfret. Over the next few years, some locals from Durkee's hometown followed him and settled in. They called this place New Pomfret, but it got shortened to just Pomfret.
The Doten brothers, John and Sam, moved to Vermont and built farms next to one another. John built his farmhouse on a piece of land with views of the hills.
Over the next century and a half, both Doten families continued to use both farms. There were few, if any boundaries between these two properties. They were connected by pastures, where family members from both farms would play and work together.
In the 1950's, the family decided to quit farming after years of hard work at the Sleepy Hollow Farm
Woodstock, Vermont is a place of natural beauty and rural charm. One of the many attractions in this picturesque town is Sleepy Hollow Farm. This working farm offers visitors a chance to see life on a real Vermont farm.
The former farm, which would come to be well known as Sleepy Hollow, transferred to a few different owners during those next decades.
Once owned by Aerosmith guitarist Joe Perry, (who purchased it in 2005, later selling it in 2015), Joe loved the nature Vermont is so well known for.
"Vermont definitely turned me on to a lot of things," Perry told the Burlington Free Press in a phone conversation from his home in Massachusetts. "When you're learning any kind of art you pick things up from anybody who's doing it, whether they're really good at it or learning like you are. Vermont was definitely what I needed."
"I like that not much changes there" in Vermont, Perry said. "I like the politics there. I truly believe if it had been another time in history it would be its own country. I like the people there. I like the freedom there, the openness. And it's beautiful."
The Sleepy Hollow Farm in South Pomfret, Vermont is one of the most photogenic farms in the state of Vermont
It's located close to the village of Woodstock which makes it easy to reach by car, yet still very secluded. It has become a mecca for photographers and site seers from around the world, which has caused problems for the property owners and their neighbors. The farm and the surrounding area are private. Please heed no trespassing signs and leave the area clean and undisturbed. In 2023, the the town of Pomfret has temporarily closed the road to nonresidents due to overcrowding and "poorly behaved tourists." during fall foliage season.
Listed for sale in 2020, the property sold in September, 2020 for $2,200,000. The property is conserved both in the Vermont Current Use program and by the Vermont Land Trust. A variety of photos can be viewed here.
Plan Your Visit to Vermont Fall Foliage Public Locations
Many people take a trip to Vermont to see the fall foliage and of course wish to make a stop at the iconic Sleepy Hollow Farm. Even if you're not a huge Instagrammer, you've likely seen photos of this picturesque farm pop up on your feed. It's became super popular with photographers who flock there for the quintessential Vermont farm shots. However, while it's certainly beautiful, I'd advise against trespassing to get photos. In 2023, the the town of Pomfret has temporarily closed the road to nonresidents due to overcrowding and "poorly behaved tourists." during fall foliage season.
Even though it attracts a lot of attention these days, the farm still retains a peaceful, nostalgic feel. It's easy to imagine simple farm life back in the old days.
The farm is located right outside Woodstock, in South Pomfret, about 10 minutes from Woodstock village. It's not actually a working farm anymore but the old late-18th century farmhouse and classic red barns remain. Driving up the long winding driveway you feel like you're stepping back in time. Especially in the morning with the mist rising off the ponds and lush green hills in the background. It totally looks like a painting.
Just remember when visiting to be respectful and courteous, as this cherished landmark is still a private home. It is also off limits to photo ops, etc. during fall foliage season. We want admirers to be able to enjoy its beauty for many more years to come!