Brattleboro Vermont's Best Kept Secrets: Best Spots Only Locals Know
Brattleboro, Vermont is a hidden gem nestled in the heart of Windham County. This picturesque town offers breathtaking views of the surrounding natural landscapes, making it the perfect destination for nature lovers. But downtown Brattleboro is more than just a southern Vermont pretty face – it's also an artsy town and a creative hub, buzzing with vibrant cultural events and a thriving arts scene.
Thank you for reading this post, don't forget to subscribe to our email list for the latest news!
Key Southeastern Vermont Takeaways:
Explore the Historic Downtown of Brattleboro
Brattleboro's historic downtown is a vibrant hub of activity, filled with independent merchants, unique shops, and delicious local eateries. You'll find yourself immersed in the charming streets, where you can spend hours browsing through eclectic shops and experiencing the true essence of this artsy town. From artisanal products to local crafts, the downtown area is a shopping oasis, offering a treasure trove of one-of-a-kind items for you to discover. Take a gallery walk and visit the Brattleboro museum and art center.
An exciting hot-spot of creative culture, farm-to-table cuisine, and one-of-a-kind shops, Brattleboro has a bustling main street community of indie business owners situated alongside the bank of the Connecticut River.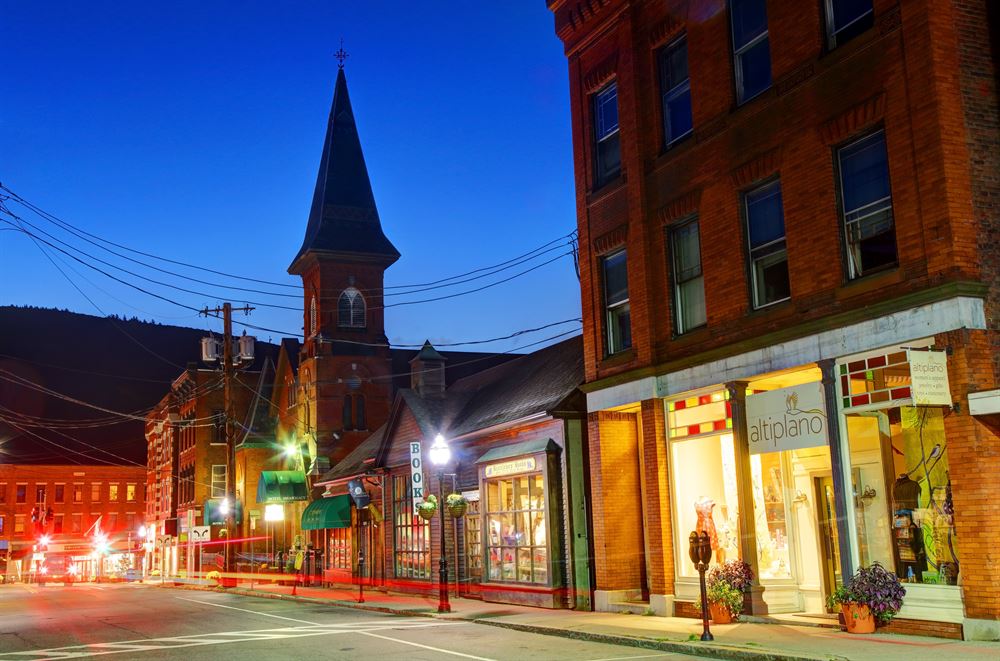 When hunger strikes, the local food scene will not disappoint. Brattleboro's downtown is dotted with delightful restaurants and cafes, each offering their own culinary delights. Indulge in farm-to-table cuisine, savor the flavors of Vermont, and enjoy the creative fusion of ingredients that makes this town's cuisine truly special.
As you explore this Vermont historic downtown, you'll also have the opportunity to connect with the welcoming community. Engage in conversations with locals, learn about the town's rich history, and soak in the friendly atmosphere that permeates every corner. Brattleboro's historic downtown is not just a place for shopping and dining, but a vibrant social hub that will leave you feeling inspired and connected.
Bestseller No. 1
No Vermont town or city would be complete without a ghost story or haunting and Brattleboro, has at least a couple ghostly tales.
Immerse Yourself in the Arts and Culture of Brattleboro
Brattleboro is renowned for being an art town, attracting artists, musicians, and performers from all over. The town offers a diverse range of artistic and cultural experiences, from jazz concerts and film festivals to theater productions and art galleries. Immerse yourself in the creative atmosphere as you explore the vibrant arts scene that Brattleboro has to offer.
One of the highlights of the town is its regular jazz concerts, where talented musicians take the stage and fill the air with soulful melodies. These concerts provide a wonderful opportunity to relax and enjoy the smooth sounds of jazz in a cozy and intimate setting. Whether you're a jazz enthusiast or someone looking to explore a different genre of music, these concerts are not to be missed.
Brattleboro is also known for its film festivals, showcasing a wide range of independent films from both local and international filmmakers. These festivals provide a platform for emerging talents to showcase their work and for film enthusiasts to discover unique and thought-provoking stories. From documentaries to narrative features, there is something for everyone at these film festivals.
In addition to jazz concerts and film festivals, Brattleboro is home to several theater companies that produce captivating performances throughout the year. From classic plays to contemporary works, these theater productions showcase the immense talent and creativity of the local and visiting artists. Attending a live performance is an enriching experience that allows you to witness the power of storytelling and the magic of the stage.
Whether you're an art aficionado or simply appreciate creativity in all its forms, Brattleboro offers a vibrant and diverse arts scene that is sure to captivate and inspire you. From jazz concerts to film festivals and theater productions, there is something for everyone to enjoy in this culturally rich town.
Experience the Festivals and Events in Brattleboro
Brattleboro is known for its vibrant community spirit, and this is reflected in the diverse range of festivals and events that take place throughout the year. One of Brattleboro's highlights is the Strolling of the Heifers Festival, which celebrates the region's rich agricultural heritage. This unique event features a parade of decorated cows, delicious local food, and live entertainment that will delight visitors of all ages. We've got a thriving downtown community of independent merchants all located in Brattleboro, VT.
In addition to the Strolling of the Heifers Festival, Brattleboro hosts a variety of seasonal festivals that showcase the town's cultural vitality. From music festivals to art fairs, there is always something happening in Brattleboro to captivate your interest. These festivals provide a platform for local artisans, musicians, and performers to share their talents and contribute to the vibrant arts scene of the town.
Brattleboro is alive with community events throughout the year, offering you opportunities to connect with locals and experience the unique charm of the town. From street fairs to farmers' markets, these events create a sense of togetherness and allow you to immerse yourself in the warm and welcoming atmosphere of Brattleboro. Whether you're looking for family-friendly activities or seeking to engage with the local community, Brattleboro has something to offer for everyone.
Explore the Natural Beauty and Outdoor Activities
Brattleboro is a haven for nature enthusiasts, offering a plethora of outdoor activities amidst stunning natural landscapes. The town's scenic views will take your breath away as you immerse yourself in the beauty of the surrounding environment. Whether you're an avid hiker, cyclist, angler, or simply someone who appreciates the tranquility of nature, Brattleboro has something for everyone.
Experience the thrill of hiking along the picturesque foothills, where you'll encounter winding trails that lead to hidden gems and breathtaking vistas. The region boasts an abundance of parks and natural areas, waiting to be explored. Take a leisurely stroll by the riverside, enjoying the soothing sounds of flowing water and the gentle rustle of autumn leaves. Brattleboro is truly a nature lover's paradise.
"The beauty of Brattleboro's natural landscapes is unmatched. You'll find yourself captivated by the serene atmosphere and scenic wonders. It's a perfect destination for those seeking outdoor adventures and a connection with nature." – Local Outdoor Enthusiast
Outdoor Activities in Brattleboro
Brattleboro's natural beauty is not just limited to its landscapes, but also extends to the diverse wildlife that calls this region home. Birdwatchers will find themselves in paradise, spotting a variety of bird species as they explore the town's many trails and parks. Keep your eyes peeled for deer, foxes, and other native creatures that inhabit the area.
Whether you're seeking solace in the serene surroundings or embarking on thrilling outdoor adventures, Brattleboro offers an unparalleled experience for nature enthusiasts. Soak in the scenic views, embrace the tranquility, and let the natural wonders of this charming town rejuvenate your soul.
The Harris Hill Ski Jump
The Harris Hill Ski Jumping Competition is a time-honored Brattleboro custom that originated in 1922, before ski jumping was even included in the Olympics. The competition was the brainchild of Brattleboro, Vermont's Fred Harris, who established both the Brattleboro Outing Club and the Dartmouth Outing Club.
Discover the Historical Significance of Brattleboro
Brattleboro, Vermont is not only a charming and picturesque town, but it also holds a rich historical significance. The land on which Brattleboro is located was once inhabited by the Abenaki people, specifically the Sokoki band, adding an indigenous history to its story. During the colonial era, Brattleboro played a role in Dummer's War, serving as a site for the Massachusetts Bay Colony. To protect the settlers, Fort Dummer, a blockhouse and stockade, was built in the town, showcasing its architectural heritage.
Brattleboro's historical charm can be seen in its well-preserved buildings and landmarks, which tell the story of its past. From the colonial era to the present day, the town has evolved, but it has never forgotten its roots. By exploring the historical sites and learning about the town's history, you can gain a deeper understanding of Brattleboro's place in American history.
"Brattleboro's historical charm can be seen in its well-preserved buildings and landmarks, which tell the story of its past."
The Abenaki People: A Native Heritage
Before the arrival of European settlers, the Abenaki people thrived in the Brattleboro area. The Sokoki band, in particular, called this land their home. Their presence and culture can still be felt today, creating a unique blend of indigenous and colonial history.
Experience the Strong Community Spirit
Brattleboro is more than just a town; it's a close-knit community that thrives on togetherness and support. The downtown area is a bustling hub, filled with local businesses and independent merchants who take pride in being part of the vibrant community fabric. You'll find a thriving downtown scene where you can shop for unique items, grab a delicious bite to eat, or simply soak in the lively atmosphere.
Brattleboro is also home to the Community College of Vermont and Vermont Technical College, contributing to the town's educational opportunities and fostering a culture of learning and growth. The colleges attract a diverse student body, adding to the town's vibrancy and providing an opportunity for residents to engage with young minds and fresh ideas.
The strong community spirit is further highlighted by the numerous community events that Brattleboro hosts throughout the year. From local festivals celebrating the town's agricultural heritage, such as the Strolling of the Heifers Festival, to seasonal events that bring people together, there's always something happening in Brattleboro. These events provide an excellent opportunity to connect with locals, experience the genuine warmth of the community, and create lasting memories.
Transportation and Getting Around Brattleboro
Planning your trip to Brattleboro by automobile? Enjoy a scenic drive on I-91, Route 9 or the Connecticut River Byway. Whichever direction you're coming from, you'll enjoy the drive to one of the best small towns in America!
Traveling by train? Consider the Amtrak Vermonter, providing service from St. Albans, VT to Washington, D.C., stops in Brattleboro once daily northbound and southbound. Amtrak's train service (and waiting room) is located at at 10 Vernon Road.
Greyhound Bus services are available throughout the country to and from Brattleboro.
Vermont's National Byway runs through Brattleboro
Carved between the Green Mountains of Vermont and the White Mountains of New Hampshire is 410 miles of the historic Connecticut River. Alongside the river runs the Connecticut River Byway, Vermont's only designated National Byway.
Fun Things to Do in Brattleboro
Fort Dummer: A Symbol of Protection
Visit Fort Dummer State Park, built in 1724 in what is now Brattleboro. Fort Dummer served as a protective stronghold during Dummer's War. The fort was strategically positioned to provide security for the settlers against attacks by Native American tribes. Today, its historical significance is preserved through educational exhibits and artifacts that offer a glimpse into the town's past.
Estey Organ Museum
Visit the Estey Organ Museum, dedicated to the history and heritage of the Estey Organ Company of Brattleboro, Vermont, makers of reed organs, pump. They are located in the Old Engine House, part of the historic slate-sided Estey factory building, ten minutes off Interstate 91, Exit 1 North.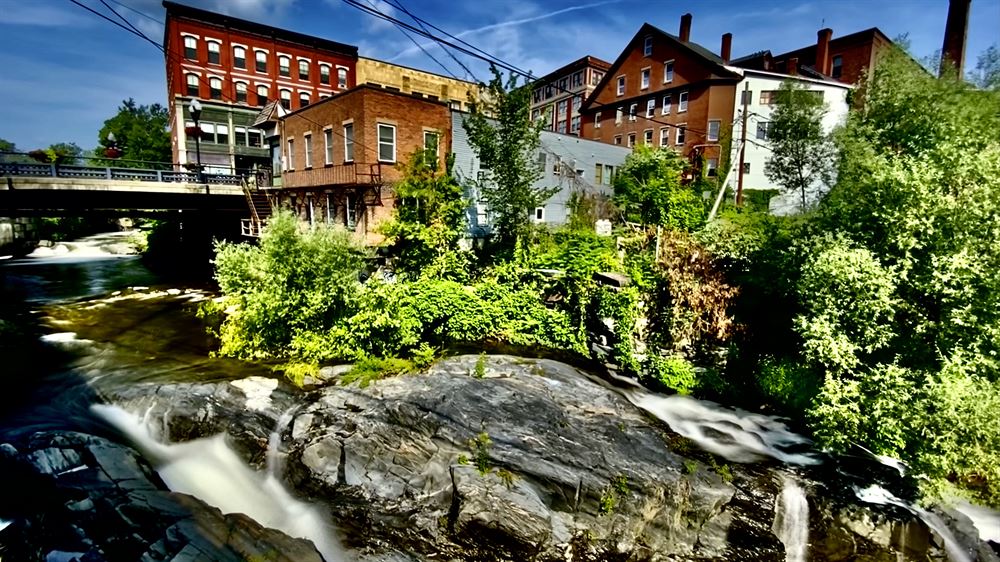 Brattleboro: A Thriving Downtown Scene
Education and Community Growth
Community Events and Festivals
Brattleboro's strong community spirit sets it apart from other destinations, and it's a quality that visitors and residents alike cherish. From the thriving downtown scene to the wide range of community events, Brattleboro offers a warm and welcoming atmosphere that makes you feel like you're part of something special.
Outdoor Recreation at The West River Trail
It's been over 75 years since the final locomotive roared down the rails, yet remnants of the old railway continue to be treasured by locals who use them for hiking, biking, skiing, and immersing themselves in the surrounding wilderness. The 36-mile West River Trail includes an Upper Section in Londonderry, Jamaica, and Townshend and a Lower Section in Brattleboro and Dummerston.
More Brattleboro Area Hiking Trails
Brattleboro boasts six beginner-friendly hiking trails perfect for families and outdoor lovers of all abilities. Discover kid-approved routes or explore historic sights along wooded paths. With plenty of scenic nature spots surrounding Brattleboro, you're sure to find the ideal trail for your next adventure.
Southern Vermont Covered Bridges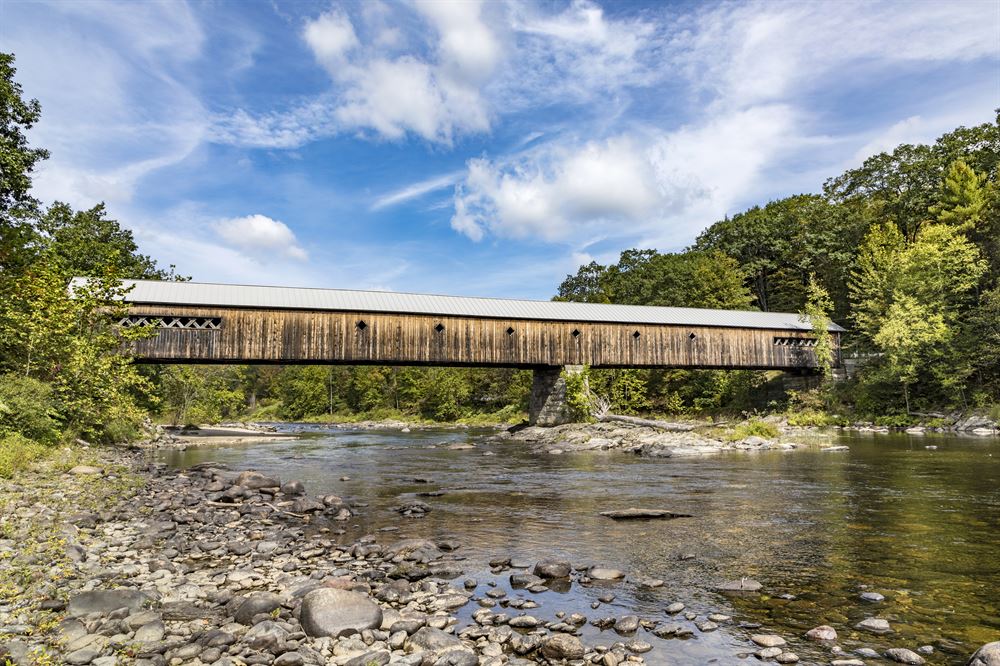 Enjoy the Rural Charm and Quaint Setting
Brattleboro, Vermont is a hidden gem that offers a quaint and charming setting, showcasing the rural beauty and New England charm that the region is known for. Nestled among rolling hills and surrounded by breathtaking rural landscapes, Brattleboro exudes a serene and peaceful atmosphere that will envelop you as soon as you arrive.
As you explore the town, you'll be captivated by its historic significance and architectural heritage, which adds to its nostalgic charm. The well-preserved buildings tell stories of the town's past and provide a glimpse into its rich history. Whether you're strolling along the main streets or wandering through the residential areas, you'll be greeted with picturesque scenes that make Brattleboro truly unique.
Immerse yourself in the rural charm by experiencing the slower pace of life that Brattleboro offers. Take leisurely walks through the countryside, enjoying the fresh air and natural beauty. Indulge in the local cuisine, savoring farm-to-table dishes that highlight the region's agricultural heritage. Engage with the welcoming community, and you'll quickly feel like a part of the Brattleboro family.
A Unique Place to Stay
Looking for lodging in Brattleboro? There are plenty of choices with many of the famous name hotels and motels, but perhaps you're looking for something a bit more special? Why not spend a weekend getaway at the following, world class historic landmark?
Rudyard Kipling's Naulakha
Designated a National Historic Landmark, Naulakha was constructed in 1892 as the home of acclaimed author Rudyard Kipling. Many original furnishings remain, allowing guests the rare opportunity to work at the very desk where Kipling penned classics like The Jungle Book, Captains Courageous, and parts of the Just So Stories.
Nestled at the end of a tree-lined drive off a peaceful country road, Naulakha sits just 10 minutes from the shops, eateries, breweries, and arts of Brattleboro, Vermont – recently named the 2023 Strongest Town by Strong Towns. This fully equipped three-story estate makes an ideal gathering place for family reunions and getaways. A totally unique combination of flair and Connecticut River Valley charm!
Indulge in the Local Culinary Delights
When it comes to satisfying your taste buds, Brattleboro, Vermont has a vibrant local food scene that is sure to delight. From farm-to-table cuisine to artisanal products, this charming town offers a culinary experience that reflects its commitment to supporting local farmers and producers.
Explore the diverse range of eateries in Brattleboro, from cozy cafes serving up freshly brewed coffee and delectable pastries to fine dining establishments offering innovative dishes made with locally sourced ingredients. Whether you're craving a hearty breakfast, a leisurely lunch, or an exquisite dinner, you'll find a plethora of options to satisfy your cravings.
For those looking to wet their whistle, Brattleboro is home to a number of distilleries and breweries. Indulge in handcrafted spirits or sample locally brewed beers, all while immersing yourself in the rich flavors and unique profiles that make Brattleboro's beverages stand out.
With its emphasis on quality, sustainability, and community, Brattleboro's local food scene is a true reflection of the town's values. Whether you're a food enthusiast or simply looking to treat yourself to a memorable dining experience, Brattleboro will not disappoint.
Conclusion
Brattleboro, Vermont is a hidden gem that offers a unique and memorable getaway for travelers seeking a combination of natural beauty, cultural richness, and community spirit. From its scenic views and outdoor activities to its vibrant arts scene and charming streets, Brattleboro has something to offer everyone.
Whether you're exploring its historical landmarks, indulging in the local culinary delights, or immersing yourself in the local culture, Brattleboro is a tourist destination that truly captures the essence of rural charm and New England allure.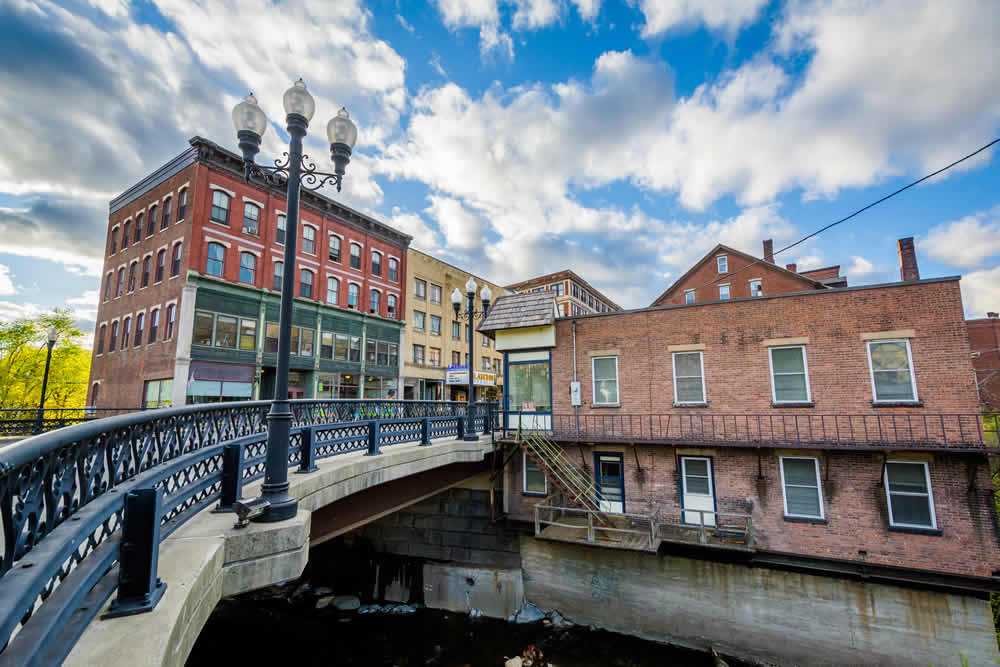 With its picturesque landscapes and thriving arts scene, Brattleboro provides a perfect backdrop for outdoor adventures and artistic inspiration. The town's historic downtown, filled with independent merchants and local eateries, offers a shopping oasis for those seeking unique finds and delicious food.
Immerse yourself in the vibrant arts and cultural scene, attend jazz concerts and film festivals, and witness the sense of community come alive through exciting festivals and events. Whether you're strolling through the historic streets or enjoying the natural beauty surrounding the town, Brattleboro invites you to experience its warm and welcoming atmosphere.
FAQ
What is Brattleboro, Vermont known for?
Brattleboro, Vermont is known for its picturesque views, being an artsy town, and serving as a creative hub.
What can I expect to find in the historic downtown of Brattleboro?
In the historic downtown of Brattleboro, you can expect to find independent merchants, unique shops, and delicious local eateries.
What kind of cultural events can I enjoy in Brattleboro?
Brattleboro hosts regular jazz concerts, film festivals, and theater productions, showcasing the talent of local and visiting artists.
What are some of the festivals and events that take place in Brattleboro?
Brattleboro is known for hosting the Strolling of the Heifers Festival, as well as various seasonal festivals featuring live music, local artisans, and delicious food.
What outdoor activities are available in Brattleboro?
Brattleboro offers plenty of opportunities for outdoor activities such as hiking in scenic foothills, exploring nearby rivers and lakes, and enjoying the picturesque setting.
Does Brattleboro have any historical significance?
Yes, Brattleboro has a rich historical significance, with a blend of American and indigenous history. It played a role in the colonial era and is home to notable historic buildings.
What is the community spirit like in Brattleboro?
Brattleboro is a community-oriented town with a strong sense of togetherness and support. It hosts numerous community events and is recognized for its commitment to community development.
What is the overall atmosphere like in Brattleboro?
Brattleboro boasts a rural charm and quaint appeal, with picturesque landscapes and historic architecture that create a serene and peaceful atmosphere.
What is the local food scene like in Brattleboro?
Brattleboro has a thriving local food scene, emphasizing farm-to-table cuisine and artisanal products. You can explore eateries, distilleries, and breweries that showcase the region's culinary delights.
What makes Brattleboro a unique and memorable getaway?
Brattleboro, Vermont is a hidden gem that offers a unique and memorable getaway for travelers. It combines natural beauty, cultural richness, and a strong community spirit to create an unforgettable experience.