Local's Guide to Newport Vermont – How to Make the Most of Your Visit
Welcome to Newport, Vermont! This memorable city located in the Northeast Kingdom offers a mix of natural beauty, history, and culture, making it an ideal destination for your next adventure. Whether you're seeking outdoor activities, culinary delights, artistic experiences, or simply a relaxing getaway, Newport has something for everyone to enjoy. Let us be your friendly guide to the best local attractions that this welcoming city has to offer.
Thank you for reading this post, don't forget to subscribe to our email list for the latest news!
Key Takeaways:
Newport is a charming city located in the Northeast Kingdom of Vermont.
It offers a mix of natural beauty, history, and culture.
Explore outdoor adventures, culinary delights, art and culture, and more.
Newport is known for its friendly and welcoming New England atmosphere.
Jay Peak is close by for the perfect ski vacation
Plan your visit to Newport and create lasting memories in the heart of the Northeast Kingdom.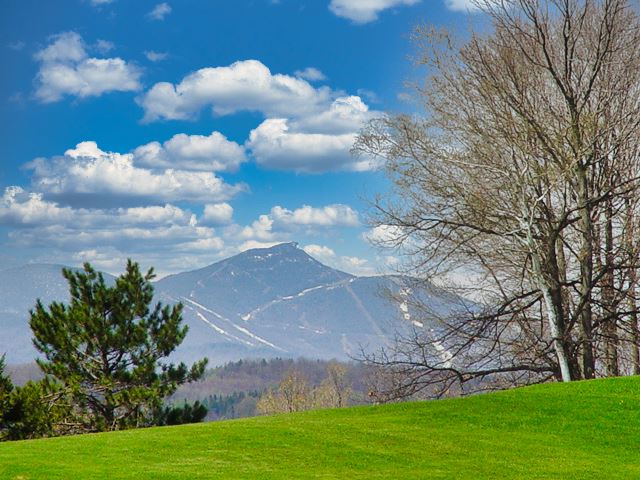 Newport's Unique and Unusual Attractions
When visiting Newport prepare yourself for a one-of-a-kind experience with its array of unique and unusual attractions. From the granite fish at downtown Newport City to the annual exhibits at the Goodrich Memorial Library and other historic buildings, you'll enjoy the visit! Take a drive along the Glen Road and South Bay to see where the former Chamberlin Birch ski area used to be and where the railway was of major importance to the area.
Whether you're exploring Newport, VT with your family, for business or enjoying a romantic date, these activities are guaranteed to provide fun and excitement. Feel the thrill of discovery as you delve into Newport's offbeat attractions, and create unforgettable memories along the way. Take a walk from the Municipal Building and head west to the Memphremagog Bay where lumber yards used to exist. The views into Canada, from the waterfront, are amazing.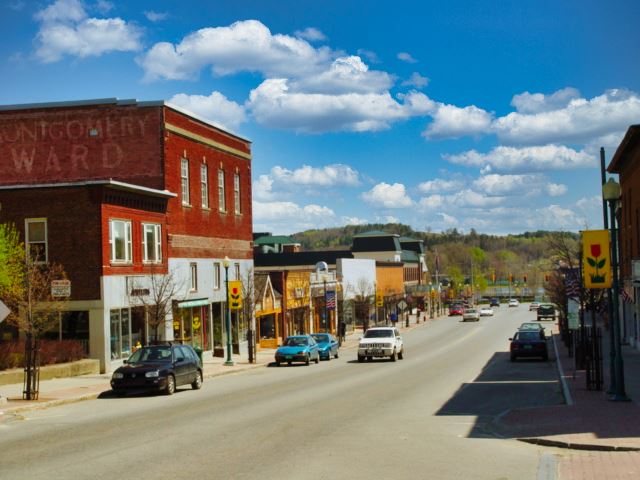 City of Newport – Genuine By Nature
The Newport City Downtown Development (NCDD) is a nonprofit organization dedicated to preserving, promoting, and enhancing downtown Newport as a thriving economic, cultural, and recreational hub. They work with partners and volunteers to:
Restore historic buildings and landmarks
Support a lively mix of local businesses and services
Create walkable streets and public spaces
Organize community events and attractions
Foster downtown Newport as an inviting place to live, work, and visit
With resilience and vision, NCDD strengthens downtown Newport as the heart of the community – a place pulsing with economic energy, social connections, and civic pride.
Vermont 2024 Wall Calendar
Public holidays marked
Size: 8.5″ x 11″ closed and 17″ x 11″ opened.
12 months (2024 January – 2024 December).
Newport City's Humble Early Days as Pickerel Point
Long before becoming the bustling municipality of Newport City, this area's first homes sprung up in 1793 at a place first called Pickerel Point. Situated on the shores of Lake Memphremagog, this tiny settlement was aptly named for the fish that inhabited the lake's waters.
As more residents arrived, Pickerel Point became a destination for fishing, trading, and other commerce around the lake. Its strategic location at the southern tip of Memphremagog soon led to a new name – Lake Bridge.
The city of Newport was formed from portions of two villages
Prior to 1918, the villages of Newport and West Derby existed as separate entities in northern Vermont. Each had its own distinct history and identity within the region. But on March 5th of that year, these two communities came together to incorporate as one official municipality: the unified city of Newport.
By consolidating, Newport and West Derby joined forces to chart a new future as a single civic body. Together, they could pool their resources and leadership to grow and prosper in ways they could not individually. Though the process was challenging, requiring political coordination and compromise, the outcome was a reinvigorated local government ready to serve all citizens' needs.
More than a century later, Newport continues to build upon its founding merger. The combined heritage of Newport and West Derby enriches community spirit and progress each day. From its origins on that March day, Newport has emerged as a strong, vibrant city in Vermont's Northeast Kingdom.
Local Newport Area Myths, Ghosts and Legends
One very old story is about the "fur bearing trout" of Lake Memphremagog. This is about the wildest fish story you might have encountered!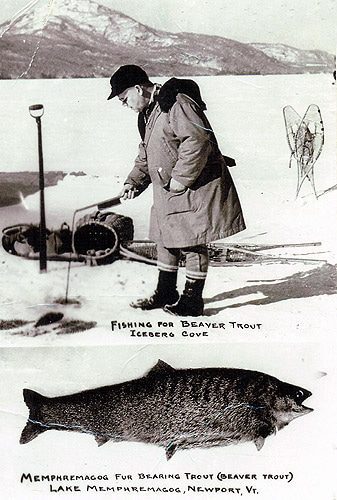 According to local legend, a mysterious monster lurks in the deep waters of Lake Memphremagog, the glacial lake spanning the border of Vermont and Quebec. Known affectionately as "Memphry", this elusive creature resembles a serpentine sea monster with a horse-like head and humps protruding from the water. Sightings have persisted for over 175 years, captured in Native American folklore and frequent eyewitness accounts by residents and visitors alike. Some claim the beast resembles the famous Loch Ness monster far across the Atlantic.
Bestseller No. 1
The earliest documented sighting came from circa 1802, describing a black monster roughly 40 feet long observed by a local settler. Since then, sporadic glimpses of a humped back breaking the water's glassy surface, strange noises echoing from the lake depths, and other odd occurrences have fueled Memphry's mystique through the generations. The beast's existence remains unproven, but serves as a source of intrigue and local pride in the Newport area.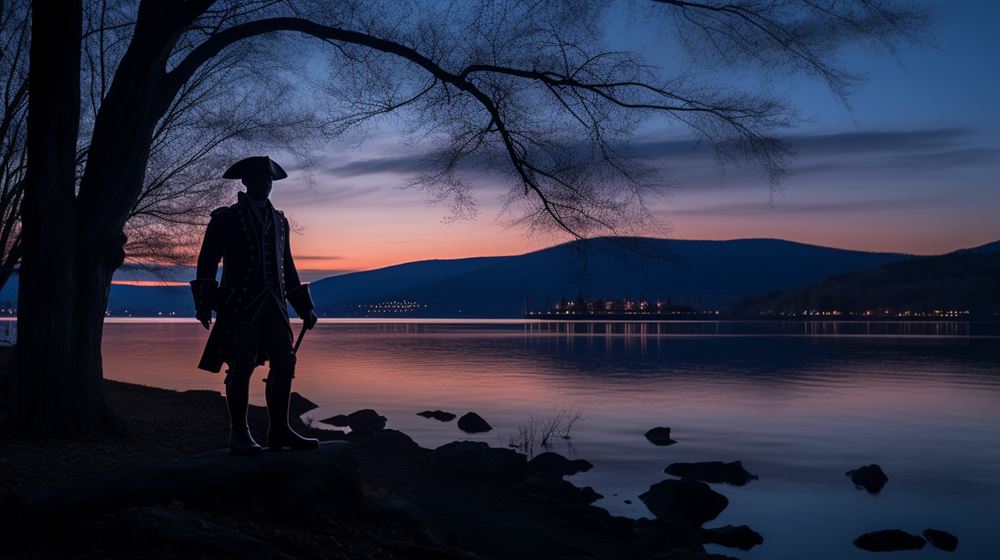 The larger-than-life Major General Anthony Wayne, nicknamed "Mad Anthony", was known for his daring battlefield exploits during the Revolutionary War. According to legend, his adventurous spirit lives on in the form of a ghost that haunts the shores of Lake Memphremagog in Vermont, as well as several other places!
Note the name variation to "Memphry" as the more well-known moniker is copyrighted. A weird, story all in it's own!
Culinary Delights in Newport
When it comes to culinary delights, Newport, Vermont is a food lover's paradise. The town is renowned for its farm-to-table dining options, offering a taste of fresh, locally sourced ingredients in every bite. Whether you're craving a hearty breakfast, a casual lunch, or an elegant dinner, Newport has a wide range of local eateries to satisfy your palate.
One must-visit spot is the Northeast Kingdom Tasting Center, located on Main Street. This unique venue showcases the best of the region's food and beverages, making it the perfect place to sample and purchase local products. From artisanal cheeses and chocolates to craft beers and spirits, the Tasting Center has something for everyone. Don't miss the opportunity to try a bottle of Eden Ice Cider, a specialty of the area that captures the essence of Vermont's apple-growing heritage.
In addition to the Tasting Center, Newport is home to a variety of restaurants that prioritize local ingredients and flavors. Whether you're in the mood for traditional American cuisine, international flavors, or contemporary fusion dishes, you'll find a diverse range of options to suit your taste buds. From cozy cafes and family-friendly diners to upscale eateries with scenic views, Newport has it all. Indulge in the culinary delights of this charming town and discover why it's a destination for food enthusiasts.
Local tip: Because Newport is so close the US? Canada border, many locals drive to Canada for dinner as well.
Art and Culture in Newport
Newport, Vermont is a haven for art and culture enthusiasts. Immerse yourself in the vibrant arts scene and discover the talent that resides in this charming city. The MAC Center for the Arts is a must-visit destination for art lovers. This renowned center showcases the work of local artists and offers a variety of art classes for those interested in exploring their creative side. From painting and sculpture to photography and mixed media, you'll find a range of artistic expressions at the MAC Center.
In addition to the MAC Center, Newport also hosts a variety of art exhibits, live performances, and special events throughout the year. The city comes alive with creativity, providing visitors with a unique and enriching experience. Whether you're a fan of fine art, theater, or music, there's always something exciting happening in Newport.
If you're looking to take home a piece of Newport's artistic spirit, make sure to visit the local galleries and shops that feature the works of talented local artists. From paintings and ceramics to handmade jewelry and crafts, you'll find a treasure trove of unique and one-of-a-kind pieces to bring home as a memento of your visit.
Sale
Bestseller No. 1
Forgotten Tales of Vermont
Alexander, William M. (Author)
English (Publication Language)
160 Pages – 06/27/2008 (Publication Date) – The History Press (Publisher)
Explore Art and Unleash Your Creativity
Whether you're a seasoned artist or a beginner looking to unleash your creativity, Newport offers opportunities for everyone. Take part in the art classes offered by the MAC Center for the Arts and learn from experienced instructors who are passionate about sharing their knowledge. From beginners' workshops to advanced courses, there's something for all skill levels.
You don't have to be an artist to appreciate art. Take a stroll through the city and admire the public art installations and murals that adorn the buildings. These captivating works of art showcase the creativity and talent of Newport's local artists.
Don't miss the chance to attend live performances in Newport. The city hosts a variety of concerts, theater productions, and cultural events that showcase the region's rich artistic heritage. From classical music performances to contemporary dance shows, there's always something happening to captivate your senses and leave you with lasting memories.
Newport's Outdoor Recreation on Lake Memphremagog
Newport is a paradise for outdoor enthusiasts. Located on the southern shore of Lake Memphremagog, this charming city offers a wide range of activities to satisfy your adventurous spirit. You'll explore parks and enjoy beautiful sunsets over the lake.
Experience the thrill of boating as you navigate the crystal-clear waters of Lake Memphremagog. Whether it's sailing, kayaking, paddleboarding, or swimming at Prouty Beach, you'll be captivated by the stunning views and the serenity of the lake. For those seeking a more relaxed experience, take a dip in the refreshing waters or simply bask in the sun on the sandy shores.
Outdoor Adventures in Newport
The hiking trails in and around Newport are a nature lover's dream. Lace up your boots and explore the scenic wonders that await you. From leisurely walks along the lakeshore to challenging hikes up picturesque mountains, there's a trail for every skill level. As you traverse the paths, keep an eye out for wildlife and immerse yourself in the beauty of the surrounding landscapes.
Exploring the Rugged Beauty of Vermont's Beebe Spur Rail Trail
Winding along the eastern shores of the magnificent Lake Memphremagog, the Beebe Spur Rail Trail offers a gateway to outdoor adventure in northern Vermont. Once an old railroad route, this recreation path now invites hikers, bikers, horseback riders, and snowsports enthusiasts to revel in its natural splendor. As the state's shortest rail trail, adventure seekers of all ages can delight in its accessibility and charm.
Just minutes from Newport, the trail unravels spectacular vistas of the glacial lake, its icy blue waters extending 32 miles towards Quebec. In the distance, the regal Green Mountains paint the horizon. One can almost hear the echoes of locomotives past amidst the tranquility.
Sale
Spanning less than four miles from Newport to the border crossing, the Beebe Spur may be a shorter trail, but rewards travelers with the area's quintessential scenery and tranquility. Its compact length allows outdoor lovers to readily immerse themselves in the best of Vermont's landscape, fresh air, and recreation on this inviting route.
Whether visiting for an hour or a whole day, the delights of the Beebe Spur offer visitors a taste of Vermont's natural wonders, just steps away. A charming recreational path awaits!
Venturing further, the path veers inland through historic North Derby, passing trailside parking. While no longer a border crossing, informative signs point adventurers onwards to Beebe Road, where Canada awaits just over a mile away.
During the winter months, when blanketed in snow, the trail transforms into a winter wonderland. Groomed by Memphremagog Trails, it welcomes cross-country skiers, snowshoers, dogsledding, and more.
From the lake's rippling waves to the surrounding wilderness, the Beebe Spur Rail Trail is a journey through Vermont's natural magnificence. A realm of unspoiled beauty beckons. At the northern end, a quick 1.5 mile detour along Beebe Road leads to the Canadian border, passports in hand.
With its stunning natural offerings, Newport, Vermont is an outdoor playground waiting to be explored. So, grab your gear and get ready for unforgettable adventures in this scenic destination.
Kayaking and Canoeing
Explore the calm waters of Lake Memphremagog by renting a kayak or canoe. Paddle your way through the crystal-clear lake while taking in the breathtaking views of the surrounding mountains. Discover hidden coves, spot wildlife, and enjoy the tranquility of the water. It's a great way to connect with nature and experience the beauty of Newport from a unique perspective.
Fishing Lake Memphremagog and the Clyde River
Don't forget to pack your fishing gear, as Newport is a haven for anglers. Cast your line into the lake and try your luck at catching trout, salmon, bass, or pike. Whether you're a seasoned angler or a beginner, the fishing opportunities here are abundant. Cast your line and reel in your catch as you soak in the peaceful atmosphere of the lake. Check out the Clyde River and of course the Lake Memphremagog railroad bridge, next to the Causeway. During the winter months, ice fishing is popular at many spots along Lake Memphremagog.
Hunting Ethics and Landowner Relationships in Vermont
In Vermont, hunter permission is not required on private land unless legally posted. However, politely seeking landowner approval is essential to maintaining access and goodwill. There are many places to hunt in the Northeast Kingdom and in the more rural areas surrounding Newport. Hunting has always been a time-honored, family tradition in the Newport area but following common sense courtesy and safety rules are essential.
We encourage responsible communication with landowners before any hunt. This privilege is a courtesy extended by generous property owners. If requested, hunters must immediately show their license and leave, whether the land is posted or not.
To portray hunting in the best light and preserve landowner relationships:
Respect the property as agreed upon. Only drive/park where permitted.
Provide your contact information and vehicle details. Check when/where you may return.
Hunt only within property boundaries. Avoid unharvested crops, livestock, and buildings.
Keep your party size minimal. Inform landowners who is joining you.
Leave gates and fences undamaged. Carry out all litter.
Landowner trust is hard-earned and easily lost. As guests, hunters must follow all regulations and wishes. Clear communication, ethical behavior, and stewardship preserve Vermont's hunting heritage. Together, we can ensure future generations enjoy this privilege.
Hiking Around Lake Memphremagog
If you prefer to stay on land, you can explore the hiking trails around Lake Memphremagog. Lace up your hiking boots and embark on a scenic adventure through the surrounding mountains. From easy nature walks to challenging summit hikes, there are trails suitable for all skill levels. Take in the breathtaking views and enjoy the fresh mountain air as you immerse yourself in Newport's natural beauty.
With its range of outdoor activities, Lake Memphremagog is the perfect destination for nature lovers and adventure seekers alike. Whether you choose to paddle, fish, or hike, you'll create unforgettable memories in Newport, Vermont.
Historical Sites and Architecture in Newport
Newport, Vermont is a town steeped in history and architectural heritage. From historic landmarks to stunning architectural masterpieces, this charming city has much to offer for history enthusiasts and architecture lovers alike.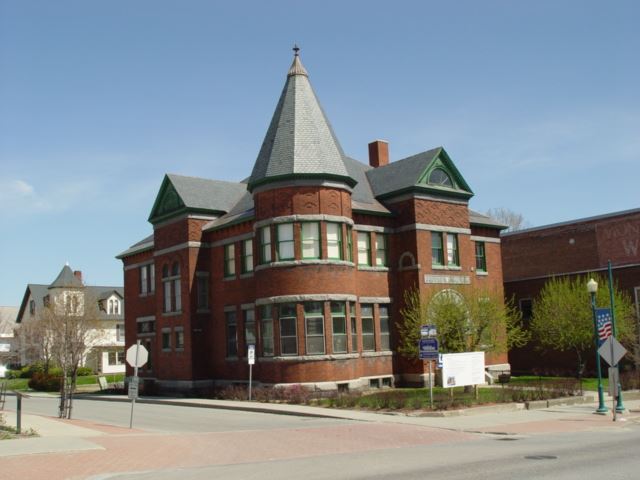 The Goodrich Memorial Library is a must-visit destination for those interested in Newport's architectural heritage. Built in 1868, the library showcases exquisite Beaux-Arts style architecture, complete with intricate murals and breathtaking stained glass windows. A walk through this architectural gem is sure to leave you in awe of the craftsmanship and beauty.
The Haskell Library and Opera House in Derby Line
Straddling the US-Canada border, the Haskell Free Library and Opera House is a testament to international friendship and cooperation. Completed in 1904, the neoclassical building was financed by wealthy local resident Martha Stewart Haskell and her Canadian husband Carlos to serve both American and Canadian residents.
The first floor library is divided precisely at the border, while the opera house sits fully in Canada with its entrance in the US. For over 100 years, this unique structure has welcomed people from both nations to enjoy arts, culture, and community within its storied halls. The Haskell Library stands as both a literal and symbolic bridge between two countries, showing how shared passions can transcend boundaries. Even during tense historical moments, the "line went through the building, not between the people" within its walls.
The Old Stone House in Brownington
Nestled in the heart of Vermont's Northeast Kingdom, the Old Stone House Museum offers a glimpse into early pioneer life in the rural Vermont town of Brownington. Built in 1836, the historic stone farmhouse today serves as a museum memorializing Alexander Twilight – the nation's first African American college graduate.
As both the principal of Brownington Academy and a state legislator, Twilight left an enduring educational legacy. The museum's exhibits capture the hardworking spirit of early settlers through artifacts like spinning wheels, cast iron stoves, and handcrafted furniture. Visitors can stroll through the 19th century homestead to experience the rustic self-sufficiency of life in rural Vermont before electricity and plumbing.
More than just a house museum, the Old Stone House celebrates the richness of Brownington's local history, famous former residents, and early New England culture.
Gardner Park: Enjoyed by Generations of Newport Residents and Visitors
At the heart of Newport lies Gardner Park, a beloved 20-acre recreation hub cherished for its natural beauty and lively community spirit. Adjacent to the Clyde River's tranquil waters, the park provides an idyllic spot for fishing, kayaking, and picnicking against a scenic backdrop. This charming, area park, nestled on the shores of Lake Memphremagog, provides breathtaking views and a serene atmosphere that will leave you feeling rejuvenated.
Throughout the year, Gardner Park pulses with special events that draw residents together. Summer brings crowded tournaments, concerts under the stars, carnivals, and Independence Day celebrations. In winter, the park transforms into a bustling ice skating arena, keeping the community connected in the colder months.
Vermont Northeast Kingdom NEK T-Shirt
Vermont Northeast Kingdom design for the resident of or tourist in any of Vermonts large towns or small villages in the NEK.
Northeast Kingdom design celebrates all the towns and countryside across Essex, Orleans and Caledonia counties in Vermont.
Lightweight, Classic fit, Double-needle sleeve and bottom hem
Facilities like the Skate Shack, snack bar, public grills, and playground ensure nonstop family fun. For decades, Gardner Park has served as Newport's quintessential gathering space – a place for people to connect through special events, everyday recreation, and the shared joy of natural surroundings. It's easy to see why Gardner Park holds such a special place in Newporters' hearts.
For those looking to enjoy a picnic in a picturesque setting, Gardner Park provides ample picnic areas where you can relax and enjoy a meal, along the Clyde River, with family and friends. Whether you prefer a sunny spot by the lake or a shaded area under a tree, there's a perfect spot for everyone to unwind and savor the beauty of Newport's natural oasis.
Newport's Location and Historical Significance
Newport, Vermont is a town located in the beautiful Northeast Kingdom region of the state. Situated on the shores of Lake Memphremagog and near the United States and Canadian border, Newport holds both historical and geographic significance. Founded in 1793, the town played a significant role as a port of entry and railroad junction, contributing to its growth as a trade center.
As you explore Newport, you can delve into its settlement history and discover how the town has evolved over the years. Learn about the early settlers who arrived in the late 18th century and the subsequent population growth that shaped Newport into what it is today. From its industrial development to its cultural heritage, Newport's history is fascinating and worth exploring.
Getting to Newport, Vermont
When planning your trip to Newport, Vermont, it's important to consider the various transportation options available to ensure a smooth and hassle-free journey. Here are some convenient ways to get to this charming city:
Public Transport:
While public transport options to Newport are limited, you can reach the city by car via I-91 or Rte 100, from the Burlington area. It's worth noting that having your own vehicle or renting one is recommended to fully experience the attractions and activities available in Newport and the surrounding areas.
Whether you choose to travel by plane, rent a car, or take advantage of public transport, getting to Newport is a straightforward process. Once you arrive, you'll be ready to embark on your journey and explore all the wonders this friendly city has to offer.
Conclusion
Newport, Vermont is the perfect travel destination for those seeking a unique and enjoyable experience. This charming city in the heart of the Northeast Kingdom offers a blend of natural beauty, rich history, and vibrant culture that will leave you with lasting memories.
Whether you're an outdoor enthusiast looking for adventure on Lake Memphremagog or a foodie eager to indulge in farm-to-table culinary delights, Newport has something to offer everyone. The town's scenic trails, boating opportunities, and fishing spots will keep outdoor lovers entertained, while its local eateries and the Northeast Kingdom Tasting Center will satisfy your taste buds.
Immerse yourself in Newport's arts and culture scene by visiting the MAC Center for the Arts, where you can admire the work of talented local artists and even take art classes. Explore Newport's historical sites and architectural gems, such as the Old Stone House Museum, Haskell Library and Opera House and the Goodrich Memorial Library, which showcase the area's rich heritage.
So plan your visit to Newport, Vermont, and prepare to be captivated by its natural wonders, historical significance, and warm hospitality. Whether you're traveling solo, with family, or with friends, Newport has everything you need for an unforgettable journey in the heart of Vermont's picturesque Northeast Kingdom.
FAQ
What are some unique attractions in Newport, Vermont?
Newport offers a variety of unique and unusual attractions such as the Goodrich Library, the Eagle Point Wildlife Management Area, St Mary's Church and the MAC Center for the Arts.
What outdoor activities can I enjoy in Newport?
Newport is located on the southern shore of Lake Memphremagog, offering activities such as boating, swimming, hiking, biking, and fishing. The town is also home to the Kingdom Games, which offers competitive and recreational races throughout the year.
Where can I find farm-to-table dining options in Newport?
Newport is known for its farm-to-table dining options. The Northeast Kingdom Tasting Center on Main Street is a must-visit, offering a range of local food and drinks.
Is there an art and culture scene in Newport?
Newport boasts a vibrant arts and culture scene. The MAC Center for the Arts showcases the work of local artists and offers art classes for those interested in exploring their creative side.
What outdoor activities can I enjoy on Lake Memphremagog?
Lake Memphremagog offers a wide range of recreational activities such as kayaking, canoeing, paddleboarding, and fishing. Hiking trails around the lake provide stunning views of the surrounding mountains.
Is there a park in Newport where I can relax and enjoy nature?
Gardner Park is a historical gem in Newport, offering stunning views of Lake Memphremagog. This beautiful park features a playground, walking paths and picnic areas.
What is the historical significance of Newport?
Newport's location in the Northeast Kingdom of Vermont gives it both historical and geographic significance. The town played a crucial role as a port of entry and railroad junction, contributing to its growth as a trade center.
How can I get to Newport, Vermont?
Getting to Newport is convenient via car or major airports such as Manchester-Boston Regional Airport and Burlington International Airport, both of which offer car rentals. Public transport options are limited, so having your own vehicle or renting one is recommended.
There are plenty of things to do and see in the Newport area, and I'm sure you'll have a great time exploring.