Over the years, the Underhill Harvest Festival has grown and evolved. It started out as a small community event, but as more people became involved, it has grown in size and scope. The festival now attracts visitors from all over the region and has become an important part of the local economy.
Thank you for reading this post, don't forget to subscribe to our email list for the latest news!
The Harvest Market Festival in Underhill, Vermont is an annual favorite for people of all ages
The annual Underhill Harvest Festival just keeps getting bigger and expanding every year. It has changed quite a bit in the past 10 years with many more vendors in the field behind the United Church. The harvest market also extends further along the roadside in both directions. One of the top draws (as always) is the apple cider and donuts.
The Underhill Harvest Market is also one of the top things to see and do in Vermont
The Underhill Harvest Festival is an annual event held in Underhill, Vermont, which celebrates the end of the harvest season. It has been taking place for over 50 years and has become an important community event in the area.
The festival includes a wide range of activities for people of all ages, including live music, craft vendors, food and drink, and a parade. There are also various contests and games, such as pie-eating contests, apple-bobbing, and pumpkin-carving.
If you haven't tried the Italian sausage and burgers you've truly missed out. As one of the first food areas at the harvest festival as you arrive, the aroma of barbecue will captivate your senses and make you forget about silly things like calories. Unless you have a spouse with you with a critical eye, like my wife!
One of the most popular places to visit at the harvest festival is the "soup tent" which has an endless, revolving selection of soups and stews of ALL kinds. Everything from vegetables soup to venison stew!
Before one of you wise guys on Facebook asks the obvious question…
No, the pretty girl in the photo above is not winking at me. If that were the case, my wife who was nearby would have neutered my chicken nuggets!
I shot this quick video for my wife who told me not to eat too much at the festival and to buy her something nice. Being that I'm a guy (and a Vermonter as well), I interpreted that as "spaghetti sauce". I do have to admit that it was wonderful sauce!
There is simply no shortage of food and this massive tent below, strategically located in the midst of everything is impossible to ignore and just plain tempting. From a variety of pies to t-shirts and maple cotton candy, there is simply much more than anyone could eat in one day.
"No french fries for you!!!"
For the first time in 10 years, I was restricted from partaking in the french fries, by my wife. She has all the finesse of the "soup nazi" made famous on Seinfeld. Damn.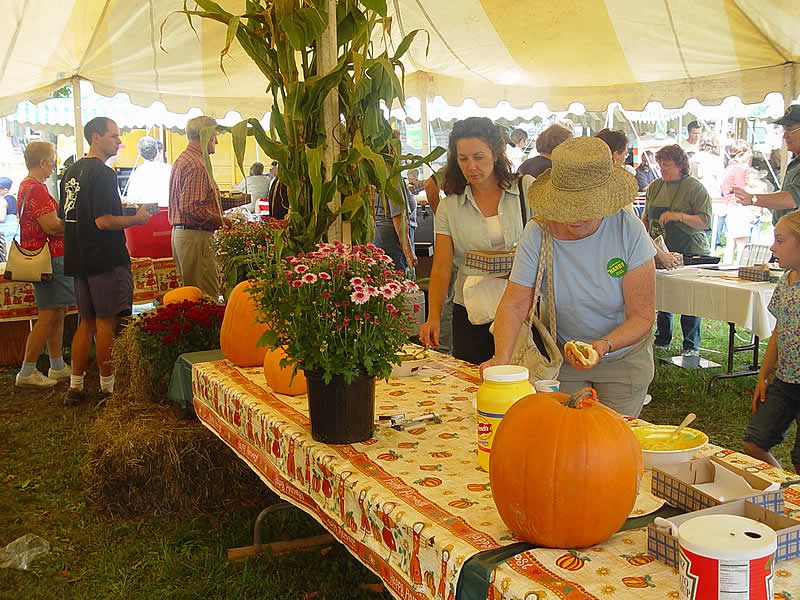 Here's a video walk through taken on Sunday, September 25, 2016. A cool, crisp autumn day in the midst of perfection. As busy as it appears, this is much calmer than it would have been on the Saturday, preceding it. My wife and I were lucky to find a place to park, fairly close by. If you arrive at the Underhill Harvest Market on a Saturday it's nearly impossible to find a place to park for nearly a mile along the roadside. Fortunately, there is a shuttle service that runs from the elementary school and Mills Riverside Park.
The Underhill Harvest Market is traditionally one of the first events of autumn, fall foliage festivals and events in Vermont
It goes without saying that it's most likely one of the best. Enjoyed by people of all ages, with plenty to see and do, it's simply a great way to spend a cool, crisp fall day in Vermont.
The autumn foliage colors seem to be arriving later every year. In the past, there have been some very colorful red and orange hues peering out over the hills, upon the busy harvest market proceedings. However, the colorful pumpkins and mums are always a welcome sight amidst the arts and crafts.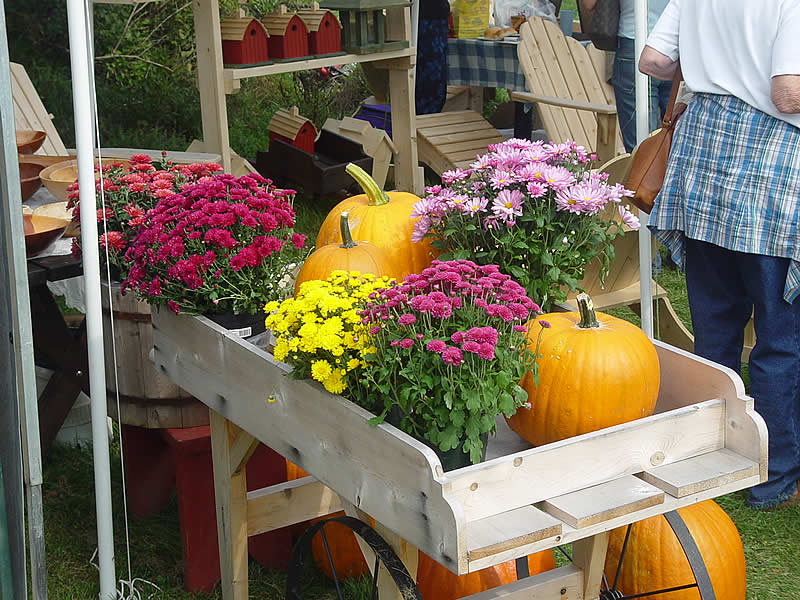 As you walk around the grounds of the harvest market, the Underhill United Church is the epicenter and holds a kitchen downstairs, with a variety of fresh baked cookies and arts and crafts in an adjacent hall. Upstairs in the church you will likely find a musical performance either inside the church or in the area just outside, under a tent.
If you've never been to the Underhill harvest market festival then you've missed one of northern Vermont's biggest and best fall foliage events. It's held around the last weekend of September, each year so if you didn't attend this year, now you have no excuse for next year. Just kidding, of course. You will love it! Just ask this guy…
Update 2023: This article was written about 10 years ago. Since then, the Underhill Harvest Festival has grown substantially with much more traffic and people to maneuver around. Like anything else, there's something both good and bad about this. Lines to get food are much longer, many more people are selling things along side of the road and the whole "feel" of the original Harvest Festival isn't what it used to be. Your opinion might be different but I actually preferred it the way it was back around 2010.
In addition to its economic impact, the festival has also had a cultural impact on the community. It has helped to preserve and celebrate the area's agricultural heritage, and has brought together people from different backgrounds and communities.
However, like many events, the Underhill Harvest Festival has also had to adapt to changing times. In recent years, there has been a greater emphasis on sustainability and environmental awareness, with a focus on reducing waste and promoting local, organic food.
Despite these changes, the festival remains a beloved tradition in Underhill and a testament to the community's spirit and resilience.