What Lies Beneath was a movie starring Harrison Ford and Michelle Pfeiffer, filmed in 1999 at the DAR State Park in West Addison, VT. Other filming locations were in Chittenden and Washington counties. It was released in 2000 and quickly became a box office hit.
Thank you for reading this post, don't forget to subscribe to our email list for the latest news!
Vermont was one of the primary filming locations for the movie, and it provided the perfect backdrop for the suspenseful and eerie storyline. The state's picturesque landscapes, charming towns, and historic homes served as the ideal setting for the movie's spooky atmosphere.
Revisiting the Eerie Filming Locations of What Lies Beneath in Vermont
In 2000, parts of the supernatural thriller What Lies Beneath starring Harrison Ford and Michelle Pfeiffer were filmed in picturesque Vermont. While the movie is set in Vermont, it was primarily shot on sound stages in Hollywood. However, the production did spend time on location in Vermont to capture exterior shots that helped establish the eerie, rural setting.
A Plot Full of Twists and Turns
What Lies Beneath is about a couple, played by Harrison Ford and Michelle Pfeiffer, who begin to experience strange hauntings and paranormal activity in their home in Vermont. As the plot unfolds, dark secrets from the past come to light in dramatic and shocking fashion.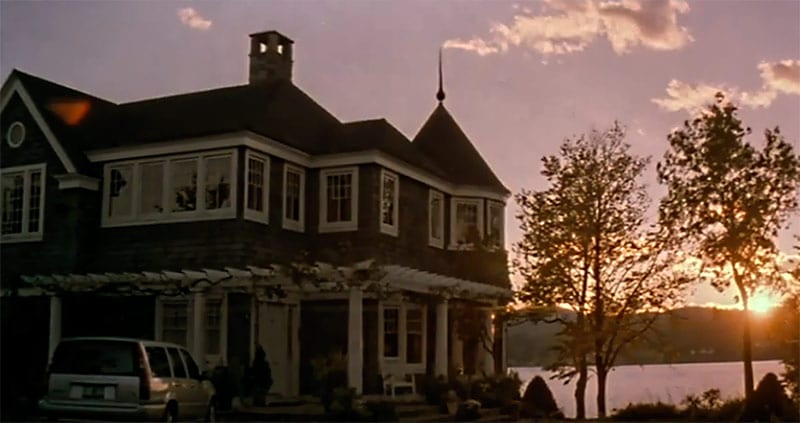 Although the fictional setting for the house was supposedly Waterbury, VT., the filming location was actually in West Addison, on the border of Lake Champlain, with the old Lake Champlain bridge partaking in a cameo role, just years before it was demolished and replaced.
The beautiful house located at the DAR State Park never actually existed, so it was specially constructed and later torn down after filming had been completed.
Below is a photo of the house under construction for the movie. Courtesy of the Facebook Group What Lies Beneath 2000.
Continuing Mystique and Intrigue
While no ghostly encounters were actually reported during filming, the inclusion of these real Vermont locations adds a layer of intrigue and mystery to the movie. Even 20+ years later, visiting these spots provokes memories of the skin-crawling events that played out there on the big screen thanks to the atmosphere captured on film.
What Lies Beneath takes advantage of Vermont's natural beauty and tranquility, then twists it into something more chilling and sinister.
Is the Fear of Being Buried Alive in Vermont Related to the Plot of the Movie "What Lies Beneath"?
The fear of being buried alive has long been a fascinating topic, prevalent in various cultures and literature. In Vermont, this fear has sparked curiosity and speculation, with some wondering if it relates to the plot of the movie What Lies Beneath. While the movie does touch upon themes of suspense and paranoia, it does not directly address the fear of being buried alive. Nonetheless, the topic continues to captivate the minds of many.
Hollywood Come to Vermont – Again
Shawn Sweeney of Shelburne, VT was a film location manager. The last movie Shawn worked on was "What Lies Beneath" with Harrison Ford and Michelle Pfieffer filmed here in Vermont. A full working house and a half house was built and disassembled in Addison on Lake Champlain. Pieces of that set house were used in building Shawn's own house in 2004 in Shelburne, Vermont.
Shawn Sweeney started his career when he purchased a live entertainment venue in Burlington, VT. Bands like Clarence Gatemouth Brown, Betty Carter, Richie Havens, Phish, The Spin Doctors & Blues Traveler all played the stage there. The next step in his journey was a slightly bigger one as he started working for renowned filmmaker Spike Lee. After working on "Malcom X" and "Jungle Fever", Shawn worked all over the U.S on various films and eventually became a location manager where his duties included finding and securing real estate where scenes would be filmed. Construction and renovating sets was an integral part of the production process. This was his first taste of design build on a large scale.
The house on the lake is created for the movie is gone
Although local rumors abound that the house built for the movie is still there, the truth can be confirmed in the images below. The house was indeed replaced by a new pavilion that now graces the state park property.
I asked the state park caretaker and he said there were actually two houses built for the movie. The house that the main characters lived in and the mysterious neighbors next door. Both buildings are now long gone and exist only on What Lies Beneath celluloid (or home video)
What Lies Beneath Memories
I remember one night when filming was taking place at UVM. The lighting was so bright that it made night time seem like day. Harrison Ford was also known to frequent RiRa's, an Irish pub type bar on lower Church St in Burlington.
During the late 1980's and 1990's it seemed as if Hollywood had really descended upon Vermont as other major Hollywood films such as Ethan Frome, Spitfire Grill, Sweetheart's Dance, Cider House Rules, etc. were filmed throughout Vermont.
Other movies filmed in Vermont at the time
Me, Myself and Irene, starring Jim Carrey and Renée Zellweger was also filmed throughout Chittenden County around the same time. Though the story is that Jim Carrey found himself stuck on a rock near the Milton dam for a couple hours and was outraged, as locals fought to stop the water from flowing too fast. Needless to say, Mr. Carrey was not at all gracious about signing autographs and a bit "vocal" about his opinion of the locals.
Overall, the filming of "What Lies Beneath" in Vermont was a great success, and the state's unique charm and beauty were showcased to audiences around the world. From its historic towns to its stunning natural landscapes, Vermont provided the perfect backdrop for this classic thriller.
This article was updated on 10/29/21