Have you ever heard of Fort Montgomery? This fort, located in upstate New York near the Canadian border, has a fascinating history that may surprise you. Despite its impressive size and strategic location, it was dubbed 'Fort Blunder' due to a series of unfortunate events during its construction and use.
Thank you for reading this post, don't forget to subscribe to our email list for the latest news!
As a researcher delving into the history of Fort Montgomery, I have uncovered many intriguing details about this infamous fort. From political disputes between states to mishaps with building materials, there is much more to the story than just a simple nickname.
So join me on a journey back in time as we explore why Fort Montgomery earned the dubious title of 'Fort Blunder.'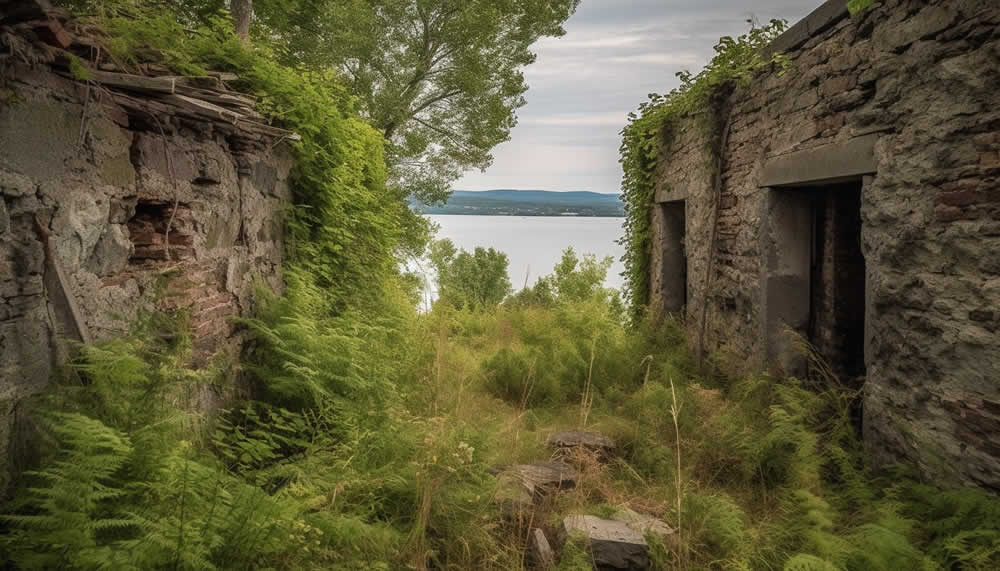 The Construction Of Fort Montgomery
As we look back in history, the construction of Fort Montgomery stands as a testament to human perseverance and determination. This fortress was built during the War of 1812, with the primary objective of protecting American soil from British invasion. However, its construction faced various challenges that tested the patience and skills of those involved.
One significant hurdle was funding issues. The project required a considerable amount of money to complete, which was not readily available at that time. Despite this obstacle, supporters were relentless in their efforts to secure funds for the fort's completion. As such, they reached out to government officials and private investors who believed in their cause.
Nonetheless, raising sufficient funds proved difficult, causing delays that further complicated an already challenging situation. Nevertheless, work continued until it reached completion despite these hurdles, but political disputes added more delays to the project's timeline.
Political Disputes And Delays
Despite initial progress on the construction of Fort Montgomery, political infighting and funding problems plagued the project. The fort was being built during a time when tensions were high between two political factions in New York – the Bucktails and Clintonians.
This rivalry led to delays in approving funds for the fort's completion. Furthermore, there were issues with contractors hired to build the fort. Many of them lacked experience and proper equipment, which resulted in building mishaps and design flaws. These mistakes only added to the already rising costs of constructing Fort Montgomery.
Despite these setbacks, however, work continued on the fort as officials hoped that it would provide much-needed protection against British invasion during times of war.
Building Mishaps And Design Flaws
Ah, the great feats of engineering from our ancestors. The marvels that still stand tall today are a testament to their ingenuity and hard work. However, not all buildings were created equal. In fact, some were downright disasters waiting to happen.
Such is the case with Fort Blunder. This fort was supposed to be a strategic military outpost during the mid-19th century. It was built on an island in Lake Champlain between New York State and Quebec, Canada. Unfortunately, it turned out to be more of a liability than anything else.
Building challenges plagued this project from the start – poor planning, budget cuts, rushed construction times…all ingredients for disaster! Historical significance? That's debatable at best.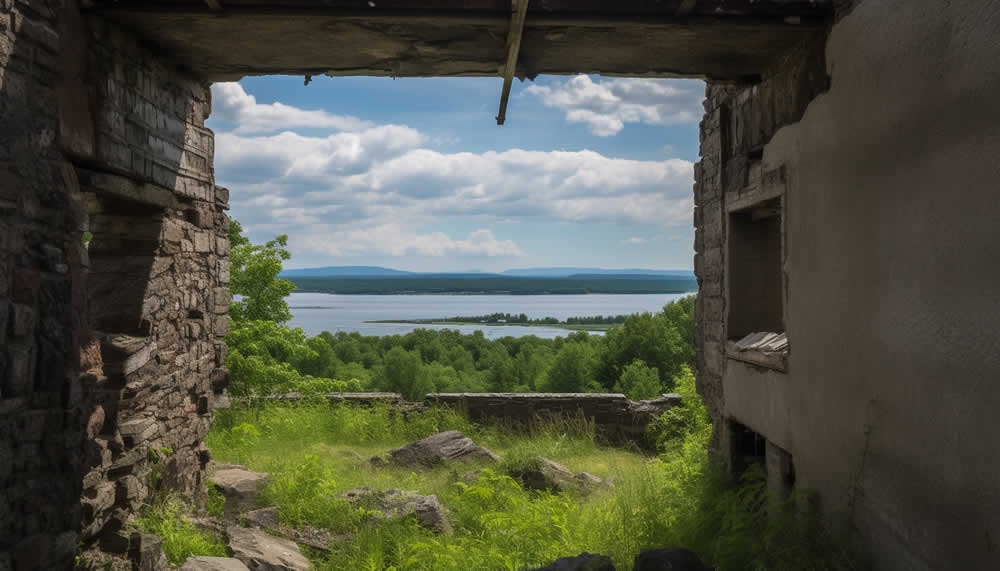 The Fort's Short-Lived Use
Despite its impressive size and strategic location, Fort Montgomery's use as a military outpost was short-lived. The reasons for abandonment were multiple; the primary cause being the fact that the fort was built on Canadian soil, rather than American territory. This made it vulnerable to British attack without any formal protection from the United States government.
Bestseller No. 1
Bestseller No. 2
Bestseller No. 3
1814 Photo Battle of Plattsburg Print shows the Battle of Lake Champlain and Battle of Plattsburgh, 1814, Sept. 11. Location: Champlain, Lake, New York, Plattsburgh
- Real Kodak Photograph created using professional Kodak equipment & paper - Archival Quality Reproduction, not a digital or inkjet copy on cheap paper - Satisfaction Guaranteed
Size 9 inches x 12 inches - Please Note: 80% of the photographs we list are 9x12, but your photo may be 8x10 based on the size of the original. To keep prices as low as possible, we do not measure each photograph individually. Feel free to contact us to request the exact size of any photograph.
1814 Battle of Plattsburg Print shows the Battle of Lake Champlain and Battle of Plattsburgh, 1814, Sept. 11. Location: Champlain, Lake, New York, Plattsburgh
Bestseller No. 4
Sale
Bestseller No. 5
The impact of Fort Montgomery's hasty abandonment was felt throughout the local economy. Many businesses had been established in anticipation of an influx of soldiers and their families, but with no more need for provisions or services, they quickly went bankrupt. Additionally, construction workers who had been employed during the building process found themselves suddenly out of work.
The unfortunate legacy of 'Fort Blunder' is one marked by disappointment and missed opportunity – a reminder of what could have been if only better planning had taken place before construction began.
As we look back on this chapter in history, it is clear that there are lessons to be learned about careful consideration before embarking on large-scale projects such as this one. In our next section, we will explore how despite its failures, Fort Montgomery has left behind a lasting impact on both sides of the border as a symbol of cross-border tensions and international relations between Canada and the United States.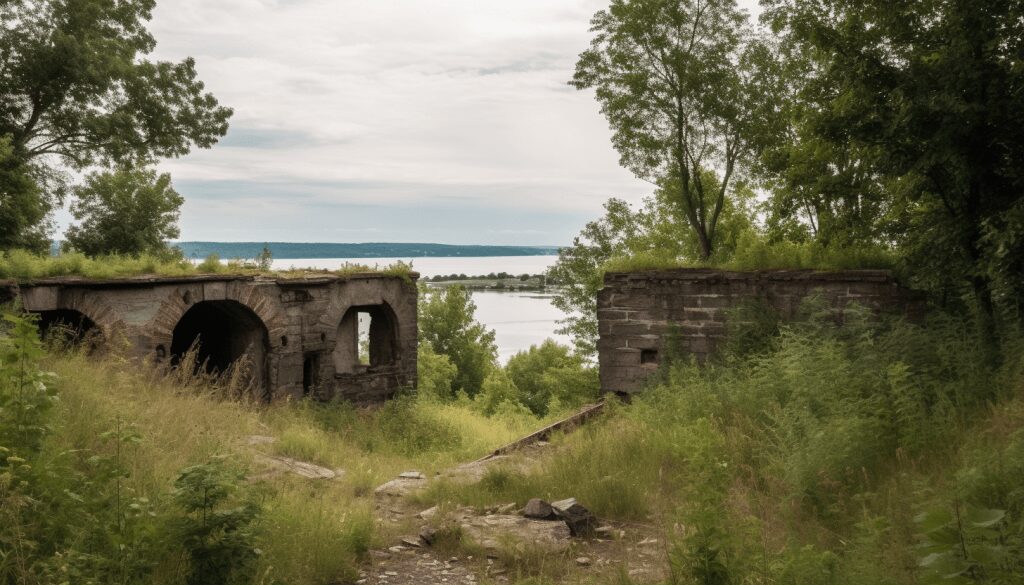 The Legacy Of 'Fort Blunder'
As any amateur historian would know, Fort Montgomery is often referred to as 'Fort Blunder' due to its historical significance. However, the origins of this moniker are not quite clear and have become somewhat of a local folklore. Some say it was due to the poor decision-making by those in charge during its construction while others speculate that it was simply an unfortunate location choice.
Despite the uncertainty surrounding its nickname, the legacy of 'Fort Blunder' remains a topic of interest for many history enthusiasts. It serves as a reminder of past mistakes and missteps made during times of war.
The fort's failure highlights the importance of strategic planning and proper execution when building military defenses. Furthermore, it has become a symbol for perseverance – even after such a catastrophic setback, efforts were still made to defend our nation against foreign threats. These lessons continue to be relevant today and will undoubtedly remain so for generations to come. Read about Fort Montgomery in this wonderful book.
Frequently Asked Questions
Who Was The Architect Or Designer Of Fort Montgomery?
Major Joseph Gilbert Totten designed Fort Montgomery, which was built to defend against potential invaders from Canada.
It's fascinating to consider how much time and effort went into constructing such a fortress, especially given its eventual fate as one of history's most infamous blunders. Despite its ultimate failure, we can still appreciate the skill and dedication of those who designed and built Fort Montgomery so many years ago.
What Was The Cost Of Building Fort Montgomery?
Using innovative construction techniques, the total cost of building Fort Montgomery reached $1 million, a significant amount for that time.
This may seem like a paltry sum by today's standards but considering that this fort was built in 1816 when wages were low and resources scarce, it is an impressive feat. While some may argue that this cost was too high or unjustifiable, one must remember that the security of our nation was at stake during this period. The importance of protecting our borders cannot be underestimated, especially during times of conflict and uncertainty.
Did Any Major Battles Or Conflicts Take Place At Fort Montgomery?
Did any major battles or conflicts take place at Fort Montgomery? This is a question that many history enthusiasts ask when they learn about the significance and legacy of this fort. The answer is yes, there was a significant battle fought at Fort Montgomery during its short lifespan. On October 6, 1777, British, Loyalist and Hessian forces attacked Fort Montgomery and nearby Fort Clinton.
Despite being overwhelmed, this battle cemented Fort Montgomery's legacy as a symbol of American bravery and determination in times of conflict.
Are There Any Surviving Artifacts Or Relics From Fort Montgomery?
You may be wondering if any artifacts or relics have survived from Fort Montgomery, given its infamous nickname 'Fort Blunder.' While it's true that the fort was poorly designed and hastily constructed, resulting in a failed defense during the 1812 Battle of Plattsburgh, there are still significant pieces of history to uncover.
In fact, excavations in recent years have unearthed numerous items such as musket balls, buckles, and even fragments of artillery shells. These artifacts provide valuable insights into the daily life of soldiers stationed at Fort Montgomery and contribute to our understanding of the site's historical significance.
Has There Been Any Recent Interest Or Efforts To Restore Fort Montgomery?
Efforts to restore Fort Montgomery have been ongoing for years, with various organizations and individuals working tirelessly to preserve the historical site. However, funding for restoration of Fort Montgomery has been a challenge, with limited resources available to support such an endeavor.
Despite this obstacle, recent interest in the fort's significance has sparked renewed efforts to secure funding and bring attention to its importance as a cultural landmark. With continued dedication and investment from both public and private sectors, it is hoped that Fort Montgomery will be restored to its former glory and serve as a testament to our nation's rich history for generations to come. However, it is unlikely do the massive costs involved.
Conclusion and Facts
In conclusion, Fort Montgomery is known as 'Fort Blunder' due to its strategic design flaws and unsuccessful defense during the War of 1812. The fort was designed by Major Joseph Gilbert Totten and cost over $1 million to build.
The fate of Fort Montgomery is truly a cautionary tale for future military architects and strategists alike.
Image of Fort Montgomery, Rouses Point NY courtesy of Wikimedia licensing